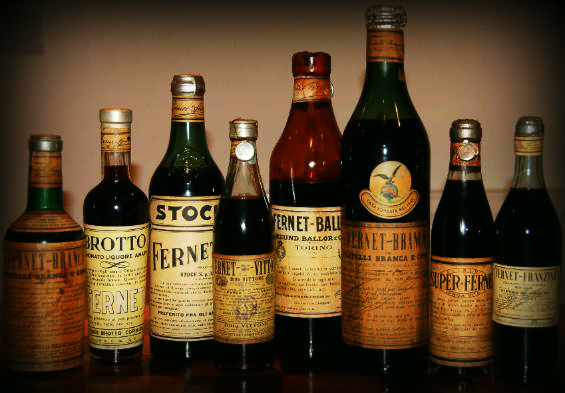 So, you think your favorite bartender is impressive because he makes his own bitters and can rattle off a couple classic cocktails you've never heard of? Cool, but has homeboy ever poured you a sip of history? A handful of bars around the country are specializing in truly antique drinks — as in, made with vintage spirits and liqueurs. Want to taste what gin was like in the 1950s? Or crème de menthe in the 1940s? Pull up a barstool and be transported back in time.
At Pouring Ribbons, a cocktail lounge that's been attracting seasoned drinkers in New York City, the menu includes a selection of yellow and green Chartreuse from as far back as the 1940s. This isn't quite the same as having a collection of, say, old Scotch or Cognac. Most spirits don't evolve in the bottle. But Chartreuse, as well as other liqueurs and amari, are a different story. The Carthusian monk–made herbal elixir, the result of multiple macerations of 130 different botanicals, can mellow, deepen or sour over time. For up to $125 a shot, you can taste the changes for yourself.
"It's very much a journey into the unknown — when we open a bottle, we never know what we're going to get," says Joaquím Símo, one of the bar's owners, adding that his partner, Troy Sidle, is responsible for curating the Chartreuse list from their thousands-strong collection. "We've seen some that have lost all their color. One was like stepping into an Indian spice shop — it just smelled like turmeric. The '50s Green, for me, is really lovely. There's something about how it's mellowed… a little more soft herbs come through."
Also in New York, the Experimental Cocktail Club has a vintage Stinger on the menu, made with Hennessy Bras Arme from the 1960s and Imperium Crème de Menthe from the 1940s. The bar will make you a martini with gin from the '50s, or pour you a shot of Antillean rhum agricole from the '20s if you have the cash — up to $200 for a cocktail — to spend. Here the appeal is to taste what a spirit may have been like decades ago. Like a liquid time capsule, what's in the bottle has been preserved.
A bar in Chicago is killing two big booze trends with one formidable stone: its selection of rare and vintage fernets. (In case you haven't heard, there's more to the cultish amaro sub-genre, fernet, than Branca.) Yusho stocks about 60 different fernets from all over Italy, including a number of dusty old bottles that date as far back as a century or more.
"There are hundreds of producers of fernet in Italy. We try to get our hands on as much as we possibly can," says bartender Alex Bachman, the unofficial fernet collector at Yusho. "Some show better than others. Some that we open are just dogs. They smell like a wet basement. Others are absolutely gorgeous."
The vintage booze trend certainly raises questions about whether it's possible to truly recreate a cocktail from a pre-Prohibition-era recipe without the actual spirit from that time. But aside from sparking a theoretical debate, it might also spark a gift idea. The Handmade Cocktail Company, which sells ready-made bottled cocktails, has a line of antique drinks, including a Manhattan made with Canadian Club from the 1960s, Martini Rosso and Punt E Mes from the 1970s, and Wild Turkey from the 1980s. Its Antique Martinez incorporates ingredients from the '60s and '70s. The company also sells an antique Rob Roy and Negroni. The drinks range from $60-$80, making it easy to buy someone a drink across the country.
So, what can a spirits enthusiast get out of quaffing alcohol as old as his mother? The answers range from sating curiosity to bearing witness to a product's evolution to just being able to say you did it. Especially while you still can. Increased automation and quality control measures in the spirits industry mean more consistency across the board. In other words, in 40 years' time, a 2012 bottle of gin might taste the same as 2025 bottling. Of course, by then, we'll surely be on to the next drinks fad… this whole vintage spirits craze may be long forgotten.
Read more recent Drink Better stories on Food Republic: