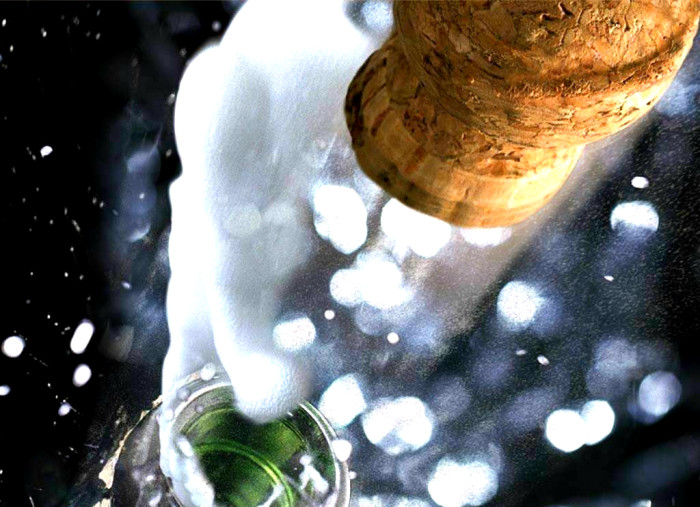 There are no stupid questions about champagne, only stupid people who drink too much of the bad stuff and experience the hangover from hell. Allow us to assist you, so as to maximize your New Year's Eve party experience and minimize…what happens after.
Take a gander at our comprehensive guide to sparkling wines — that would be champagne with a lower-case 'c' — and map out your game plan for not looking like a cheapskate, acting a fool or waking up the first day of 2013 in worse condition than you planned for.
Rule #1: You Can Judge The Packaging
As sad as it sounds, we're all slaves to it. And so, even if your cheap champagne is totally drinkable, if it comes in a cheap-looking bottle, you're toast. Unless, of course, the poor-man's packaging is the point. Take Sofia Coppola's Blanc de Blancs Mini cans. Yes, they look like Barbie-branded soda. But they're also clever, environmentally friendly and contain a peachy, brut bubbly that is a decent value for $5 a pop. (They come in four-packs for $20).
Rule #2: Beware Of Residual Sugar
If you've ever downed too much champagne and woken up with a hangover from hell, there's a good chance that residual sugar is at least partly to blame. Nearly every sparkler is dosed with extra sugar, appropriately referred to as "dosage." To avoid getting stuck with a sickly-sweet fizz, look for bottles labeled "brut" or "extra brut," as in, less than 1% residual sugar; or the mackdaddy "brut nature," for a wine with zero dosage. Wines labeled "dry" or "extra dry" tend to be off-dry, with 5-6% residual sugar, and are better suited to the one glass you toast with. If you're planning on sipping all night, Hom Extra Brut, from Argentina, is a good option, for $12.
Rule #3: Go Cava If You Can
If you aren't already a fan of Spain's sparkling wine, get on that. Made from indigenous grapes you've probably never heard of and can't pronounce — plus the Champagne (big 'C') grapes of Chardonnay and Pinot Noir – it can have all the minerality and complexity of the fancy French stuff. Moreover, it's made in the "traditional method" used in Champagne. What this means, primarily, is that the secondary fermentation takes place in the bottle. Cheaper sparkling wine production methods involve injecting the liquid with CO2, like a soda. Try Sumarroca Brut Reserva, with its zesty green-apple and fine mineral notes, for $15.
Rule #4: Drink American
Oui, oui, the French do it best. When opting for an alternative to real Champagne, we usually look to cava (see rule #3) or Prosecco. Yet, there are great sparkling options right in our own backyard. Several states make decent bubbly (and get in trouble for calling it champagne). One state you might not think to look to for bubbles – or any sort of wine, really – is New Mexico. The Gruets, a family from Champagne, relocated to Albuquerque some years and took their sparkling wine tradition with them. They make a delightful Gruet Brut, full of refreshing citrus notes, that retails for about $15.
Rule #5: It's OK To Break Out The Twenty
Sure, you can go to Trader Joe's and get a bottle of sparkling for $5. Other big-box stores like Costco and Walmart have similarly cut-rate bottles. But, should you do this to your friends? Even if they have served equally cheap bubbly to you at, say, their wedding (the only excuse for going this low is if you're buying for 200 people)? We say no. You can get something perfectly acceptable – even cool – for $10. And for $15, you can impress. We can't all be ballers. But we can drink respectably. Hold your head – and flute – up high.