Getting To Know Oyster Stout, A Beer Made With Oysters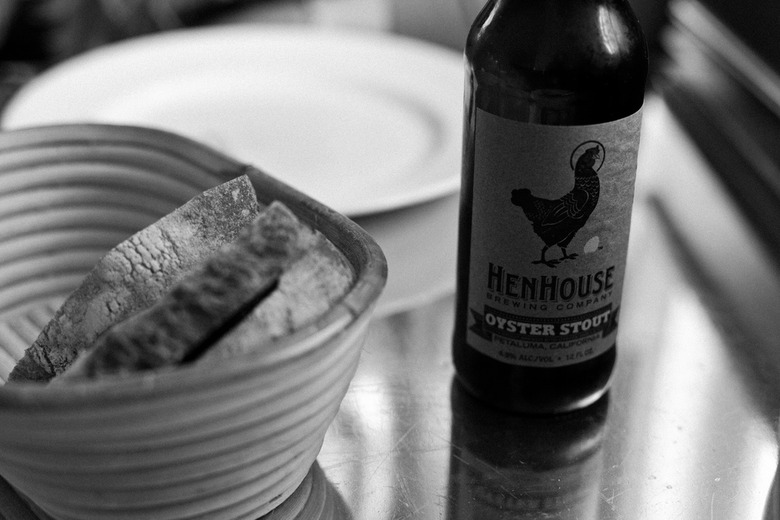 Chocolate in beer simply makes sense — especially in rich, heavy stouts and porters that already taste something like a liquid brownie. And cherries in a sour beer is a tart and summery idea — a perfect marriage. Even yerba mate, that bitter tea-like herb of Argentina, is a sensible fit in an IPA. But just what was the brewer was thinking who first put oysters into a vat of boiling brew?
Oyster stouts could easily play the part of just another wild concoction stewed up in the modern heights of craft brewing madness. However, they've actually got honest, time-tested roots going back more than a century to Victorian England, when many pub-goers ate oysters on the half shell while sipping their favorite beers. Often, these were stouts, whose bittersweet toasty flavors happened to complement the briny, juicy flesh of the mollusks quite well. For a time, in fact, "oyster stout" was simply a term that referred to a pub session at which oysters were slurped between sips of beer.
But how oysters managed to find their way into the beer is a murkier story. It seems that late in the 1800s, brewers discovered that oyster shells, rich in calcium carbonate, served as an effective clarifying agent for finished beer poured over heaps of the crushed, briny pub litter. Later still, some unknown brewer took things up another notch and added the shells during the boil, along with the barley and hops. With that, oyster shells had become an ingredient in brewing. The biggest leap of all was yet to come, though. Just who it was that first added the slippery oyster meat itself into the boiling beer wort, no one seems to know — but multiple sources say it first happened somewhere in New Zealand in 1929. Thus, the mutation was complete: The oyster stout was born, evolving from a happy hour advertising term into a full-fledged experimental beer.
The style remained rare through most of the 20th century, but today, as craft brewers by the thousands strive for recognition and unique beers, the oyster stout has reemerged from the muck of time and become a well recognized style among craft brewers. Many labels now make oyster stout — some using just the shells, others the whole critter. Often, these shellfish beers go no further than the brewpub taproom, amounting to just an experiment reserved for onsite patrons.
But we've sampled a handful of oyster stouts that are widely available in the bottle — and while not one was disappointing, we couldn't help but notice that the oysters keep a low profile in a brawny, bitter stout. That is, you cannot taste the oysters. At best, you may detect a faint "marine" essence. One brewery — HenHouse Brewing Company, based in Petaluma, CA — has made an oyster stout using whole oysters and, to hammer home their point, flakes of sea salt. Critics of the beer have described it as "briny."
Here are several more stouts in which to hunt the elusive oyster. They're in the dark black brews — but can you taste them?
21st Amendment Brewery, Marooned on Hog Island
This San Francisco oyster stout comes in a 12-ounce can and packs an imperial punch of 7.9 percent alcohol by volume. Cola colored with a low head of foam, the beer was made with shells from the local Hog Island Oyster Farm. The stout is rich and smoky, and with — maybe — a faint briny sauciness. Oyster shells, perhaps?
Scheldebrouwerij Oesterstout
Not your everyday "Belgian ale," as the bottle label names it, this sweet, black beer was made in the old oyster way — with shells serving as a fining agent. The beer is delicious, and at 8.5 percent ABV and with notes of chocolate, nougat and sweet roasted pumpkin, one might name this as an imperial stout, but the oyster trick nudges this one into the specialty category — whether you taste the oyster shells or not. We didn't.
Flying Dog Pearl Necklace Oyster Stout
At 5.5 percent ABV, this one, made in Maryland with whole oysters from Rappahannock River Oysters, in Virginia, drinks like a traditional stout — roasty, toasty, delicious and malty, with a lovely butter-toffee finish as the bitterness fades. The oyster, as many of us know, is a faintly flavored creature, and its effects in the Pearl Necklace seem to add up to little more than a great beer name.
Don't be fooled: If an oyster stout is a pearl of a beer, you could say this one is a jewel. Wynkoop Brewing Company is based in Colorado — which should raise a red flag about their Rocky Mountain Oyster Stout. For it has nothing to do with mollusks but, rather, bulls. Well, steers, that is. Just a brewpub-only offering for the moment, the Rocky Mountain Oyster Stout will be released in cans this winter.
---
Read more about craft beer on Food Republic: