Testing Out Cooking Subscription Services: Blue Apron Vs. Plated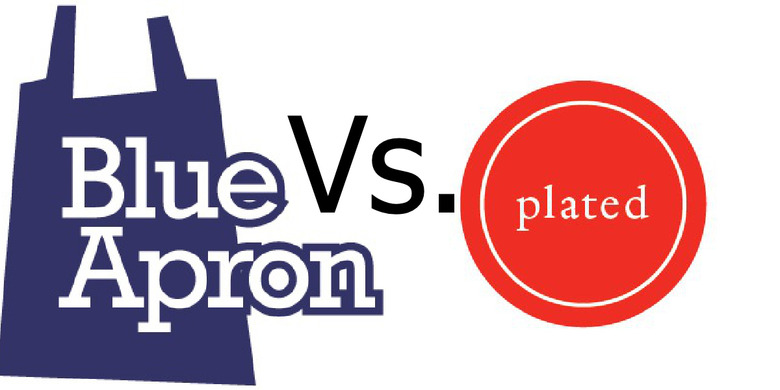 A new home cooking category has emerged with the exploding popularity of the so-called "Fresh Direct meets Epicurious" services. The concept is smart — each week a box containing all of the raw ingredients needed to cook a meal arrives to your doorstep via UPS. The box is packed tightly and iced so that the contents will not spoil up to 24 hours. So, scheduling a delivery time is not required. The box contains everything (except salt and pepper). So items like red wine vinegar, cinnamon and small nods of ginger are packed into little vials and baggies and labeled. We recently checked out two of the services, Blue Apron and Plated.
Plated, based in NYC, seeks to have a hot meal on your table in 30 minutes or less. There's no subscription fee, just sign up for a minimum of 4 plates — 2 portions of 2 meals or 4 portions of 1 meal and your ingredients arrive, prepped and ready to cook, six days later. Gluten-free, diabetic and vegetarian meal plans are in the works. The service is available along the East Coast, from D.C. to Boston. Food arrives in a custom-made, biodegradable, 100% recyclable box containing ice packs, which keep your ingredients fresh until you get home. The cost runs $15/portions for 4 ($60), $14 for 6 ($84), $13 for 12 ($156) and $10 for 24 ($240).
Aside from the blast of foul-smelling odor that can only be emitted by 20 loose Brussels sprouts rolling around the bottom of a cardboard box, I was happy to see a wealth of healthy, nicely portioned ingredients ready for my bidding (Note: Plated comped the box at a colleague's recommendation). I even thought the recipe cards were good enough quality to hang onto (does anyone keep recipes boxes anymore?). I laid out the materials for Meals #1 and 2 and was discouraged to see how much packaging was utilized in creating four servings of food. The chicken stock concentrate, different spice mixes and cheese were all in separate labeled bags and 2 tablespoons of maple syrup came in its own little screw-top bottle. I am no hippie, but that is some wasteful nonsense right there. Measuring out is only slightly harder than winging it altogether.
The proteins come vacuum-sealed and are fresh-fresh-fresh — very nice to know when it comes to boxes containing catfish of uncertain refrigeration history (though the packages do contain ice packs). There was nary a soggy spinach leaf in the bunch. I liked that the sprouts still needed trimming — they're not going to trim your Brussels sprouts for you, this is about learning — and that some recipes call for chopped onions and/or garlic, things you should be able to take care of on your own if you're that interested in mastering the training wheels of cooking.
The best part of these recipe kits is that there's no four-hour braise or complicated ninth step. Both meals were on the table in 45 minutes or less and each fed two hungry people generously. I'm not accustomed to synthesizing chicken stock out of yellow goo from a little plastic drug bag and water, but I don't hate it. Bottom line: Do you really want to learn how to cook? Plated can definitely get you started on that life adventure. – Jess Kapadia
Blue Apron is based in New York City and offers 2 meal subscriptions for $60/week (3 meals arrive, either vegetarian or fully loaded with a fish, chicken and beef dishes; each meal feed 2 people with leftovers). As of now the service is available throughout the Northeast and Mid-Atlantic region including Philadelphia, Baltimore, Washington, D.C. and Boston. A nationwide service may be in the works.
I've been using Blue Apron for the past month. My wife — now the master of cheese eggs — suggested we try it out. I resisted. Who the hell needs, as my colleague Jess Kapadia points out, a box filled with drug baggies holding three chive leaves or plastic pee cups filled with balsamic vinegar. But I'm no tree hugger. My main issue was that these services take the "spirit" out of cooking a meal at home — from shopping at the market, to breaking down unwieldy vegetables to combing the neighborhood for an obscure Malaysian chili to complete your freshly pounded sambal. That's all fun, no doubt. But not at 8 p.m. at night, when I recently found a tightly packed UPS box at my door.
Everything was in its place — relatively fresh produce on top, vacuumed-sealed fish, and Pat LaFrieda beef and poultry on the bottom resting against ice packs. Blue Apron promises that the box can remain at your door for up to 24 hours, which is reassuring. Each recipe is detailed on an 8.5" x 11" heavy duty card. The interface is simple: Brief intro and ingredient list on the front, photo directions/demo on the back. A recent Mexican-styled tilapia dish had interesting flavors (cinnamon, stewed tomatoes, jalapeños and green olives marrying nicely in a robust sauce) and the fish itself was fresh as plastic-sealed fish can be.
In the past there have been some serious fails. Chicken-fried steak was, first, not what anybody wants to make at home — a messy, bland, unhealthy clunker of a Southern dish. For my wife, a relative novice in the kitchen, a dinner of seared chicken wings with peppers and polenta ended up a tasteless mush — the recipe writer botched the chicken stock amount, resulting in a watery fail. A more skilled home cook may very well have recognized the error and adjusted, but these are supposed to be the snap-on model car kits of the culinary world. But overall, we still have our subscription and have been happy with the results. It will be interesting to see how the service, literally, blooms once we get into the spring and summer growing season. — Matt Rodbard