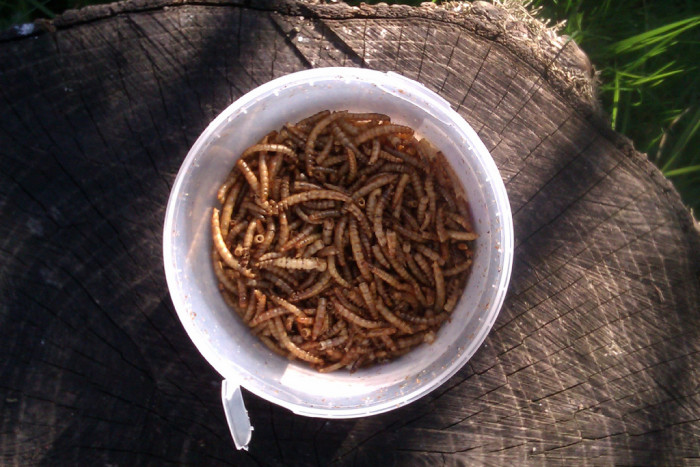 This week in food politics, Starbucks faces a backlash in the UK, environmentalists push for eating bugs (again), there's still no farm bill and Russia continues its ban on U.S. pork.
After General Mills' disastrous campaign that asked customers to share what Cheerios' meant to them via a Facebook app and McDonald's failed "McDStories" hashtag, you would think that major food companies would give up on forced sentimentality. Not so for Starbucks. The company's UK branch launched a twitter campaign — #SpreadTheCheer — that followers used to condemn the company's low tax rates and labor practices. The angry and sometimes profane tweets even showed up on a Starbucks-sponsored giant screen above an ice skating rink at London's Natural History Museum.
Other food giants came under scrutiny this week with the release of Yale Rudd Center's compilation of the best and worst food marketing to youth of 2012. The policy center focused on the usual offenders like Coca-Cola and Pepsi while applauding companies like Green Giant and Disney for their emphasis on healthy eating. Meanwhile Mark Bittman argued for "dietary seatbelts" this week in The New York Times, including increased health education and soda taxes.
Abroad, Russia continues to say it will refuse any imports of U.S. meat that contain the FDA-approved additive ractopamine, which is used to make meat leaner. Unfortunately for the U.S., Brazil — another country that uses the additive — has announced it will give into Russia's demands and export ractopamine-free meat. The U.S., which argues that Russia is violating World Trade Organization standards by denying the meat, has yet to follow Brazil's lead, but it is unclear how long the standoff will last.
Talk to certain scientists and they will tell you that pork as a source of protein is passé anyway. Instead they advocate for eating bugs — specifically mealworms. A recent Dutch study showed the advantages of raising bugs — they take up less space and they produce less greenhouse gases — but it also showed that the insects use more energy to produce comparable protein to chickens since they have to be raised in warm conditions (think heat lamps). This isn't the first time bugs have been touted as the new meat, but we're not convinced you'll see mealworms on menus just yet.
Finally, another week ends without a farm bill and the situation shows no sign of improving. An aide of Speaker of the House John Boehner told Politico that it was unlikely a farm bill would be included in fiscal cliff negotiations, implying that farm bill negotiations would have to wait for the new Congress. Agriculture Secretary Tom Vilsack and Senate Agriculture Committee Chairwoman Debbie Stabenow (D-MI) are still fighting for an increasingly unlikely 2012 farm bill. If the bill is not renegotiated or extended by January 1, it will automatically revert to the 1949 version (not a good thing, according to Grist).