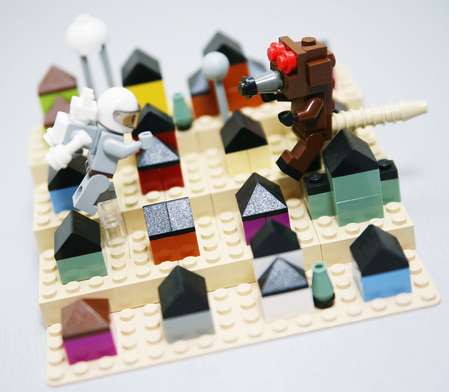 In honor of the fake Arrested Development episodes you can now watch on Netflix, I thought I'd share the menu for the epic AD party I've been dreaming of for so long. We all decided you have to come in costume and stay in character. I'm being fake pregnant Maggie Lizer and bringing my Roomba vacuum. Paul's being Gene Parmesean and bringing several costumes. Hathanh's being Annyong. I forget who's coming as Buster with his hook stuck in a coconut. We already found some washable blue paint. And how hard could it really be to locate a hand hook?
The Menu
Poisoned muffins
Hot ham water
Martinis
Salmon rolls
Cornballs
Baskets of doughnuts
Mayonneggs
Cream soda
"Ice, can you just cool it on that smoothie for right now?" OR "May I interest you in a smoothie or an amyl—Michael!" Either way, smoothies.
A whole thing of candy beans
Curly fries
"Juice"
Virgin piña coladas
Chicken fingers with spicy club sauce
Frozen bananas (obviously)
And if I can figure out how, some incarnation of the Skip Scramble. Breakfast is the most important thing, and I feel like mini-quiches just won't convey the right message. Did I miss any?
I also want to create a dish called Les Cousins Dangereux, the theme of which would be two cousins who flee to a sleepy, provincial town in France but are forced to hide their incestuous affair from the prying eyes of local villagers. Maybe a chicken and duck roulade. …ew.
More irrelevent references on Food Republic: