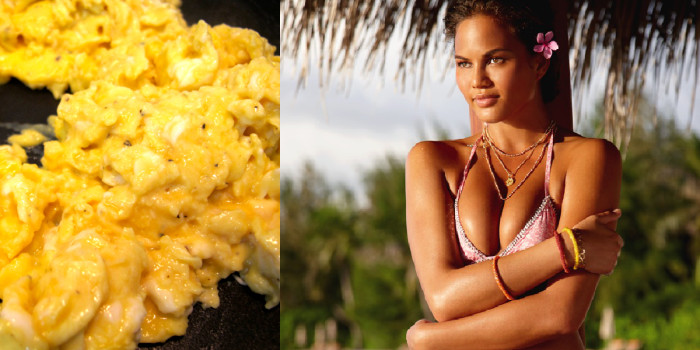 Somehow my wife Tamar's gateway to cooking an absolutely perfect pan of silky, creamy, cheesy (slightly sharp and funky in a perfect way), mind-blowingly restaurant quality scrambled eggs was through the blog of a super model. With that, I say thank you Christine Teigen. May my wife always prepare a Pépinian Sunday brunch because of you.
A little back story. Teigen, a Sports Illustrated swimsuit model and Instagrammer of stretch marks, is the writer behind So Delushious — a site that is devoted to the "random ramblings from a girl who loves bacon and can't be fat." Girl is really funny, and smart in the kitchen.
Her parchment-wrapped fish recipe points to a home cook with great knife skills. Her vanilla sugar demo proves practicality. She's a model who went to cooking school to learn how to make fried chicken. She's mastered mustard roasted potatoes. Her fiancée John Legend pops up in several of the posts too. Get this Christine Teigen a cooking show.
But back to those eggs, which Christine calls her "man pleasing sex eggs." Jeez girl. But the recipe doesn't necessarily call for a secret ingredient. It's more about focusing on "low and slow," which she writes about: "Super low heat. Constant attention. A spatula. Non-stick pan. Lots of butter. Generous splash of heavy cream and plenty of salt and pepper in the scrambled egg mixture and toss enough butter in your pan to make Paula Deen smile." He had her herself a happy customer. And when my wife followed the recipe to perfection, she had herself one too.
Lessons: Supermodels are smart. Supermodels can cook. Follow So Delushious on the RSS.