FR Guide: How To Eat Fish And Chips In London, And Who Does It Best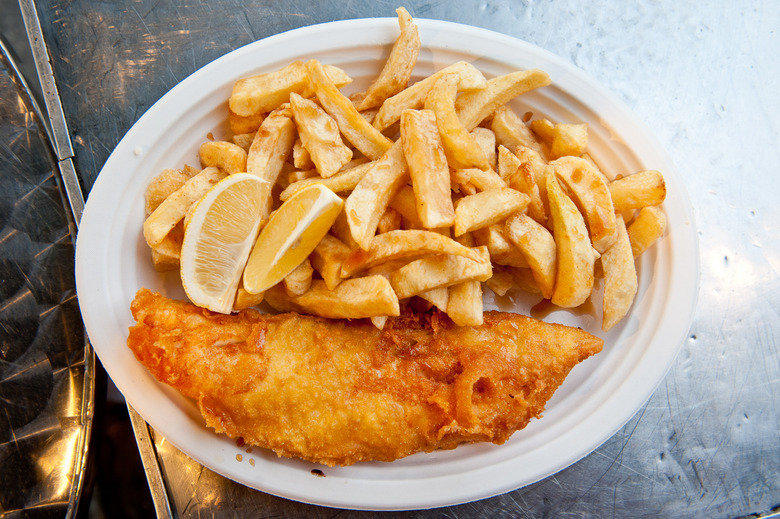 Do not expect "French fried potatoes" when in a chippie. Chips will be soggy compared to what you're used to. And the fish must be hot. Bottom line.[/caption]

George's Portobello Fish Bar is a favorite of Jamie Oliver.[/caption]
After a night out of drinking in London, one of the best ways to soak up all the booze afterwards is a nice greasy helping of fish and chips, fresh out of the fryer. Americans will never really "get" fish and chips, if the ubiquitous "pub grub" that's called fish and chips is any indication of the sad state of affairs Stateside. It's a little like trying to get a decent burger in London. Them's fightin' words, I know. But the truth.
The secret to a good chippie (a local name for the establishment serving fish and chips) is not about innovation, and most certainly not about modern twists on classics. It's all about serving the most perfectly fried piece of fresh battered fish with a pile of moderately soggy, but still golden, chips.
Do not expect "French fried potatoes" when in a chippie. These are chips and they will be soggy compared to what you're used to. Deal with it. If you're feeling brave, order some mushy peas as well. Honestly, the idea of green peas mashed up to the consistency of baby food has never been my thing, but if you want to eat like the locals, this is the way to do it.
When you arrive at a chippie, the decision you need to make is what kind of fish you want, and accept ahead of time that they may be out of your first choice if it's been a busy day. The best piece of fish you'll get at a chippie is haddock, and usually it's the priciest by a couple of quid or so (the price changes based on market prices and the fish you order), but cod or pollock or plaice or skate are all common options. Just like in a New York style pizza joint, a good question to start with is, "What's hot?" (i.e. what's just come out). If you ask for a piece of haddock and they say, "That's going to be a wait," that's even better. That means they have to make some more and your fish is going to be super fresh and crispy.
When it arrives, don't expect it to be served on newspaper — that's a practice that ended when cleanliness and hygiene started to be valued, around the time Dick Van Dyke was practicing his cockney accent. The fish is served on a paper plate if you're staying, and wrapped up in white paper if you're taking away. It will be much thicker and flakier and juicier than any fish you've ever ordered from an alleged British or Irish pub in the U.S. The batter should shatter when you hold a plastic fork anywhere near it. On the counter will be a big fat saltshaker and a bottle of malt vinegar. Use them both liberally; they are essential.
Customers are fiercely loyal to their favorite chippies, and famous chippies will have long lines of all kinds of nighttime characters, most of them with a few drinks in them. It's not unusual to see a particularly busy spot with a few Rolls-Royces parked out front waiting for people "of quality" to get their fried food fix, as well as a less well-heeled crowd. Good fish and chips are a classless treat in a very class-conscious society. And oddly enough, most of the best ones are Greek-owned businesses.
At a chippie they will pretty much batter up and deep fry an array of weird stuff. How about a batter-fried sausage? Mars Bar? After all that grease, you'll be ready for round two down the pub.
Our 5 favorite chippies in London:
1. George's Portobello Fish Bar
329 Portobello Road W10 5SA, timeout.com/london
2. The Sea Shell of Lisson Grove
49-51 Lisson Grove, London NW1 6UH, seashellrestaurant.co.uk
3. Nautilus
27-29 Fortune Green Road NW6 1DU, timeout.com/london
4. Golden Hind
73 Marylebone Lane W1U 2PN, timeout.com/london
5. Toff's
38 Muswell Hill Broadway, London N10 3RT, toffsfish.co.uk
Read more about Britain on Food Republic: