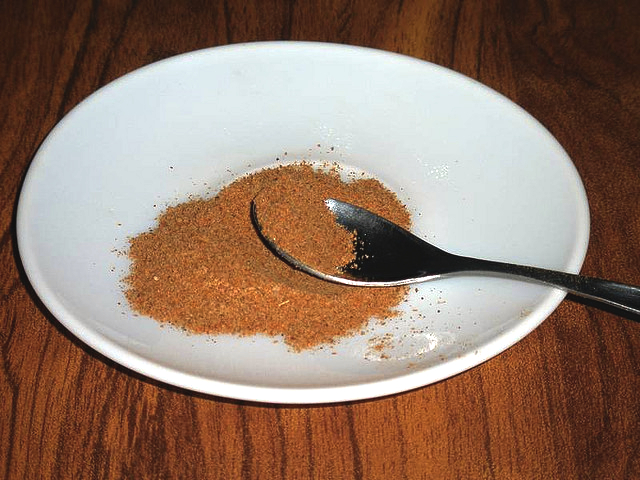 I might as well ride out this secret Indian condiment wave. Ugh, shouldn't have put it like that, I just had a flash of what happened after I ate pani puri on the beach in Mumbai. I stand by it, especially since chaat masala is key to the "pani" part. Quick refresher: small puffed deep-fried shells are cracked open and filled with diced boiled potatoes, chickpeas, chopped coriander, green chilis, tomatoes and onion, thin crispy chickpea flour noodles and dipped in a bucket of tamarind, pungent black salt, and dried green mango powder-spiced water. Those last two things are components of chaat masala. The whole pani puri concept is super-sketchy, make no mistake about that, but when something is that obscenely delicious you will risk life and limb. And the last two days of your India vacation.
Aside from the unique and illogical street foods of my country, chaat masala is kind of a miraculous substance. Translated as "snack spice," that is precisely what it is. The combination of dried pulverized sour mango, ground coriander and cumin, chili powder and …just, the fartiest black salt you've ever smelled. It's okay, I'm a halfie. I can say that. Whatever, the stuff is DELICIOUS. Think of French cheese for like, a second and you'll forget all about the lesser of two tasty evils.
If you have boring food: plain old fries, an unexciting sandwich, pasta salad, any manner of baked potato, this goes on it. I won't lie and tell you I didn't bring a little bag of the good stuff to a latke party. Guess who was popular all of a sudden? The chick who turned it into a chaat masala party. Seriously, a little experimentation never hurt anyone.
More ethnic peer pressure for lunch on Food Republic: