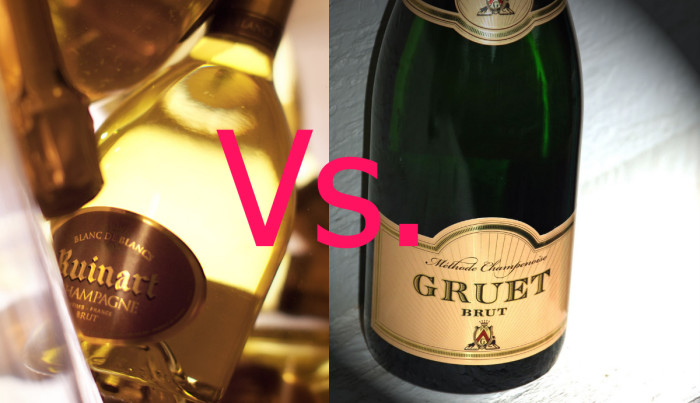 We preach it all year: Champagne is not just for the holidays! FYI: You can also saber Champagne all year long too. But now the holidays are here, so let's drop the charade already. Americans will be downing bubbly by the bucketloads this season, far more than they do during any other season — especially on the last night of the year. Given the very special status of this day, you may choose to fill your flute with true French Champagne. Or you may choose to support domestic winemakers and raise a glass of homegrown bubbly instead. To help you decide, we've rounded up a handful of sparklers from each side of the pond that should be easy to find and that won't rip a hole in your wallet.
FROM FRANCE
Charles Heidsieck Brut Reserve: Recently relaunched in the U.S., this Champagne uses a whopping 40% reserve wine in its Brut Reserve (most houses use 5-10%). The result is a surprisingly fresh and racy bubbly, with a great balance of fruit and toast. $50
Ruinart Brut Blanc de Blancs: From one of Champagne's oldest houses comes this all-Chardonnay bubbly, made from mostly estate-grown grapes. Full of juicy fruit, it's also characterized by an underlying minerality and bright acidity. $60
André Clouet Silver Brut Nature Grande Reserve: This producer has been compared to Jacques Selosse, who helped propel the popularity of grower Champagnes. This Brut Nature (unsweetened) sparkler is beautifully bready and chalky, a great value. $40
Krug Brut: You can't go wrong with a bottle of Krug — they should put it on a t-shirt, the statement is so true. Simply a solid Champagne, regardless of how much people say it's changed over the years, it's full of full rich, smoky, yet honeyed flavors. $150
Billecart-Salmon Brut Rosé: For an extra-festive New Year's Eve, go pink! This bubbly rosé is that subtle salmon color, as opposed to garish bubblegum. Berry and blossom notes give way to a velvety effervescence in the glass. $75
FROM THE UNITED STATES
Gruet Brut: Made by a French family that relocated to Albuquerque, this sparkler is produced using the Champagne method and traditional grapes. The result is zesty and spiced, with dominant green apple notes. $15
Coppola "Sofia" Blanc de Blancs 2011: A "blanc de blancs" usually refers to a white wine made of Chardonnay. In this case, it's a blend of Pinot Blanc, Muscat and Riesling. Peachy and citrusy, it's lively and refreshing. $17
Bonny Doon Riesling to Live 2006: This biodynamic California producer makes sparkling out of nearly all its white grapes — Moscato, Albariño, but the Riesling has the best name by far. It's also crisp and lean, yet bursting with Riesling aromatics. $35
Roederer Estate Brut: The famous Champagne house has been making sparkling wine in California for some 25 years. This one is fruity and spiced, with a hint of yeastiness and a creamy mousse. $19
Domaine Ste. Michelle Brut: Made using the traditional Champagne method, this Washington state bubbly is fruity and toasty, with small persistent bubbles. And it's hard to beat the price. $11
The winner? Champagne lovers will tell you it's no contest, silly! while those open to American-made sparklers laugh all the way to the bank. Check your pockets and your party guest list before you pick how to pop the year's final cork.
Read more about Champagne and sparkling wine on Food Republic: