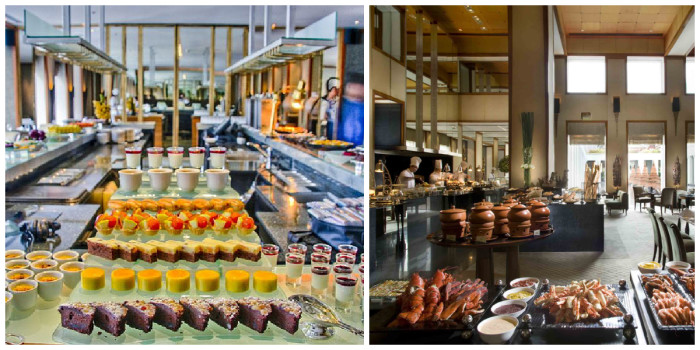 One reason I love Bangkok, is that — like New York — the Thai capital excels at both high and low. Dinner one night might be dollar noodles at a Chinatown back-alley stall, while the next evening could bring a sumptuous (and scandalously expensive) feast at some internationally known restaurant.
In the past decade or so, the city has embraced the also-very-New-York ritual of Sunday brunch, one-upping anything happening weekend mornings on this continent with spreads suitable for a Lanna king. So one Sunday last month, after checking out of my budget hotel just down Sathorn Road, I made like I was HiSo (BKK slang for "high society") and schlepped in the sun over to the Sukhothai Hotel for the opulent brunch served at its Colonnade restaurant.
The plushly carpeted dining room has double-high ceilings and windows overlooking a reflecting pond from which decorative stupas emerged; a jazz ensemble played in one corner. Unsurprisingly, I'd been unable to convince any of the few people I knew in the city to come spend 80 bucks (nearly 10 times what I'd spent on dinner and beers the night before) on this meal, which didn't even include booze. So I had my own table, the better to observe the scene around me, where posh families and wealthy tourists were enjoying plate after plate of the kind of fare that graces the dining rooms of the world's one percent.
Oysters on the half shell? Check. Roast lamb? Yep. Chef's special nigiri? But of course. After doing a drive-by of the countless stations overflowing with delicacies (including a whole side room dedicated to dessert), I devised a strategy Emily Post would've been proud of. I'd go cold to hot, appetizers to heavier mains.
I began with oysters, loading up a whole plate with bivalves from exotic waters, including those surrounding Tasmania. Some of the specimens were extremely meaty and others saltier than any mollusk I'd encountered on these shores. A few squeezes of lemon and a dozen slurps later, my palate was primed. Time for the chilled crab and lobster, which filled another whole plate. (Since I was spending a small fortune, I decided to absolve myself of any guilt over the environmental impact of my dirty dishes.) I was in good shape, my appetite barely dented.
For the third seafood course I hit the sushi bar, making the amateur mistake of piling my plate with ordinary, albeit extremely fresh, tuna rolls and the like before realizing there were exciting combinations involving ingredients I'd never heard of. I had no clue what shake teri or katsuo tamamiso were, but I was about to find out. (After launching these buttery morsels down my gullet, I can say I'd definitely eat both again.)
Finally, time for hot foods. I decided dim sum, with its appetizer-ish dumplings, should be first up. Of course, it was served authentic-style from a small steel cart parked in one corner. Upon request, a serious man in crisp chef's whites and a towering toque would lift the bamboo steamer basket covers to reveal their contents. Feeling the slight pinch of eroding stomach real estate, I kept it moderate with a mere two selections: fluffy roast pork buns and small translucent shrimp dumplings. Not exotic, but very good.
Next up: main courses, and more decisions. It's occasions like these that I wish I wrote about art or some other pursuit that doesn't impose a natural limit on its appreciators. If not for my flagging appetite, I could've taken this in all day. I eschewed the foie gras, the passel of terrines and a Caesar salad tossed in a Parmesan rind as too typically Western. And I even, after several lustful glances, turned down the design-your-own-noodles station (it probably tasted better at that street stall I passed on the way here). I knew it had to be the roast pork and Peking duck hanging off to one side. The enthusiastic slicer fixed a too-generous plate for me, carefully laying the rosy strips of flesh alongside puffy buns, plum sauce and scallions. Back at the table, I made sorry progress on his handiwork; I was getting really full.
But wait! Dessert. I didn't really want it, but one can't exactly pass up a whole room's worth of après-savory selections. After doing a lap, I chose one frosted bonbon and a small bowl of fruit and ice, like some refined creature of disciplined appetite that I'm not. Nibbling these confections with the demitasse of espresso that arrived soon after, I might've felt downright dainty if I weren't so stuffed.
My kind server chatted with me for a few minutes in his perfect Oxford accent before heading off to fetch the requested bill. As he returned and set it down, he shook his head with sincere regret, saying: "It's too bad you hardly ate anything."
The Sukhothai Bangkok, 13/3 South Sathorn Road, Bangkok 10120, Thailand, +66 (02) 344 8888 sukhothai.com; email promotions@sukhothai.com for reservations.
A number of other hotels in Bangkok serve a brunch that rivals the Sukhothai's. Choose your kingly spread below.
Dom Perignon Brunch, Viu at the St. Regis Bangkok
The hotel's restaurant overlooking leafy Lumphini Park offers a special brunch with free-flowing Dom Perignon and a luxurious spread (think seafood plateaux, three kinds of lobster and chichi meats including organic French venison) every first Sunday of the month. It's not cheap: Most Americans will no doubt blanch at the $260 price tag (though it's a comparatively reasonable $86 sans Champagne, but including Bloody Marys or martinis). However, in a country where wine is highly taxed and generally expensive, and where much international business is conducted over this kind of opulent meal, it gets plenty of takers. 159 Rajadamri Road, Bangkok 10330, Thailand, +66 (02) 207 7777; starwoodhotels.com/stregis/bangkok, email stregis.bangkok@stregis.com for reservations
Sunday Brunch, The Four Seasons Hotel Bangkok
Now in its 10th year, this over-the-top spread features all the imported seafood you can hold, plus international food including a Japanese section, a Chinese grill and an "Indian station" with a tandoor oven turning out chicken and naan. Also on offer: seven kinds of fish roe, a "foie gras corner," breakfast foods and the beloved Northern Thai noodle dish khao soi. The damage: 90 bucks, which includes brunch cocktails. 155 Rajadamri Road, Bangkok 10330 Thailand, +66 (02) 250 1000 EXT 1231; fourseasons.com/bangkok email restaurants.bangkok@fourseasons.com for reservations
Sunday Lunch, Lord Jim's at the Mandarin Oriental Bangkok
As reportedly the first hotel ever built in Thailand, the Mandarin Oriental claims some prime Chao Phraya river real estate — which you can gaze at while tucking into a lavish buffet lunch fit for a wealthy colonialist at the hotel's seafood restaurant, Lord Jim's. While an impressive spread is served every day of the week at lunchtime (including lobster, sashimi, foie gras and Australian grass-fed beef), on Sundays the lineup gets a boost from additional imported seafood, the Oriental signature paella, and kanom jeen, a typical Thai dish of slender rice noodles served with curries and an array of vegetables. Lunch Monday to Saturday is $50, while Sunday's spread runs $77, not including alcohol. 48 Oriental Avenue, Bangkok 10500, Thailand, + 66 (02) 659 9000; mandarinoriental.com/bangkok reserve a table here.
Prices are converted from Thai baht and are approximate owing to fluctuating exchange rates.
---
Read more about Thailand on Food Republic: