It's always cool when a chef as accomplished and celebrated as José Andrés still admits moments of uncertainty, especially when the outcome is no less masterful. Take his "Yogurt-Pine Snow" dessert at minibar in Washington, DC. "This dish started out as a simple idea — a concept consisting of pine and yogurt," Andrés tells us. "The idea came from childhood memories of eating snow off the pine trees that had amber-colored sap dripping from the tree. But we really did not know what form or shape this was going to take."
One glance and it's obvious that the resulting plate took on a literal presentation. And why shouldn't it? Dramatic and spellbinding at once, the light dusting of yogurt-turned-snow evokes the natural beauty of the forest and the wintry season, and yet it's entirely befitting for the avant-garde eatery's menu. Read on for Andrés' nostalgic interpretation.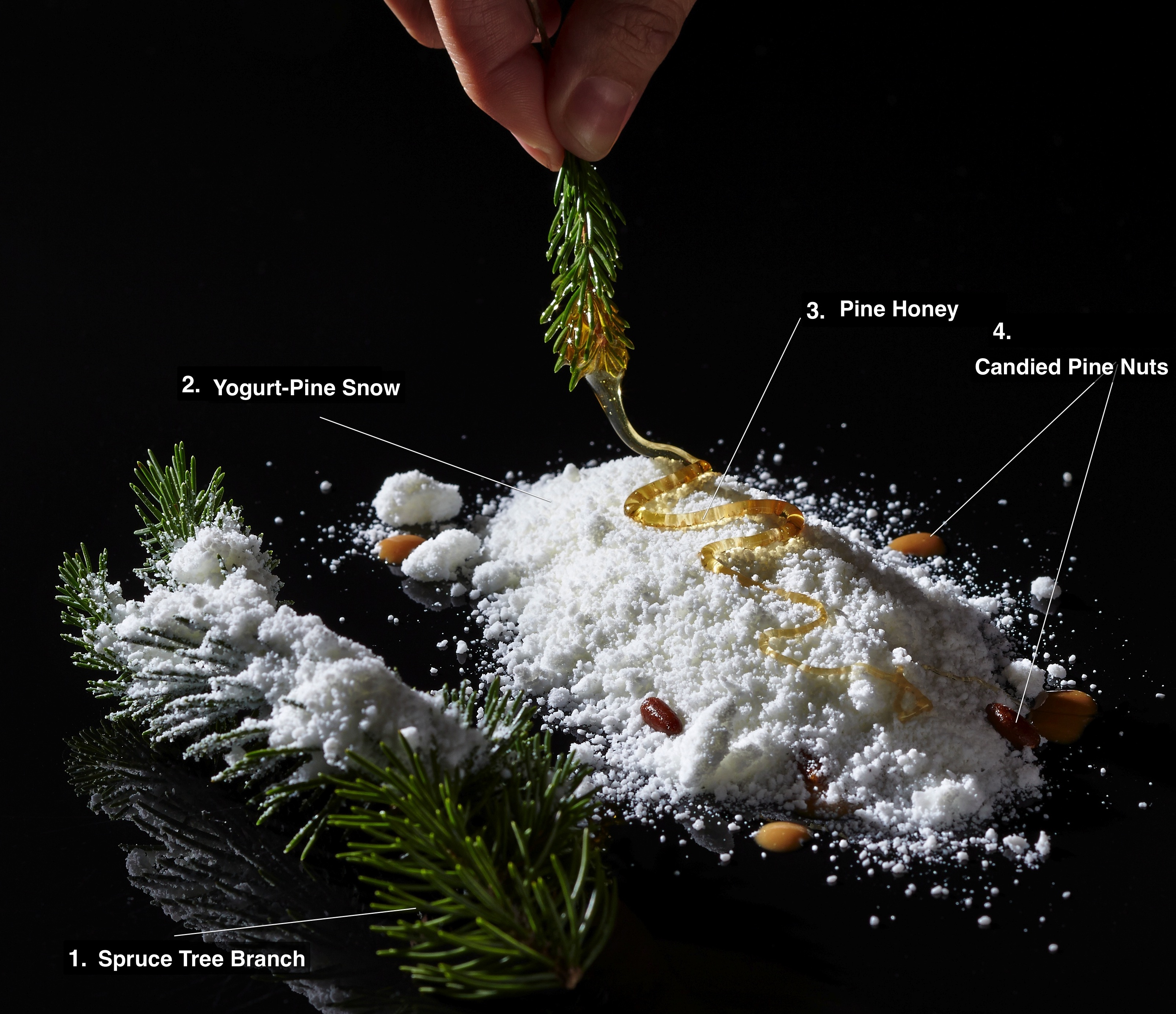 1. Spruce Tree Branch | A seasonal, naturistic touch, dusted with a light layer of edible "snow."
2. Yogurt-Pine Snow | Frozen yogurt, delicately and quickly shaved into a fine ice resembling snow.
3. Pine Honey | Honey infused with pine essence. "The pine flavoring comes from a perfumist in California, who makes natural distillations and essential oils."
4. Candied Pine Nuts | "Pine nuts come from pine trees—it was almost too obvious a choice for the dessert." Here, the nuts are candied two ways: the darker ones are caramelized, while the darker ones are morsels of a pine-nut praline.
855 E Street NW, Washington DC, www.minibarbyjoseandres.com
[All José Andrés coverage on Food Republic]
More Plate Deconstructions: