This Column Was Written From Ian Fleming's Desk At Jamaica's Golden Eye Resort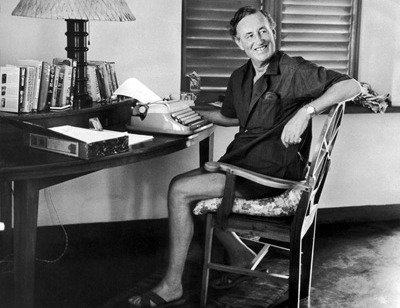 In 1942, World War II Commander Ian Fleming was sent to Jamaica by Britain's Navel Intelligence service on a secret mission. He fell in love with the island after only three days. When the war ended, the debonair Englishman returned to Jamaica, purchased 15 acres of land in the famous banana port of Oracabessa and built himself a villa. He called it GoldenEye, named after the mission.
Fleming would later write the first James Bond book, Casino Royale, at this villa in the winter of 1952. In the book he drew from his knowledge and personal experiences from his time in intelligence during the war. He established a routine of writing at the grand estate and authored all 14 Bond novels there. "I wrote every one of the Bond thrillers here with the jalousies closed around me so that I would not be distracted by the birds and the flowers and the sunshine outside," Fleming later recalled. "Would these books have been born if I had not been living in the gorgeous vacuum of a Jamaican holiday? I doubt it."
In 1946, the renowned martini-swigging English playwright Sir Noël Coward was the first paying guest to rent GoldenEye (he moved to Jamaica shortly afterwards). He was soon followed by the Hollywood elite — Katherine Hepburn, Donald Sutherland, Sir Laurence Olivier, Sir John Gielgud, David Niven and Errol Flynn, to name a few, were all regular guests. Flynn was famously seen waterskiing while holding a dog under one arm and smoking a cigarette. Fully decked-out in his suit. He would approach the beach looking seamlessly dry before tucking into a martini. GoldenEye's legendary status continued to grow.
From one of my heroes to another
Ian Fleming died in 1964 and GoldenEye remained a part of the family estate until 1976, when it was sold to Chris Blackwell. As you can probably tell, Ian Fleming is one of my heroes for a variety of reasons. These include the part he played for England in WWII, his love for the finer things in life and, of course, for creating James Bond. Chris, who was a location scout for Dr. No and more notably the founder of Island Records, is also one of my heroes. He discovered Bob Marley and U2 in addition to many other great musicians, and helped promote Jamaican culture and music around the globe.
So, why am I telling you this?
Today, December 13, is my 40th birthday. After years of traveling in search of quality drinks and bars, I wanted to go somewhere with some friends for an ultimate imbibing experience — a sort of summary of my last 10 years in the business of drinking. I wrote this week's column from the very desk that Fleming wrote every Bond novel while sipping a Vesper Martini. This evening I will be heading to Firefly, the former residence of Noël Coward, for some classic dry martinis made with Fords Gin, before returning to GoldenEye's private beach (the location of the iconic scene with Ursula Andress emerging from the sea in Dr. No).
It is easy to see why so many people have fallen in love with Jamaica and with GoldenEye — and I wanted to use this week to let you all know about the place in case you ever find yourself feeling indulgent and/or celebrating something special. I thoroughly recommend the investment. This is by far the nicest place I have ever stayed in my life, and its history adds an air of decadence and glamour that is unparalleled. Now, on to the most important part — what to drink at GoldenEye.
Blackwell Rum
Chris Blackwell's family once owned J Wray & Nephew, Jamaica's #1 rum, and Chris wanted to keep up a family tradition by making his own rum. Blackwell Rum is made from local Jamaican sugar and is a blend of classic Jamaican-style pot-stilled rum and lighter column still rums. It has delicious burnt molasses notes and is great with ginger beer or in the house cocktail, The GoldenEye — a mixture of rum and fresh pineapple juice.
GoldenEye's Rum Punch
2 ounces Appleton Rum
1 ounces sugar cane juice
1/2 ounce sugar syrup
3/4 ounce fresh lime juice
Ice to dilute
Shake and strain.
Dark & Stormy
When in Rome...
2 ounces Blackwell Rum
4 ounces ginger beer
1/4 ounce fresh lime juice
Build over fresh ice into a highball glass.
Black & Blue
The guilty pleasure of the trip, invented by the Chris Blackwell
2 ounces Blackwell Rum
2 ounces Jamaican Blue Mountain Coffee
2 ounces coffee ice cream
Nutmeg
Blend and pour into a hurricane glass; garnish with nutmeg.
Vesper Martini
It would be rude not to drink one while staying at the Fleming villa
3 ounces Gordon's gin
1 ounce Russian vodka
1/2 ounce Lillet
Shake with ice and strain into a cocktail coupe. Garnish with a large lemon twist.
"A perfect martini should be made by filling a glass with gin then waving it the general direction of Italy" —Noël Coward
I also have a soft spot for the local beer Red Stripe and for (Jamaican) Guinness – it is stronger than the Guinness back in the U.S. Just remember: You only live twice.
More Drink Ford Tough columns on Food Republic: