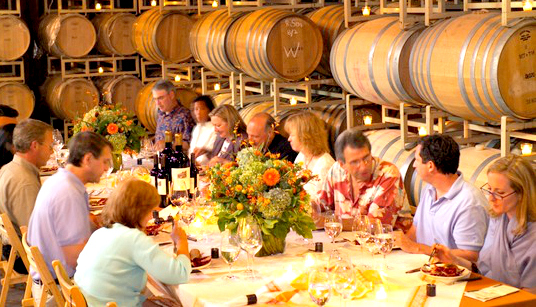 Wine is the gift that keeps on giving – especially when the wine keeps coming all year. A wine club subscription makes the perfect gift for oenophiles and wine novices alike – so long as you live in a state that allows direct wine shipments from online retailers and wineries (only 12 states don't; New Jersey lifted its ban on direct shipments this year). Wine clubs can be a great way to boost one's wine knowledge or just keep your favorite wine lover well stocked. We've rounded up our favorites.
1. Plonk Wine Club
Don't let the name put you off. Sure, "plonk" tends to refer to bad, cheap wine, but the tongue-in-cheek use of the word here is just for the "cheap" part. The online wine shop specializes in bottles priced under $30, with a focus on organic and biodynamic wines, as well as emerging regions like Croatia and Portugal. Join the wine club and you'll get four bottles delivered to your home each month for $70.
2. Half Wit Wine Club
Half Wit Wines claims to have the largest selection of half bottles in the United States. Half bottles are a fun, underrated way to sample several different wines in a sitting. (Related: Landmarc's Half-Bottle Revolution.) Founded by a former ballerina and a self-proclaimed wine "perfectionist," the online shop's wine club features two tiers: the first is priced at $90 for six 375-ml bottles per month, the second is $180 and promises the finest premium wines in its collection.
3. Spring Wine Club USA (now closed)
Spring Restaurant is one of the hottest tables in Paris and, around the corner, Spring Boutique is one of the sweetest wine shops. Now Americans don't have to fly to the City of Light to stock up on its great selection of artisanal, hard-to-find French wines. For $500 (per case), members receive three 12-bottle shipments per year of cult producers like Olivier Cousin, Domaine Alain Burguet and Entre Ciel et Terre.
4. Wantful
It's not exactly a wine club, but a great way to give wine online – and a slew of other gifts. The unique model allows you to create a personalized gift booklet of 12 products, from jewelry to kitchen goods to handpicked wines. Your giftee then chooses which of the 12 items he or she will redeem. You might pick 12 wines for them, or even toss in a wine rack or corkscrew.
5. PureVineWines
Specializing in organic, biodynamic and natural wines from around the world, this wine-of-the-month club offers two bottles per month, priced from $45-$60, plus a recipe for an ideal pairing. While a number of wines are certified organic or biodynamic, many of the small producers featured prefer not to be certified — and these can be the most exciting ones.
6. Armida Wineclubs
A winery-specific club can be tricky. You have to really love the producer's wines to commit to drinking them all year. Of course, the rewards include discounts, first pick of new vintages and the occasional freebie. Join Sonoma winery Armida's wine club and you can get a discount on The Catch (priced at $800), its very limited-edition six-liter bottle of blended Zinfandel, autographed by Dwight Clark: a tribute to the football legend's infamous play.
7. The Wine Garage Wine Clubs
Housed in a former gas station, this wine shop specializes in small, garagiste-style California producers that can't be found elsewhere. What's more, nothing is priced at more than $25. Membership is free and includes discounts and access to pre-release wines. For about $100 per shipment, you'll get six wines six times per year. If you don't like what was sent, they'll buy it back or exchange it for you.
8. TastingRoom
Using proprietary technology, TastingRoom transfers wine from full-size bottles to 50-ml minis. Taste through a sampler of minis – each is equivalent to a tasting room pour: get it? – then order full-size bottles of those you love. Membership is as low as $30 for the sampler, which includes 20% off full-size bottles. Pick your own sampler or select a themed pack, like West Coast Pinot Noirs or Classic Chardonnays.
Read more stories about wine on Food Republic: