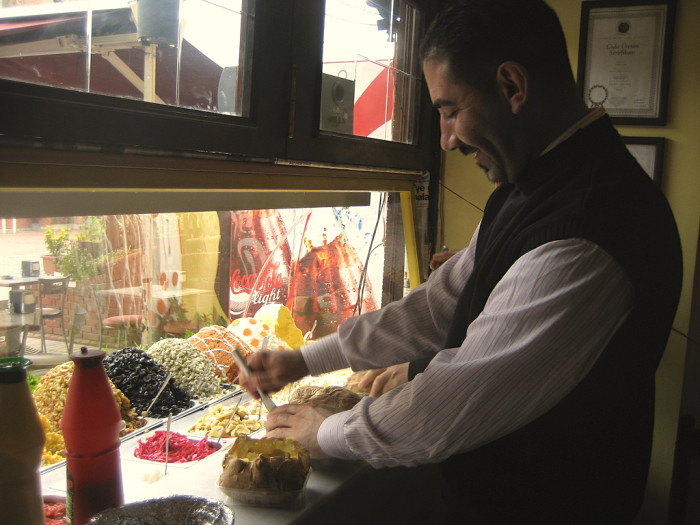 Thanks to our editorial intern Laila, we've been pretty solidly educated on the glories of the various kinds of Middle Eastern street food she grew up with. First she brought Turkey's wet burger to our attention, a new kind of French dip experience totally worth the 12-hour flight. Then we learned about koshary, the most delicious way to feed the most people with the least effort, via Egypt's Rachael Ray. Now with knowledge of kumpir — a specialty in Ortaköy, Istanbul — I'll attempt to reinvent the baked potato. Or at least use up a lot of leftovers all at once.
Kumpir is just that: a baked potato with a TON of stuff in it. Not boring stuff like England's jacket potato. You'd think they could move past butter and cheese by this point. No dice. So taking guidelines out of Turkey's book, which lists chopped bell peppers, onions, scallions, green and black olives, corn, pickles, lentils, mushrooms, cabbage, the holy trinity of condiments and basically anything else in the world as appropriate toppings, here are a few Food Republic recipes that could definitely make a reappearance in a potato:
(are you feeling my Meatless Monday vibes yet?)
(I can do this all day)
And of course, cover it in cheese if you must, for it is in fact, still a potato. And that's a language we all speak.
More potatoes for lunch on Food Republic: