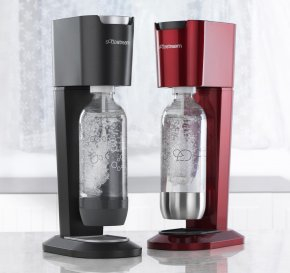 An article in Wednesday's New York Post presented an ominous outlook for beverage companies Coca-Cola and Pepsi, citing the rapid ascension of at-home soda machine SodaStream. A bevy of statistics is used to back up the claim: U.S. soda sales have dropped around 13 percent in the past seven years and SodaStream's shares have shot up 38 percent in the past year, dwarfing the gains of both Coca-Cola and Pepsi over the same period.
There appears to be rampant optimism surrounding everyone's favorite do-it-yourself carbonated drink maker. SodaStream announced this week that it will advertise during the upcoming Super Bowl. With no legitimate competition in the at-home soda market, the company already sells over 10,000 machines a day, according to the Post. Individuals who purchase the machine are also less likely to buy Coca-Cola and Pepsi products in the future, the report states.
Related: Tips On Going Rogue With Your SodaStream
With the gradual shift away from outside soda consumption, soft drink titans are left to debate whether to enter the at-home market (the Post quotes sources saying that discussions are already taking place). Offering such a machine could even include a partnership with SodaStream, though a source close to Pepsi refuted that possibility.
In any case, it appears that the at-home soda gadget market presents direct competition to more established companies. As SodaStream's sales increase and the company continues to expand through marketing, it will be interesting to see how Coca-Cola and Pepsi ultimately respond. Might we suggest more wacky products and advertising campaigns in the meantime?
Read more soda news on Food Republic: