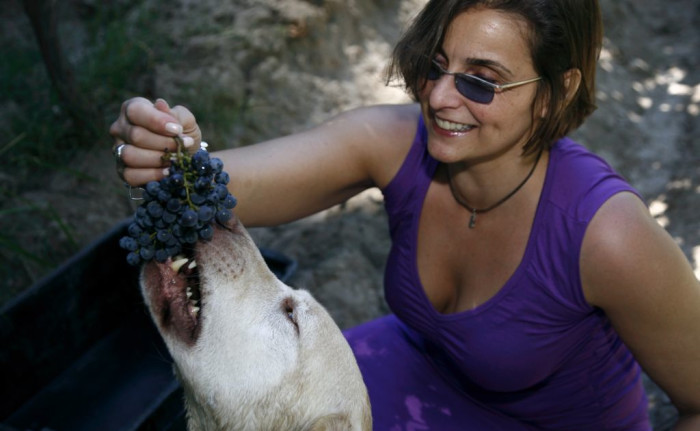 Thanks to a mother who was a chef and a father who loved wine, Alex Elman began developing her palate early in life. But When she lost her sight in her twenties, she found that her ability to taste did not suffer. In fact, her palate became even more focused. Last year, Alex launched her own wine company, Alex Elman Wines, featuring handpicked organic wines from Argentina and Italy. She also just released an organic extra virgin olive oil. Like the wines, the label features a drawing of her and her dog, Hanley. We chatted with her about the mysteries of the senses – sight, smell and taste.
Did losing your sight make you a better taster?
Most people close their eyes when they're tasting. It allows your nose to discern flavors. It's an automatic human response to focus better, to blot out the rest of the world. People always ask me if I can taste better because I'm blind and I always say, "Look, I don't know." But what it does allow me to do is focus. I'm there in the glass. I'm deconstructing what I'm tasting. I have that horrible image from Trainspotting where I'm diving into the glass and end up living there with all the things I taste.
How did you go blind?
I lost my sight due to juvenile diabetes. The ironic thing is that I'm a very visual person. I have a photographic memory. Even 18 years later, my brain still functions that way. It was really awful at first. Horrible. I had to mourn the loss of that way of life and learn how to live a different way. I don't drive a car anymore, so that was a loss of independence. But I do travel everywhere with a dog.
What are some of the myths you find yourself busting about wine tasting?
People always want to say white wine goes with fish and red wine goes with meat, which is not true. You can have great white wines with steak and great red wines with sushi. One of the things I always tell people is that wine is subjective. It's just like food. It's just like art. Everyone is not going to taste the same thing.
Color is an important part of wine tasting. How do you deal with not seeing it?
If a wine – or an olive oil, for that matter – is made correctly, I can usually discern the color based upon the flavors. If I'm completely wrong, somebody will tell me. I always ask someone near me to confirm my description.
Do you have any tips for how to become a better taster?
To become a better taster you need to keep tasting as much as you can. Go to local wine shops. They're always doing wine tastings. Any time you have an opportunity to taste wine, do it. Even if you aren't sure you're going to like it. Try it, especially if you've never heard of it. Step out of your comfort zone. And drink wine with food.
How is olive oil like wine?
You often find people also growing olives at wineries. They like the same kind of soil and climate. To me, no meal starts without olive oil. I put it on everything. I wanted people to know what extra virgin olive oil really tastes like. That little peppery taste you get in the back of your throat is what makes it extra virgin. It tastes good and it makes almost everything taste better. We're so worried about fat, but it's a healthy fat. Put the butter away, get the olive oil out. It's good for you.
Has your dog learned anything about wine?
I can't go anywhere with out him, so yeah, absolutely. I'm on my third seeing eye dog. On the bottles, it's Hanley. But now I'm with General. They've always been to the vineyards with me. Hanley was a wine taster, without a doubt. We'll have to see how General does. Hanley would put his nose in the wine. Dogs have such a more intense palate than we do. If it didn't smell good to him, he'd move his head away. Maybe I trained his palate, I don't know… The dogs break the ice. I show up at tastings and people think, "What am I going to do with this blind girl?" But there's a friendly dog. So, they relax a little.
More wine tasting stories on Food Republic: