It's that time of the year — Art Basel Miami Beach kicks off this week and art aficionados (plus an army of scenesters) are flocking to Miami from every corner of the world. The massive art fair, where hundreds and hundreds of galleries rent spaces within convention centers to sell contemporary art, has also become known for the smorgasbord of pop-ups, from nightclubs to restaurants and cafés. Here's a look at what's happening this week in Miami, from a food and drink perspective.
First up, Cuban-American artist José Parlá is serving cortaditos (sweet, Cuban espressos topped with steamed milk), empanadas and pastelitos (Cuban-style pastries) at Cafécito Neptuno, a pop-up within the Standard Hotel in Miami Beach. The floor-to-ceiling café is operated by David's Café, one of Miami's most beloved historic Cuban restaurants, and inspired by Neptuno, the renowned Havana street known for its food vendors. The coffee-centric art installation coincides with the launch of The Wrinkles of the City, Havana, Cuba, a book co-authored by Parlá and JR. Neptuno will operate from 7 a.m. to 7 p.m. through January 3 and will be open 24 hours a day during Art Basel to supply caffeine for late night debauchery. There won't be time for shut-eye when shuttling between two of the hottest temporary hot spots. Silencio, David Lynch's Parisian nightclub, is popping up at the Delano South Beach, and André Saraiva and André Balasz are at it again, with a temporary Chez André outpost at 1801 Collins Ave. Meanwhile, Saraiva's Le Baron will be at a different location every night; location will be announced on the evening of the party via Twitter. You'll be thankful for those cortaditos.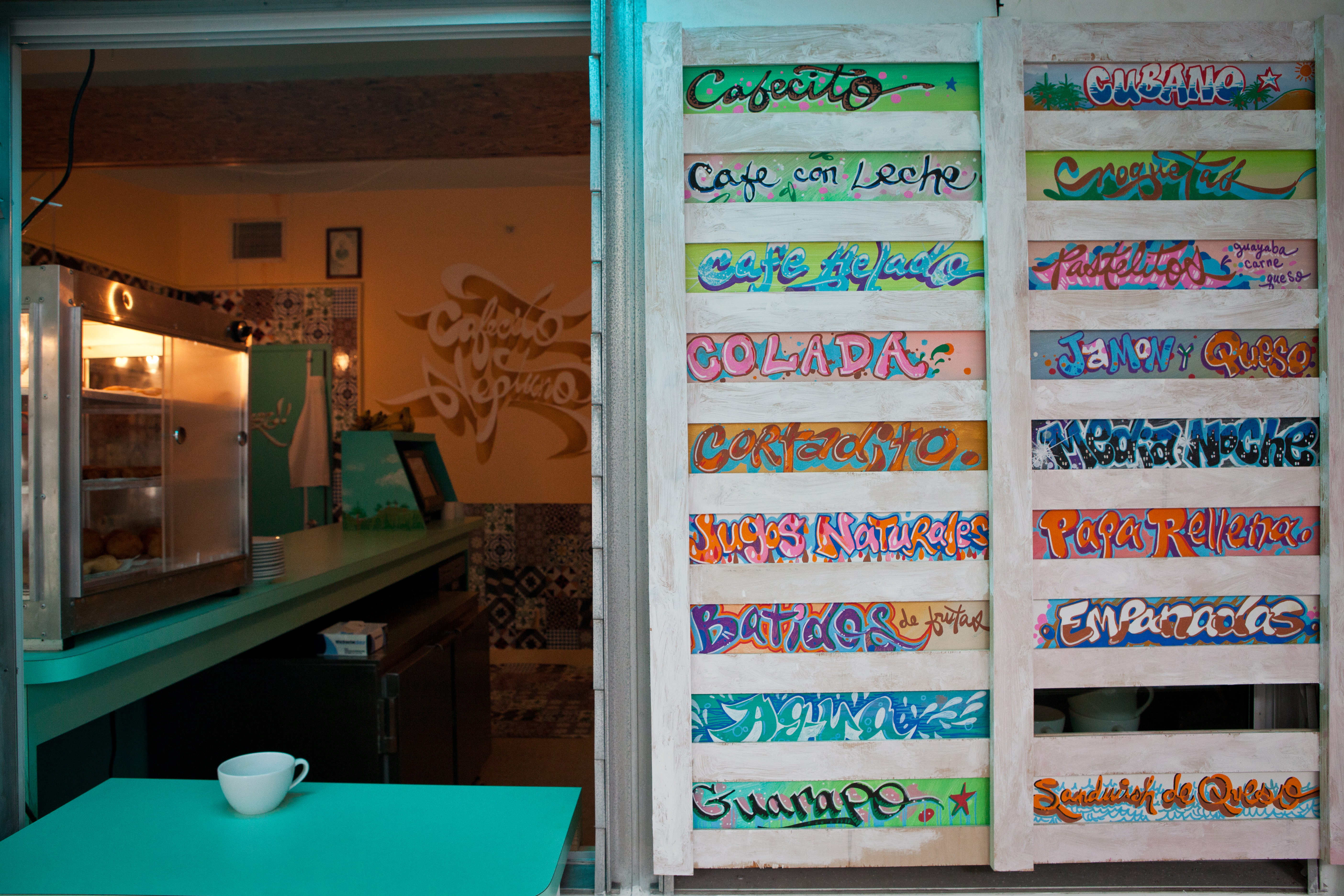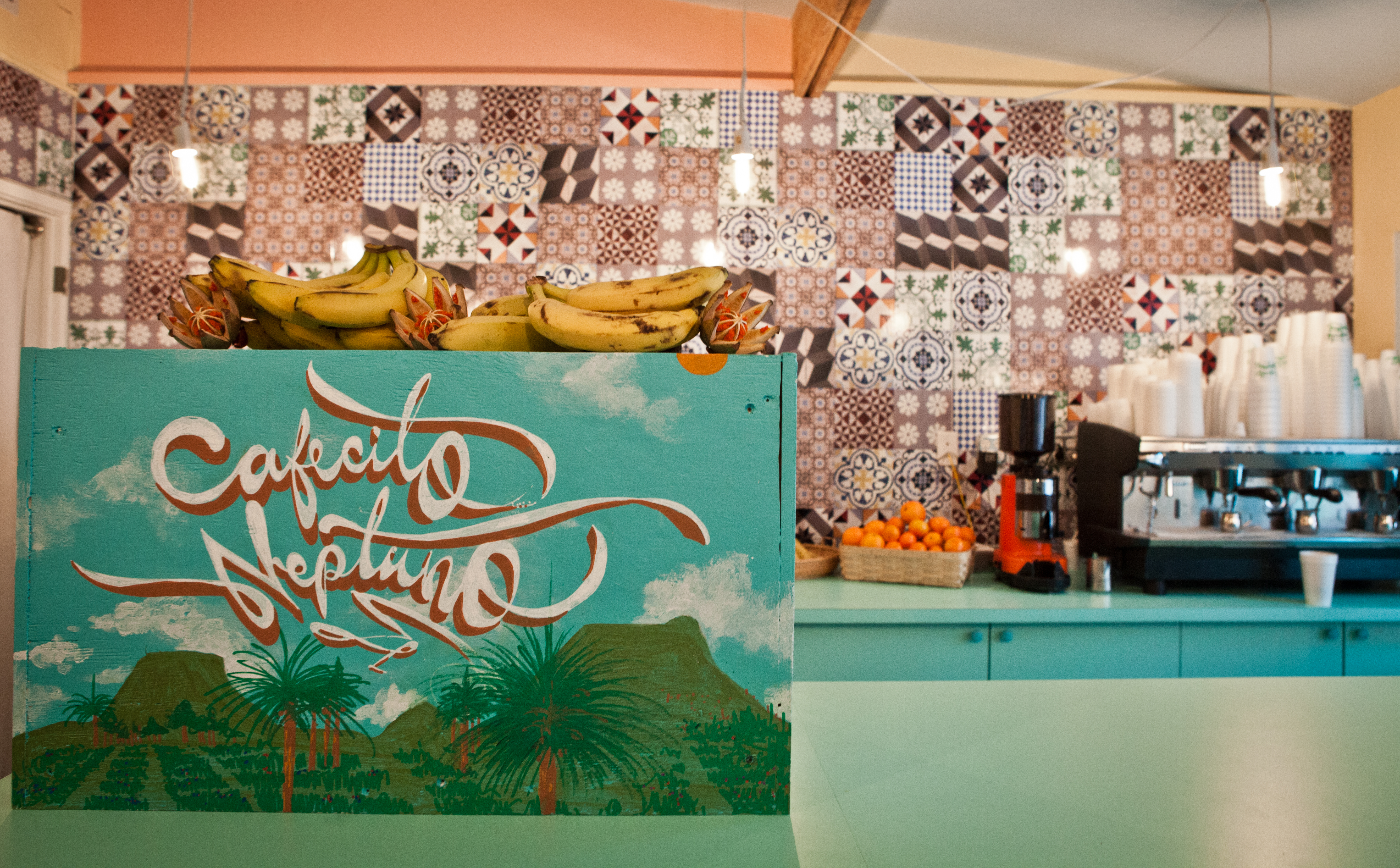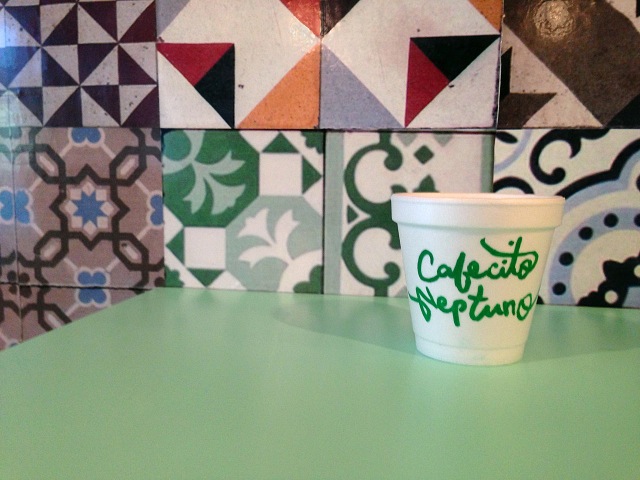 Food Exhibitions/Events
Kreëmart
The confection-­meets-performance-art venture, which creates multi-sensory dessert experiences, is featuring Sweet and Safe, an exhibition by Carlos Garaicoa on Saturday Dec. 8th.
Location: 1018 N Miami Ave.
website
Mestizo City
Artist Henry R. Muñoz III created an interactive public space to represent Latin American culture in the U.S. The installation includes an illuminated cube made of Jarritos bottles and a taco truck. Dec. 6-8.
Location: see mestizocity.com
OHWOW Soup Kitchen
OHWOW gallery is hosting a soup kitchen from 5-7 PM. Dec. 6-9.
Location: 743 Washington Ave.
Sugar and Gomorrah
Artist Peter Anton repurposed a miniature mechanical carnival roller coaster into a combination ride-installation which involves sculptures of candy and (almost) naked models as part of Art Miami. Dec. 4-9.
Location: 3101 Northeast 1st Ave.
Pavan's Mobile Gallery:
Whitewall Magazine's gallery on wheels provides liquor while on the go. Dec. 6-9.
Location: Various locations (Soho Beach House, Scope Miami, NADA Art Fair and Art Basel Miami Beach).
Stella McCartney Tea Party
Stella McCartney will be hosting an English tea party at The Webster on Dec. 5.
Location: The Webster, 1220 Collins Ave.
White Zinfandel "Food Fights" Launch
White Zinfandel magazine is celebrating the release of their third issue, "Food Fights," in collaboration with chef Leif Hedendal and multi-media artist Item Idem, who will showcase his art installation entitled Felon. (Dec. 6).
Location: Collins Ave. & 67th St.
Pop-Up Restaurants/Cafés
The Counter
Miami restaurateur Amir Ben-Zion's new spot, Cooper Avenue, is hosting a pop-up for Basel, featuring Asian-inspired fare. Dec. 5 – 9.
Location: 1661 Pennsylvania Ave.
SAMBAPOP
SUSHISAMBA is popping up in Midtown and featuring their staple Japanese/Brazilian/Peruvian cuisine. Dec. 4 – 9.
Location: 3252 NE 1 Ave.
Phuc Yea! Pop-Up
The Vietnamese restaurant on wheels is back this year at the Scope Pavilion. Dec. 6 – 9.
Location: 110 N.E. 36 St. at Midtown Blvd.
Jugofresh Pop-Up
Juice bar Jugofresh will be squeezing fresh fruit from Dec 6 – 9.
Location: 80 NE 29th St.
Basel Biergarten
The Wynwood Cigar Factory is hosting its first annual pop-up — a Basel Biergarten — featuring craft beers from local breweries and smoked meats from Miami Smokers. Dec. 5 – 9.
Location: 101 NW 24 St.
Wood Tavern
Heineken is hosting a Basel beer garden at Wood Tavern. The party starts at 1 p.m. and goes till 3 a.m. Dec. 5 – 9.
Location: 2531 NW 2 Ave.
Michael's Genuine Food & Drink
Michael's pop-up café, MGFD, will feature favorites from the Michael's Genuine menu along with booze, Panther Coffee and Miami's Maestro of Sweets Hedy Goldsmith's pastries. Dec. 5 – 9.
Location: Design Miami; Meridian Ave. & 19 St., Miami Beach
Eating House
Tierra Nueva chocolate and chefs Giorgio Rapicavoli and Henry Hané of Eating House are performing a live cooking demo at the Stage, in a closing event on Sunday, Dec. 9.
Location: The Stage Miami; 170 NE 38 St.