Thanks to his winning stint on Bravo's Top Chef, most viewers know that chef Michael Voltaggio is hardly one for following the rules — at least in terms of turning out literal interpretations of traditional dishes. And while the badass tocque doesn't seem like the type to dress a dish up with flowers, we're not exactly surprised to see that he's done just that at his insanely popular Los Angeles eatery ink., where your only safe bet is to expect the unexpected.
"This is a take on the classic Asian green papaya salad," Voltaggio says, referring to his cuttlefish appetizer, which showcases the squid-like mollusk sliced into wide ribbons of noodles. "We started out with that flavor in mind, and built the layers from there." Each layer, from the coriander flowers to the crackly flakes of fried cuttlefish, certainly lends a flavorful component to the whole, while its entire composition makes for a truly artisic outcome. Read on for the breakdown.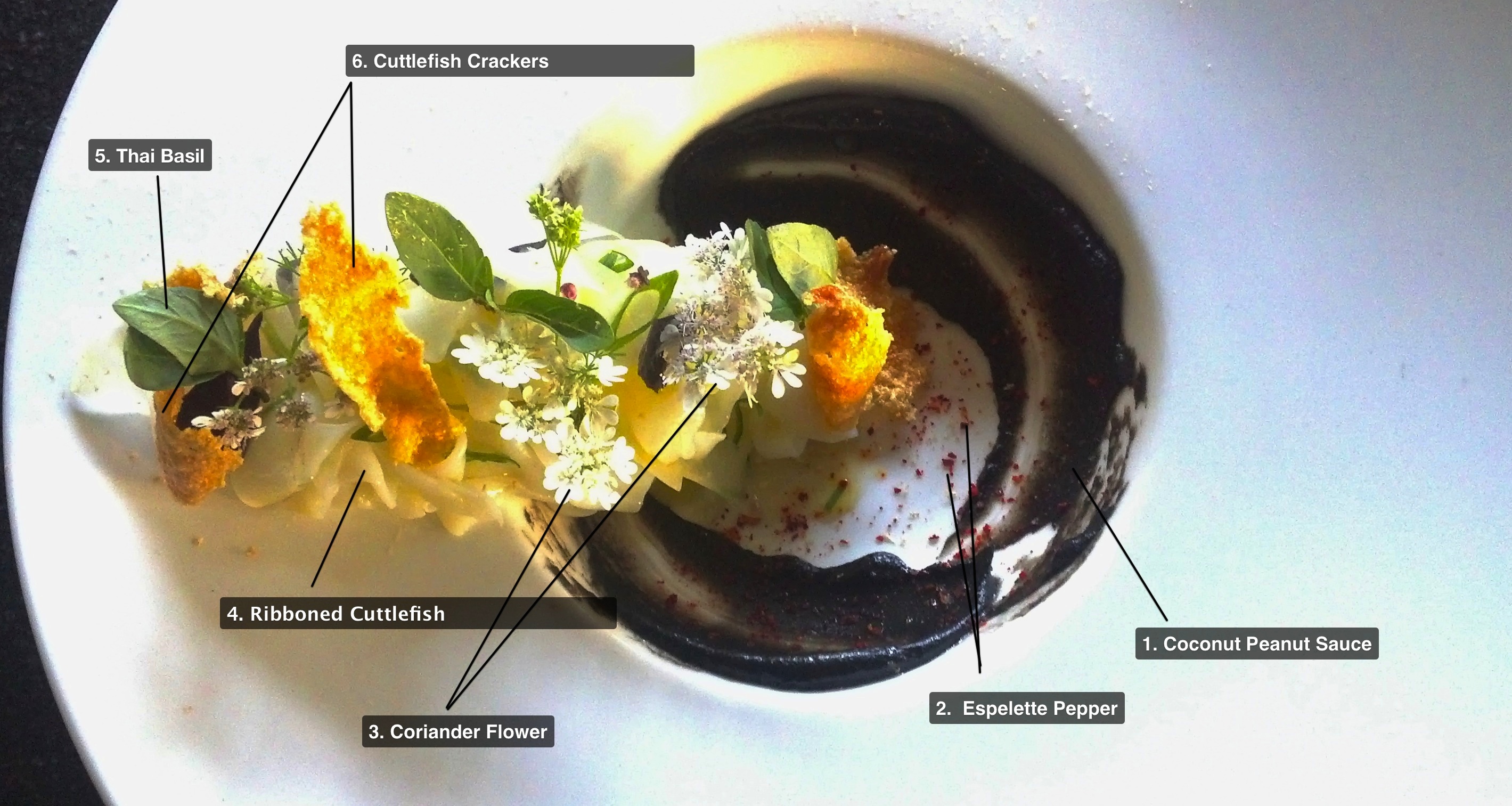 1. Coconut Peanut Sauce | Voltaggio brushes the mixture made up of traditional Asian ingredients, but blackened in color with the addition of black lime, around the inside of the plate.
2. Espelette Pepper | A mild French chili pepper, powdered and dusted over the same area.
3. Coriander Flower | "This adds a citrus-y burst of coriander to the dish — much like if you were to chop a bunch of cilantro. Fortunately for us, being from California, we can find bushels of this stuff at the farmer's market for $5, whereas other chefs I know have to order it and pay, like, $30 dollars for a small packet of the stuff."
4. Ribboned Cuttlefish and Papaya | "The cuttlefish and green papaya sort of look similar, so that was the first inspiration. To get those noodles, we roll up the body of the cuttlefish, we freeze it, and then we cut it on a slicer. Then we dip it in hot salted water for about two seconds."
5. Thai Basil | A staple in Thai cooking, the basil adds more citrus undertones.
6. Cuttlefish Crackers | "We use leftover cuttlefish pieces that we can't slice evenly into noodles, put them in liquid nitrogen, then we blend that into a powder and dust it onto a tray and dehydrate it. Then we fry it and break the pieces up."
ink., 8360 Melrose Ave., Los Angeles, CA, 323-651-5866, www.mvink.com
More Plate Deconstructions on Food Republic: