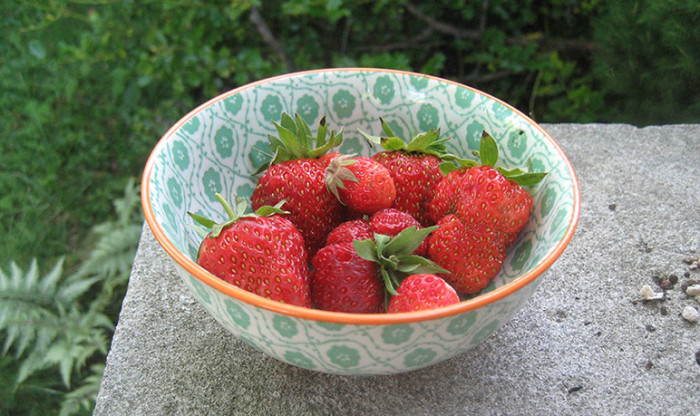 James Beard once said that the Marshall strawberry was the tastiest of them all. The berry — which was widely grown in Washington, Oregon and California — was regretfully almost rendered extinct because of a devastating virus in the 1960s. By 2007, the only remaining Marshall existed as a single clone at a USDA repository. Leah Gauthier, an artist from Bloomington, IN, is a fan of the Marshall — so much so that she took it into her own hands to revive it.
After she requested runners (young plants) from the USDA, she sent them to friends around the country — spreading the love (and seeds) along the way. Gutheir then teamed up with Kind Aesthetic, a Brooklyn-based arts consultancy, and began selling the Marshall plants online. Potential strawberry parents can now purchase a plant for $65 (including overnight shipping) or $30 (for in-person pick-up in Bloomington). With this you will receive a young strawberry plant in a hand-sewn container with a metal numbered tag. The package also includes care instructions to keep the plant healthy.
Gauthier has kept track of where the plants are ending up. Once a plant is sold, its location is marked on a map. Follow the Marshall's journey. Support a good cause that intersects art, food and science. Click here to order you own Marshall.