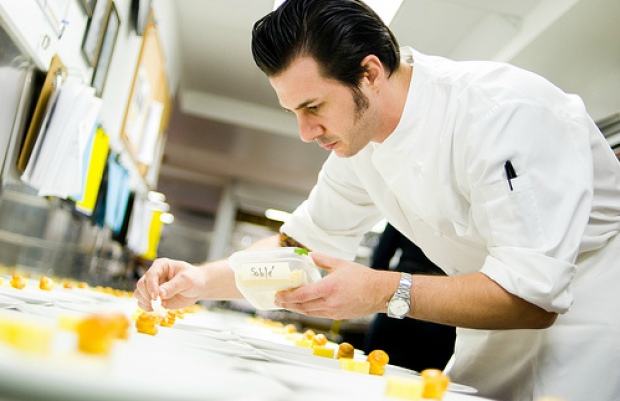 "Chocolate and coffee are two commodities that constantly grow and I love them to death," says Johnny Iuzzini, the Brooklyn-based pastry chef who has worked at in leadership positions at both Daniel and Jean-Georges. In part two of our interview (read part one here), the James Beard Outstanding Pastry Chef of the Year talks about his ongoing partnership with Medaglia d'Oro and his plans to open a coffee roasting and chocolate factory.
Why did you decide to work with Medaglia d'Oro?
I tend not to align myself too often with different brands unless there is a real attraction to me. Medaglia d'Oro was always the can that would be in the kitchen, growing up in New York and of Italian descent. I grew up with Medaglia d'Oro and I think about how hard my grandparents worked. This was one of the simple pleasures of life – it was either brought out for a special occasion or it made an occasion special. We were a humble family and didn't have a lot of money, so there were certain things that were our little jewels. We'd sit around with all the big silly baskets of pastries from the local bakeries and then there would always be Medaglia d'Oro. I always had a connection to that, so when they came to me, I was like, "This is cool!"
Have you worked with coffee a lot before making desserts?
Oh, yeah. It's a staple! I've been using their instant coffee forever because it dissolves immediately, it has the strongest flavor and it's well rounded. I've been using it ever since I've been a pastry chef.
Do you have any plans to open your own coffee roastery?
The next step in my life is actually to build a chocolate factory. If I'm going to roast chocolate beans, though, why not roast coffee beans? So, I want to do a coffee roaster.
Have you visited a lot of roasters to get an idea of what you want to do?
Yeah, yeah. And chocolate places around the world. Once I have the home base, I'm going to roll out different concepts utilizing the chocolate and coffee.
What's your go-to coffee nowadays?
I don't drink regular coffee. I will only drink espresso or a cappuccino.
Do you have favorite spots in Brooklyn?
I'm a big fan of Toby's Estate and live right by Blue Bottle. I like Toby's better, actually, and I'm starting to get more and more into the culture of it.
Would this roaster be in Williamsburg?
We're looking all over. Williamsburg is pretty saturated but there is a reason why a McDonald's will always open across the street from a Burger King. That's how business works – there's a plus to putting myself away from everybody, but there's also a plus to putting myself in a neighborhood where there is already a strong draw.
Would you bring in coffee desserts too?
Yeah, it's endless. Maybe a frozen dessert line. Think about all the different cultures around the world and how they utilize coffee. It's a matter of embracing that and also applying everything I know as a pastry chef.
Any other immediate future plans?
I have another book coming out. I'm finishing it and have to hand it in at the end of the year.
What is it called?
We haven't decided on the name yet. The first book was called Dessert Foreplay and this one is a building block book. It's about foundations and all the things a home cook needs to piece it all together – what are the differences between the three different types of meringues, how do you use them, what do you use them for? It also highlights some flavor combinations that you wouldn't think about. It's a great book for a home baker, but it will also be a great resource for a savory cook or a small restaurant that can't afford a pastry chef – they can build a simple dessert menu out of the book.
What are a few of your favorite coffee desserts?
It depends on what I'm looking to do, but I love doing an espresso panna cotta – it's super strong and rich, but also delicate. I also do a coffee caramel ice cream, where I roast the coffee in the caramel, grind it and use cardamom. I do all sorts of cookies and brownies, where I grind the coffee right into it.
Check out these chef interviews on Food Republic: