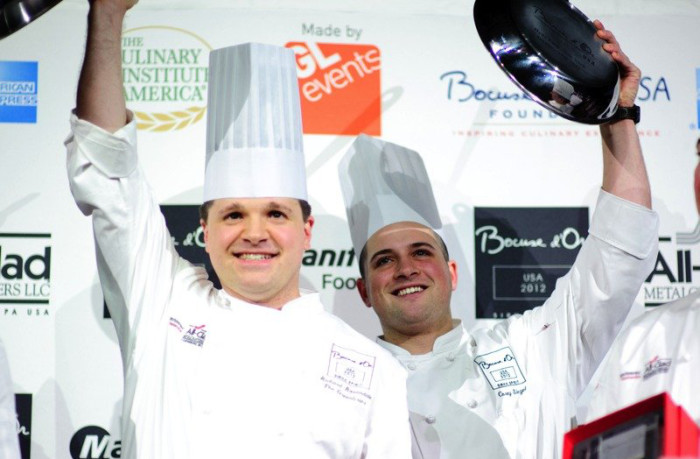 The Bocuse d'Or is a biennial cooking competition named after famous Lyonnais chef Paul Bocuse. It's considered both the Olympics and the Super Bowl of the culinary world — with over 24 countries competing in a two-day battle royale. Danish chef Rasmus Kofoed captained the winning team in 2011 — where the Americans finished a disappointing tenth.
The man leading the American team on January 29-30 is Richard Rosendale, executive chef at West Virginia resort The Greenbrier and a man who does not mess around with subtleties. "We're gonna bring it," he told us in January, soon after being named captain. Six months later he sounded even more confident, having started his Miyagi-like training with captains Gavin Kaysen and Daniel Boulud, as well as Bocuse USA president Thomas Keller. A special test kitchen — a replica of the competition kitchen in Lyon — was built at a former nuclear fallout shelter at The Greenbrier resort in West Virginia, where Rosendale has been practicing day and night.
A major part of the competition scoring is how the chefs integrate a number of designated ingredients into the courses. In July, we found out that the beef course would be beef filet, which seemingly Rosendale has been working his magic on down in that bunker ever since. But the big question was the fish, which was revealed only today — two months before the competition. A Bocuse rep emailed us this morning:
"In order to encourage the chefs to display even more creativity and spontaneity, the rules of the Bocuse d'Or contest change in 2013. The Fish theme (Turbot Label Rouge and European Blue Lobster, supplied by METRO Cash & Carry France) has only just been announced to the teams. In 2011, the candidates were able to practice their recipes as early as in June, six months before the contest took place!"
In a Top Cheffian twist of sorts, other changes were announced:
On the eve of the contest, the candidates will have 30 minutes to choose seasonal fruit and vegetables from the five continents market. They will use the produce and ingredients to prepare two of the three garnishes imposed on the day of the contest.

To highlight the different national culinary heritages and encourage diversity, the third garnish will be typical of the candidates' respective countries. This new point should lead to the introduction of local produce and ingredients, as yet unseen in the history of the Bocuse d'Or.

After having acquired the produce and ingredients from the market, the candidates, together with their coach and commis, will have one hour in which to design and write down the recipe for their dish.

In order to remain close to the actual restaurant environment, the candidates will be required to prepare 14 plates (not trays as in the previous edition).
In the upcoming weeks we will be checking in with Rosendale and the coaches to see how the turbot and lobster practice is coming along.
---
Read more about the Bocuse d'Or competition on Food Republic: