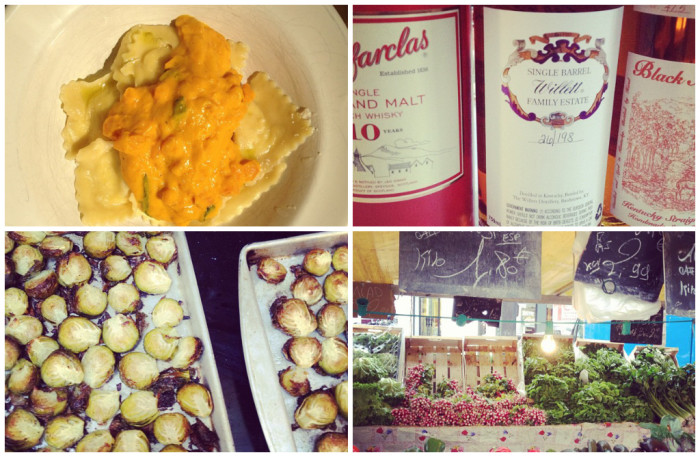 We asked writers, restaurant industry folk and members of the Food Republic family to write in about their Thanksgiving eating adventures.
Thanksgiving was typical this year in the Vongerichten household. A melding of culinary cultures, exquisite wines and great friends. The pre-meal — enjoyed while waiting for the 20lb turkey to cook — started at 1:30 p.m. with a savory fresh butternut squash soup with black pepper and shaved parmesan. Then, at 2:00 p.m., garlicky bay scallops Provençale, peekytoe crab with sriracha mayonnaise on toast followed by fresh Italian egg noodles with white truffles, fresh butter and parmesan. All this BEFORE we began the feast with JG's Four Story Hill Farms organic turkey with chestnut foie gras and mushroom stuffing, my caramelized yams and Oprah's brown sugar, butter and rosemary sweet potatoes.
We of course also had my legendary four cheese macaroni and cheese, Southern-style collard greens with turkey necks, KB's yellow turnips with black truffle butter, Cedric Vongerichten's baby brussel sprouts and buttery mashed potatoes, and JG's grandmother' braised red cabbage with sweet apples. Lastly, 12 different pies and Salt Of The Earth caramel brownie's and chocaholic cookies! Then for round 56, at 8 p.m., Côte de bôeuf with kimchi and steamed rice. I wonder if there will be a midnight snack situation? Can't wait for JB's white truffle scrambled eggs tomorrow morning. It was a very Happy Thanksgiving! — Marja Vongerichten is host of The Kimchi Chronicles and author of a companion cookbook
Parisians know as much about Thanksgiving as a monkey does about making a proper martini. Most of the French have no idea what the holiday is even about, other than "la fête du Merci" — the festival of thanks — involves a turkey and has something vaguely to do with Indians. It's one of the reasons my wife and I decided to bring our baby here last year during the week of Thanksgiving, and again this year; here, this is just another week on the calendar and we don't have to coordinate all sorts of family schedules for a big holiday feast. (This week, we've met a few other Americans with young children who've adopted the same tactic.) While it's almost excruciating trying to eat in a Parisian restaurant with a small child — apparently there's no such thing as "le high chair" — we enjoy hitting the markets and cooking in our short-term rental apartment. This time around, we even decided to invite a few Parisian friends and family over for a European-style Thanksgiving. The menu: ravioli in a pumpkin-sage cream sauce, salad dressed with shallot vinaigrette, "les petits pains" from the butcher (one was an olive loaf with a strip of bacon cooked into it), pain de campagne, some incredible natural French wines and for dessert, an organic apricot sorbet with cookies from Normandy. Our French guests didn't know what to expect coming in, but they left hours later merrily wishing us "Appy Thanksgeev-ing" and professing a newfound admiration for this strange American holiday. — Richard Martin
I'm doing alternative Thanksgiving next year, I already know. It could be that this post-Thanksgiving knee-jerk reaction is because yesterday's culinary agenda was slightly traumatic, as the women in my family tend to be uncommonly aggressive in the kitchen. I was ordered (out of love) to plunge my hands into a super-hot pan after I'd dumped the sausage for the stuffing in it, because apparently my trusty wooden spoon wouldn't break it up as well as my hands would. Thank heavens for the Extreme Thanksdrinking Challenge and props to my 21-year-old brother for licking, yelling "my germs!" at and finishing not one or two, but three of my drinks. That's nine points. — Jess Kapadia
Before the two turkeys were carved, the Mama Stamberg's cranberry relish thawed to tangy perfection. Before the colcannon and flaky spanakopita was placed on the buffet line and somebody found what was very likely a human tooth in the pumpkin pie, I was on the hunt for bourbon. Good bourbon. The bourbon that cannot be found in the stores and dark-wooded bars in my New York City home base. Luckily, I was in Chicago and Madison, WI for the days leading up to Thanksgiving and it turns out that Chicago and Madison, WI are much closer to Kentucky and happen to by fully stocked with the stuff. Bourbon geeks might differ with me, but Black Maple Hill is making one of the finest non-vintage (read: cost-effective) products around.
Forty bucks will get you a lower-proof (95), wonderful caramel sipping whiskey. In Chicago In the rare bottles room at Binny's Lakeview location in Chicago I found a table of Willett single-barrel bottles ranging from 4 – 12 years (you typically can only find the 12 year bottles). I went with the 6 year, which was cask-strength and super hot (128 proof), but mellowed beautifully with a two-cube dilution. Which brings us to Thanksgiving, a time when I have been known to stir Manhattans or throw a punch into the mix. But this year I set up the two bottles (along with a bottle of Glenfarclas) and let nature take its course. — Matt Rodbard
I spent Thanksgiving in the future. Well, not exactly. I was in Western Australia where the time difference meant that my November 22nd started a day before yours thanks to the International Date Line. There was no turkey, no stuffing and no pumpkin pie. Instead, I spent the day on a bus with a bunch of international journalists as we cruised from one of the largest producers of truffles in the world to a craft brewery to the VIP Opening Night Gala for this weekend's Margaret River Gourmet Escape. Luckily, David Chang was there, so I wasn't the only American missing out on Turkey Day. I wished him a Happy Thanksgiving, but I think he cared more about talking to René Redzepi. I assume they were discussing how to brine a locally-foraged turkey tongue. — Jason Kessler
Considering my roles as Food Republic's barbecue guru and Southern correspondent, it goes without saying that my turkey had to be smoked. Specifically, I used a mixture of hickory and apple wood to add a sweet tang to the 14 lb. organic bird that we picked up at our local Whole Foods. I started the smoking process in my pajamas before 7:00 in the morning in hopes of eating sometime before Hanukkah (my electric kettle smoker seems to lose about five degrees off of its top end with every use). So this bird was finished in my Medium Green Egg, which I lit with a flamethrower of a garden torch to the cautious amusement of my neighbors. The turkey turned out perfectly smoky, juicy and tender thanks to seven hours of loving low and slow attention. For sides, my girlfriend and I had to address the fact that her mother has acquired a late-in-life aversion to spicy foods and self-diagnosis of lactose intolerance. That translates into a major pain in the ass when menu planning, but we rose to the occasion with creamy mashed potatoes mixed with Tofutti sour cream, deviled eggs served on crispy baked chicken skins and spicy relish and green beans tossed in balsamic, bacon, shallots and white wine. — Chris Chamberlain
In the last 365 days we opened two restaurants and a cocktail lounge and started planning a very ambitious far reaching destination restaurant in one of the worst food deserts in the United States. So, when my mom called me to let me know that she had Thanksgiving dinner on lock, I was more than relieved. I mean I figured that I would still help pull it together the last day before. But as luck would have it the restaurants all had drama in the hours leading up to the holiday which left me feeling anxious and a bit guilty for my lack of follow-throughedness with helping my mother singlehandedly prepare a huge meal in a very small kitchen. The Wednesday night before turkey day was hectic as it always is with the drinkers out in force and most of our clientele in a celebretory mood.
By the time I got a chance to check my phone there were several frantic sounding texts from mom about how to cook a turkey. I was pretty certain that for the first 25 years of my life (prior to me becoming a professional cook) that my mother had some experience preparing a bird. This is what happens when people psych themselves up to cook for a chef, they over think everything and doubt themselves. Anyway, I gave her a few tips she thanked me and I went to sleep. Woke up the next day not stressed at all, went for a hike with the kids and dogs, showered and headed crosstown to mom's house. She made the best meal that I had eaten all year and was reminded that meals like that were the reason that I wanted to cook professionally in the first place. — Kevin Sousa is the chef at Salt of the Earth in Pittsburgh.
Two weeks before Thanksgiving, I was hit by a New York City bus. With merely a broken arm and prescription for industrial-strength painkillers to show for it, I figured things could be a lot worse. But what of the approaching holiday? Mine is a family of fantastic home cooks, and, in years past, I delighted in bringing some exotic, unnecessarily complicated recipe to my sister's traditional Thanksgiving table. This year, it seemed, I couldn't even open a bottle of wine. (Er, not a recommended pairing with those aforementioned painkillers, kids. Stay in school!) Fortunately, when the day arrived, no one missed the food-magazine-style dishes I typically contribute. We ate and laughed and shared a rather tasty apple pie made with store-bought crust. And I realized something about spending the holidays with family. Sometimes you hit the bus. And sometimes, well, sometimes the bus hits you. — Emily Saladino
We veered off the normal path this year and took a family vacation to Kuala Lumpur, where I have nine aunts and uncles and about 30 cousins (ask me to name them all), and Bali where my mother and my two sisters came for some R&R. In NYC, Thanksgiving was always a huge to-do in my family; my mother would place orders for wild turkey and pecan pie weeks in advance at the farmers market in Union Square. As we grew up, Thanksgiving moved to my best friends family's apartment on the Upper West Side where bottles of wine, fried turkey, Motown and a mean game of Trivial Pursuit took place.
This year, the Karagiorgas clan — who now reside on three different continents — took to Bali where we had an epic meal at Ku De Ta in Seminyak. This happened in the most serendipitous and modern of ways: I was introduced to ex-NYC pastry chef Will Goldfarb while I was on the social media prowl for where to dine in Indonesia as he resides there now. A reservation at Ku De Ta was made and our Thanksgiving began with plates of fresh seafood and ended with Will's strikingly avant-garde desserts. A highlight? His everything-but-the-kitchen-sink coconut plate. No turkey? No foul. The best part was that I was able to share this time with my family who has long been separated by oceans and time zones. Oh, and by the way, I've slung back way too many Singapore Slings as I write this. Where can I find a good one in NYC?? Bottoms up Bali! — Eva Karagiorgas
For as long as I can remember, my mom – after the "first" Thanksgiving dinner – would lovingly pull the remaining turkey meat from the bones, before adding it to a pot of bubbling gravy. The saucy mixture then patiently waited on the stove, until my appetite resurfaced (typically after a few rounds of board games, bowling or drinks). Hungry family members and I would hover over the kitchen counter at my parents' home in Pennsylvania, as the leftovers vanished.
This year, my family decided to celebrate the holiday in Orlando. The past stressful weeks had everyone craving sun, warmth and a chill place to decamp to. Dinner went off deliciously without a hitch, but when it came to late-night snacking, I found myself – for the first time ever – alone. My favorite cousins stayed back in Maryland. My sister-in-law was understandably tired (I found out yesterday I'm going to be an aunt) and my brother needed a good night's sleep (7 a.m. tee time with dad). It's 2:38 a.m. and I'm hovering over an overloaded plate and my trusty laptop. While I miss the physical presence of loved ones, my belly is glowing, round, and full. I have no room to complain. — Katie Chang
My family is scattered throughout the Southeast, and since they seem to be allergic to L.A., my rotating holiday destination is either Miami, Charleston or Atlanta. This year led to Atlanta, home to my brother, his wife, and a Southern-tinged Thanksgiving. We tore through turkey (of course carved by my father), mashed potatoes, gravy, green bean casserole, roasted Kabocha squash and stuffing (both cornbread and rosemary chestnut). Naturally, my undomesticated brother and his wife made none of this, and one neighbor took such pity on us after a pre-meal beer that she returned with a dish of cranberry orange relish and said, "We decided you needed something homemade with dinner." Funny, and kind of sad, but at least the pre-ordered food beat some home-cooked Thanksgiving dinners.
We also supplemented from Star Provisions, one of the country's best market, buying thyme yeast rolls and a wheel of soft WayPoint cow's milk cheese from local Calyroad Creamery. Sure I was happy to be with family, but was probably most thankful for access to universal growlers, which are outlawed in California. Alpharetta's Beer Growler store fills glass jugs with 40 different craft beers. We drank Brooklyn Lager and Red Brick Hoplanta IPA. Cheers. — Joshua Lurie
I can still remember the menu — turkey, stuffing, yams, green beans, gravy, cranberry sauce and an apple pie. It's November 1978 and I am cooking my first major meal in my family's tiny kitchen: Thanksgiving. I am 15 years old and my family of ten — including my parents, five siblings and my aunt and uncle — have lived in America for only 11 months, after a hasty departure from Vietnam in 1975, just before the fall of Saigon, followed by two years in Guam.
So there I was, a kid who's never even seen brussels sprouts, attempting to create the most American of American meals for my Vietnamese family in our rental apartment in San Francisco's Chinatown. Thanksgiving didn't really mean much to me, since I didn't know what was being celebrated, but big family feasts were something familiar. I saw cooking Thanksgiving dinner as a way of fitting in, which as a poor, immigrant kid in un-cool clothes who barely spoke English, I , desperately wanted to do. I'd gotten my hands on a copy of Gourmet magazine and decided to make the entire menu, cooking it all on our white double-oven Wedgwood stove. My family didn't like the dinner. I remember them saying, "We'd rather eat Chinese food any day." Thank god I'd cooked rice to go with the gravy.
My parents both worked two jobs, so I cooked for my family throughout high school out of necessity, mixing my mother's traditional Vietnamese recipes with new techniques and ingredients, teaching myself to make chocolate cake and Sunday brunch. I watched Jacques Pépin and Lidia Bastianich on television and tried to replicate what they did, and I picked up tricks watching the cooks at my after-school job, as a busboy at an English pub called the Coachman, where my father was a janitor.
My recent Thanksgivings have been the same: I am still the cook. I cook for family, now my own, plus siblings and in-laws. The extended family has gone from 10 to as many as 35. The white Wedgewood double-oven is no longer big enough to bake six turkeys. One year we had to have Thanksgiving at The Slanted Door because there were 75 people to feed. We have used the Bush street location when we were down to 50 guests.
To be honest, I don't have a "favorite" Thanksgiving dish. I always like to try different side dishes like Chinese style stir-fry bok choy with shiitake mushrooms. In addition to the traditional dishes, we like to have different healthy salads, steamed crabs and fried oysters. This year I made one of our turkeys with a lemongrass marinade, and as a contrast to some of the heavier dishes, a simple fish soup and Hoi An fried wontons for a snack. — Charles Phan is chef/owner of The Slanted Door in San Francisco and author of the recently released Vietnamese Home Cooking.