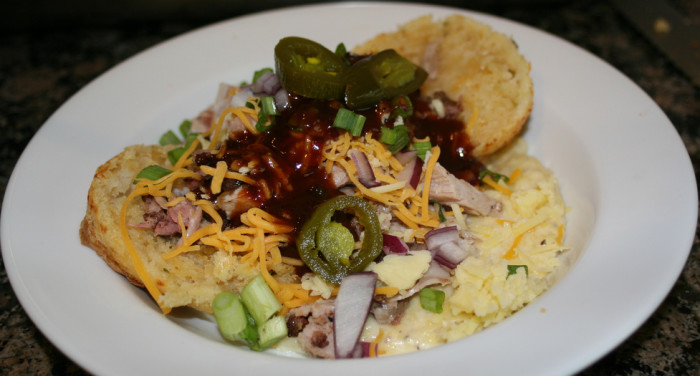 Donald Bender is the head baker at the Mockingbird Bakery inside the Viking Cooking School in Greenwood, MS. With experience working in Mississippi, New Mexico, Minnesota and Louisiana, Bender has a broad culinary background, but he really hit his stride when he returned to his hometown of Oxford, MS in the mid-90's and created his inventive and addictive snack, The Southern Sundae.
"We originally came up with it about 17 years ago to sell to the crowds tailgating in the Grove before Ole Miss football games," he says of his magnum opus. "Those are hungry people who need to keep one hand free for drinking." A biscuit meal in a bowl long before the advent of the Krystal Scrambler, Bender's Southern Sundae was an immediate hit among the football fans seeking a good base for their Seven and Sevens on game day.
Bender starts out with an amazing biscuit, a fluffy garlic, cheddar, chive and paprika palate upon which to create his caloric artistry. Patrons receive their biscuit in a small cup and choose from three homemade gravies to douse it with: red-eye, tomato or sausage. Then they can pick from a toppings bar of Southern staples to create their own unique dish. These accoutrements range from bacon crumbles to pork cracklings, roasted garlic and shredded cheddar cheese.
The resulting bowl of goodness is a delightfully sloppy meal that requires deft manipulation to keep your seersucker or gingham clean while eating. For this year's Southern Foodways Alliance Annual Symposium, Bender treated the participants in the ancillary "Delta Divertessement" program to a special version of his sundae that paid homage to the symposium's barbecue theme.
The BBQ Sundae rested upon a huge version of his cheddar-chive biscuits and was topped with smoky pulled pork, Viking's award-winning BBQ sauce, chopped green and red onions, shredded cheese and sliced jalapeños. Served with a side of creamy grits, it was the perfect breakfast for the assemblage of Southern food aficionados, except for the fact that its consumption triggered the immediate need for a nap. Fortunately, the sundae was accompanied by bracing cups of strong coffee to offset the somnial affects of breakfast.
Mockingbird Bakery
325C Howard Street
Greenwood, Mississippi 38930
Check out more Sandwich 'Splosions on Food Republic: