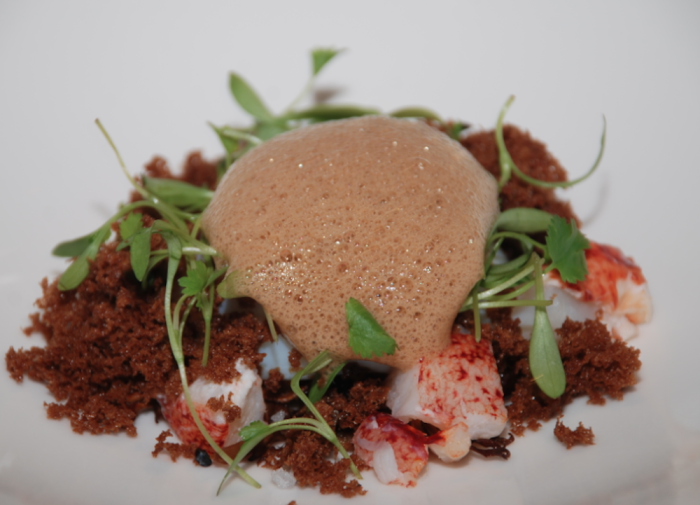 "Foam used to be a big thing back in the early 2000s," says chef Wolfgang Ban of Seäsonal Restaurant & Weinbar in New York City. Sitting before us is one of his restaurant's most popular appetizers, a soft-poached egg buried under a delicate layer of the frothy stuff. "We don't really use it anymore, but we decided to keep it on the menu because it really makes sense — and our customers won't let us change it."
Chef Ban and his partner, co-chef Edi Frauneder, are well-known amongst the downtown set for their nickname-bearing East Village eatery Edi & the Wolf (as well as their much-anticipated cocktail bar The Third Man — opening soon), but for more refined Austrian classics, diners in the know head to Seäsonal where Ban mostly presides.
The dish in question is the "Pochiertes Ei" (Austrian translation: "poached egg"), a breakfast-inspired combination of egg, mushrooms and pumpernickel bread — all traditional Austrian-German components, heightened by the addition of lobster and airy foam whipped from its stock. But for Ban, the pleasure is in what you don't see — the soft-poached egg — as much what you do: "I think the beauty of an egg is, it's a very simple protein, but it's also a very difficult protein. Anyone can cook an egg, but it's very easy to overcook it so you don't get that…specialness." Read on for the plate's breakdown.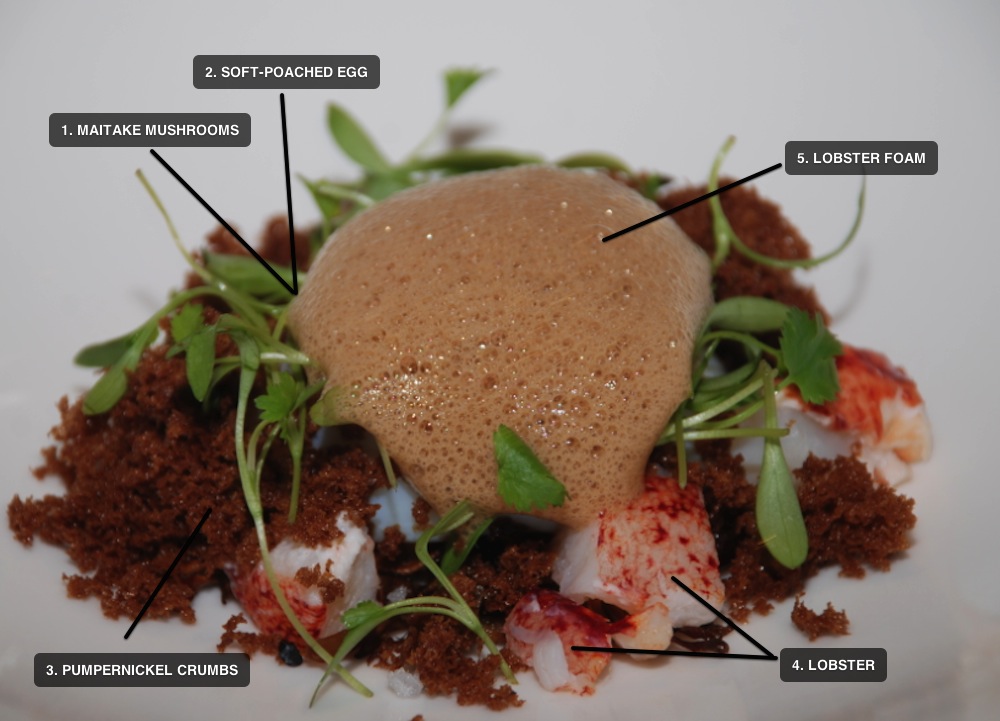 1. Maitake mushrooms (not visible) | "We toss little pieces of these Japanese mushrooms in a very hot pan, just to toast them. They add a texture to the dish."
2. Soft-poached egg (not visible) | "On top of the mushrooms, we place a soft-poached egg in the center, and lightly add some homemade porcini oil and greens — chives and microcilantro."
3. Pumpernickel crumbs | "We soaked pumpernickel in water, then blend it and fry it. The result are these cakey pieces. We break them up into crumbs. They have to be this size, and a very specific texture — not too hard or too chewy."
4. Lobster, lightly poached | "The lobster is a bit of a personal touch — just to elevate the dish a little."
5. Lobster foam | "We reduce lobster stock, then reduce it to a very intense final product. We blend it with a spoonful of creme fraiche, which gives it some fat content to create the bubbles."
Seäsonal, 132 W. 58th St., New York, NY, 212-957-5550, www.seasonalnyc.com
More Plate Deconstructions on Food Republic: