Let's Meet 5 Of The World's Greatest Drinkers Of All Time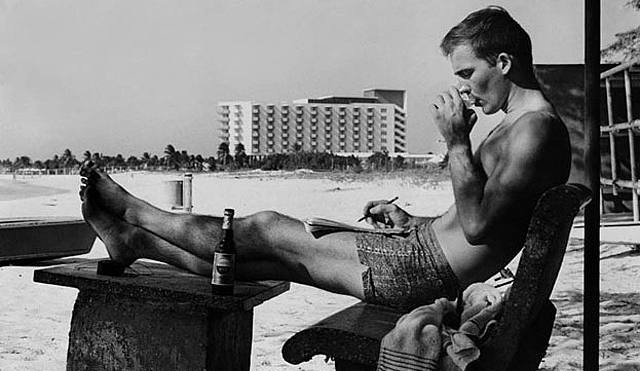 Most of us consider ourselves to be pretty impressive when it comes to drinking. We have all bragged once or twice about the amount of tequila we had the night before, or how much we partied one summer. Then there are those of us who simply have drinking genes, the ones who were born to drink.
So what exactly makes a great drinker? Notoriety as an imbiber and some solid and well-known stories about your drinking habits are probably good places to begin. Having a signature drink that has become a classic cocktail is a nice bonus. You should probably have a memorable drinking quote to your name, and if your accomplishments are great and you achieve many of them while drunk, you're golden.
Without further ado, here are five of my all-time favorite renowned drinkers, complete with their signature drinks and worthy quotes:
1. Winston Churchill
My first choice is Sir Winston Churchill, the man who never surrendered and inspired Britain and half the world to defeat Hitler while on a martini diet. Upon one arrival at the White House, he told the butler, "I must have a tumbler of sherry in my room before breakfast, a couple of glasses of scotch and soda before lunch, and Champagne and 90-year-old brandies before I go to sleep at night." No wonder FDR called him a drunk!
A Churchill martini
Churchill liked his martinis dry. Allegedly, instead of placing vermouth with his gin, he would nod in the direction of France in respect of its absence.
3 ounces Plymouth gin
Pour gin over ice into a mixing glass. Stir and strain into a chilled cocktail glass and garnish with an olive.
Bessie Braddock: Sir, you are drunk.

Churchill: And you, madam, are ugly. But in the morning, I shall be sober.
2. Ernest Hemingway
I once went to a bar that had a plaque on the wall that read, "Hemingway did not drink here." Not only did the man write some of the finest literature on Earth, but he also brought attention to some of the most famous cocktail bars in the world today. His favorites included Harry's and Closerie des Lilas in Paris and El Floridita in Cuba, where they invented the Papa Doble Cocktail, named after the double measure they knew to give him. The cocktail continues to be served in countless bars around the world today.
The Hemingway daiquiri (also known as The Papa Doble and Hemingway Doble)
1 1/2 ounces Caña Brava rum
1/2 ounce fresh squeezed lime juice
3/4 ounce Maraschino liqueur
1 ounce grapefruit juice
Shake ingredients with ice and strain into a cocktail glass.
"A man does not exist until he is drunk." – Ernest Hemingway
3. George Best
The most famous and talented football (that's "soccer" to most of you) player of his generation, this Manchester United star was infamous for his drinking and womanizing. The world loved his charismatic personality and fast lifestyle, a lifestyle that ultimately resulted in a liver transplant, two divorces to model wives and bankruptcy.
When asked what had happened to his money, Best simply replied, "I spent a lot of money on booze, birds (women) and fast cars. The rest I just squandered."
4. Hunter S. Thompson
A pioneer of gonzo journalism and author of The Rum Diary (the title say it all), Thompson was known for his excessive consumption. He also wrote the cult classic book Fear and Loathing in Las Vegas, where he drinks Singapore Slings and mescal (long before it was cool) at The Polo Lounge in Beverly Hills. His longtime friend, artist Ralph Steadman, said it best: "Never try and drink as much as he does."
"I hate to advocate drugs, alcohol, violence or insanity to anyone, but they have always worked for me." – Hunter S. Thompson
The Singapore Sling
1 1/2 ounces Ford's Gin
1 ounce orange juice
3/4 ounce fresh lemon juice
1 ounce Cointreau
1/4 ounce Bénédictine
Soda
Splash of Cherry Heering
Shake ingredients and strain over fresh ice into a sling or highball glass. Top with soda and a drizzle of cherry heering and garnish with a lemon wheel and cherry.
5. Frank Sinatra (And The Rat Pack)
The Rat Pack's onstage drinking banter, which included sipping martinis and Jack Daniel's (and occasionally singing), was legendary. It provided the world with plenty of the world's great drinking quotes and established these sharp-dressed, high-rolling men as drinking role models for generations to come.
"I feel sorry for those that don't drink. When you wake up in the morning, that's as good as you feel all day." – Frank Sinatra
"If you drink, don't drive. Don't even putt." – Dean Martin
May the dream live on.
Dale DeGroff introduced me to a drink that bartender Pepe Ruiz invented for Dean Martin in 1962 called the Flame of Love martini.
Flame of Love martini
2 1/2 ounces Absolut vodka
1 bar spoon of Fino Sherry
Stir ingredients with ice and strain into a chilled cocktail coupe. Garnish with two flamed orange zests.
More Drink Ford Tough columns on Food Republic: