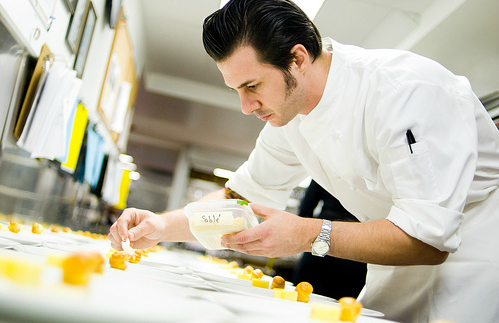 Pastry chef Johnny Iuzzini is just happy to be out of the kitchen this Thanksgiving. "I'm going to get pissed off if I don't see glazed carrots," he jokes during a recent coffee. After stints as Executive Pastry Chef at New York's prestigious Daniel and Jean-Georges, the man the James Beard Foundation named "Outstanding Pastry Chef of the Year" in 2006 is looking forward to kicking back with family this holiday and (hopefully) not completely taking over the cooking duties. We talked with the 38-year-old about vegetable desserts, respect for canned cranberries and a great dislike of leftovers.
Where are you going to be for Thanksgiving this year?
This is the first year that I have Thanksgiving off! At Jean-Georges for the past 10 years, I worked. It's a big holiday for the restaurant. I kind of don't know what to do with myself — I think I may finally be able to have Thanksgiving with my family for the first time since high school. I'm going to go to my family's house in Brooklyn.
Will you be cooking?
I'm not going to mess with their thing — they like to cook and I'm not going to try and take it over — but I'll supplement the big Thanksgiving dinner with some random stuff. It'll be nice to be a part of it for the first year.
Was there a special Thanksgiving menu at Jean-Georges?
It was one of our busiest days of the year. Jean-Georges and Nougatine would do two different setups, one more elaborate than the other. It would be a full production: pies, all the traditional stuff and the Jean-Georges menu as well.
So what was on the menu?
I would change it every year, but I would always do a pumpkin torte or pumpkin pie. Some kind of cranberry dessert, like a parfait, as well. We did a play on the old-school sweet potato with the marshmallows. I did a cranberry parfait and covered the whole thing with marshmallow fluff and torched it.
Is that going to make an appearance at home this year?
I think that is a little too complicated [laughs]. I'll definitely mess with the flavors of what I would do, but not the applications.
What is your go-to leftover recipe?
To be honest, and I think I inherited this from my dad, but I don't eat leftovers. I don't take food home from restaurants and I won't eat it the next day. Chinese is one of the few things that is simple enough to eat the next day — like a fried rice. I'll eat a pizza the next day. But that's about it. As far as repurposing Thanksgiving leftovers, it'd be cool to do stuff for the family this year. I might take a pumpkin pie and turn it into a pumpkin ice cream for them. Take the pie, puree it, add some dairy to it and re-spin it in a home ice cream machine. Same thing with the cranberries — I'll take them and make a cranberry sorbet.
How about some unconventional ingredients you have used in pastries?
I like to mess with vegetables a lot. I'm going to do this chocolate and beet dessert – I take beet juice, make a frozen parfait out of it, and sit it on top of a super-spiced chocolate streusel, a bitter chocolate gel, yogurt powder, beet greens and some hibiscus. They're both very organic flavors and really flow together. I'm also doing a parsnip pudding.
Do you have any tips for someone who is in the kitchen on Thanksgiving, but doesn't cook that often?
One of my favorite things is the way I roast squash: cut it in half, scoop out the seeds, take out a pairing knife, score it, take a stick of butter, rub it into all the cut marks and sprinkle a little brown sugar over the top of the open face. Roast it face side-up at 350 degrees and you can fold in some crème fraîche or chives. It's super good.
What about staying organized in the kitchen?
I'm a neat freak, man. I'm one of those people who wash something as soon as I use it. If you constantly wash something as soon as you use it and put it away, you'll never have to deal with that nightmare at the end of the day. Cleaning as you go is a big thing.
And planning ahead too, I'm sure?
If I'm doing a big menu, I'll write it all out. As a pastry chef I'm very much planned out — I'll make the menu and then make my grocery list — what can I make ahead of time and what will hold? What has to be done last? That will only take a good hour to think through. If you're doing recipes that you haven't done before, my best advice is to read the whole recipe from start to finish before you touch anything. Read through it all because sometimes it reverts back and says, "Do this 24 hours ahead of time." Always go through all your recipes days before and make sure that there are no surprises. If there are things that you can do in advance, do them. Things will always take longer than you think and you'll get distracted.
Any Thanksgiving dishes you try to avoid?
I'm a bit of a stuffing snob. To be honest, I love the cranberry sauce out of the can. Slide that out! As far as being a snob, there's certain things that have to be there – there has to be turkey, stuffing, cranberry sauce. I'm gong to get pissed off if I don't see glazed carrots. There's got to be an apple pie and a pumpkin pie on the table. I'm usually happy to just be anywhere where I don't have to cook as much as I used to.
Be sure to check back later this week for part two of the interview, focusing on his love of coffee and upcoming plans for a coffee roaster/whiskey distillery.
More FR Thanksgiving Interviews: