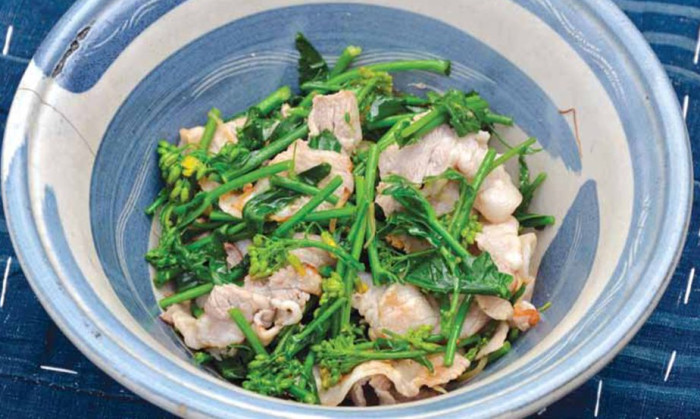 One of the most beautiful cookbooks out this season is Japanese Farm Food by Nancy Singleton Hachisu. It's a hefty tome, weighing in at just under 3.5 lbs for its nearly 400 hard-bound pages. Japanese food is one of those cuisines that is daunting to even the most confident of home cooks. But don't expect to overdose on sushi and teriyaki in these pages. Japanese Farm Food is about a way of eating – and a way of life, really – that is lost even to many Japanese.
It's the Japanese equivalent of soul food. The author approaches the various dishes and ingredients in the book with the insights of an outsider who has struggled to find her place in a strange new world and succeeded.
"When I first came to Japan 24 years ago to teach English, I didn't expect to stay," says Singleton Hachisu. One of her students was a handsome farm boy who eventually wooed her. When she became a "Japanese farmer's wife," she was expected to do as the many new rural brides before her: move into her husband's intergenerational family home and change nothing that his parents had built and accumulated over the years.
Well, that wouldn't work for her. The displaced California girl eventually negotiated a renovation of the 80-year-old farmhouse that would not exactly modernize it, but rather return it to its original integrity, with the traditional papered shoji sliding doors and exposed wooden beams. Modern conveniences like a Viking Range in the kitchen were installed. Antique bowls and baskets were pulled out of storage or bought at flea markets. Singleton Hachisu thinks of her home as new-old, and it's a main character in her book.
"When I learned how to cook this traditional way, I found it was an incredibly bold, big way of cooking that appealed to me," says Singleton Hachisu. "I wanted to write a cookbook about my husband's food, but the book became more about how we make and grow food and about how my husband and I inhabit the house. Everything in the book is part of our lives, things I would use everyday, pictures of our house, our life."
Unlike many Japanese cookbooks, Japanese Farm Food doesn't focus on the pretty composed dishes, like bejeweled sashimi or even rich ramen broths, that Americans generally associate with the cuisine. Those are the foods people eat in restaurants: Singleton Hachisu calls it Tokyoized food. Her family's food is a throwback to how grandparents and great-grandparents ate, what farmers were eating in the 1920s. Her husband's family never stopped eating that way. It's a simple and seasonal way of eating. Crack open her book and you'll understand why she's been nicknamed Japan's Alice Waters.
A typical small dish from the cookbook has two or three simple ingredients: farm fresh eggs and high-quality sea salt. Or sweet miso sauce, Japanese eggplants and sesame oil. Vegetables play a starring role — and can often be replaced with whatever you find in season at your own farmer's market. There is also plenty of fish, from yellowtail sashimi to steamed bass to air-dried butterfish, as well as heavier dishes, like pork belly simmered in okara and even teriyaki burgers: ideal for the American who has been away from home for a quarter of a century.
Still feeling worried about tackling such a book? Singleton Hachisu recommends starting slowly. Arm yourself with good organic soy sauce, miso and brown rice vinegar. Get to know your vegetables – try touching them while they're still "alive," she writes. And remember to share (let the photos of family and friends in the book inspire you). Soon, you could be eating like a Japanese farmer, too.
Read more about cookbooks on Food Republic: