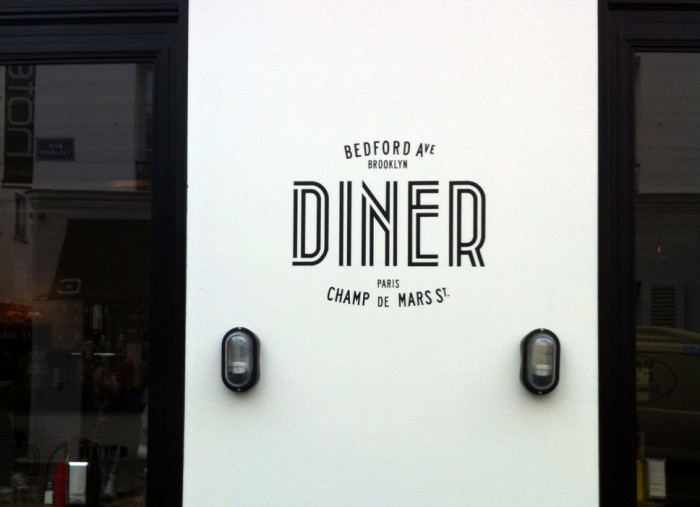 Well, well, well. Look what we have here! Last week in Paris, we spotted a restaurant curiously named Diner just a few blocks from the Eiffel Tour. While we've reported that all things "Brooklyn," specifically burgers and tacos, have taken Paris by storm, this one caught us off guard.
The real Diner, in Brooklyn, started as an actual old-school diner, then found new life when owner Andrew Tarlow took over the space and infused it when then-burgeoning Williamsburg hipster charm. The waiters and waitresses, who look like they could do side work as American Apparel models, write the menu out on paper covering the original formica tables.
Despite the outward appearance of a hipster-ized diner, the Paris version — not affiliated with the original — doesn't share the culinary credibility of Tarlow's Diner, where executive chef Sean Rembold turns out seasonally inspired dishes like pork coppa with peach butter, purslane and cornbread crumbs.
The Parisian "Diner," which lists "Bedford Ave., Brooklyn" on its façade — the real Diner is on Broadway — seemingly has no such ambition. On entering, we were greeted with a massive poster of a machine gun–wielding Chuck Norris, and the greasy aroma of freshly ground burgers and cheddar cheese wafting in the air. The lunch menu was limited to burgers, and after quickly scanning the dimly lit restaurant, it became apparent that the beverage of choice was Budweiser.
The blog Brooklyn Based reported on this, um, coincidence of Diners a few weeks back, getting a funny comment from Tarlow: "I wonder if the owners in Paris even know we exist. Parisians can be like that sometimes."