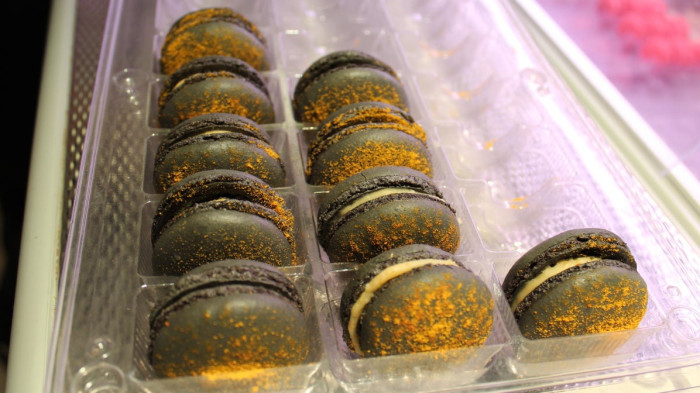 Upon entering the recently opened Macaron Parlour in East Village, everything looks familiar enough. Warm and brightly lit, the bakery boasts seating the back, caffeine in the form of Blue Bottle, cake trays of baked goods (the cinnamon bun is a knockout) and cases of impeccably organized, cheerfully colored macarons.
But upon further inspection, you'll discover what sets this bakery apart: the world's first "manly" macarons. The offbeat, unusual and sometimes challenging flavors — ranging from Cheetos to Thai chili to candied bacon — not only add a subtly savory component to the dainty treats, but also bridge the gap between aficionados and newbies, many of whom are men.
Christina Ha, who owns Macaron Parlour with her husband Simon Tung, says, "We eat a lot, and don't really discriminate between high-end food and the snacks we ate growing up. Our first guy-friendly flavor came from eating a lot of candied bacon at home. Then I started thinking about Halloween, and the bright orange color of Cheetos. I asked Simon if he would be cool with a Cheetos macaron. A lot of it is less calculated than inspired."
Ha and Tung plan on rolling out more guy-friendly flavors in the future. May we suggest buffalo wings?
Macaron Parlour, 111 St. Marks Pl., NYC, macaronparlour.com.
More NYC food news on Food Republic: