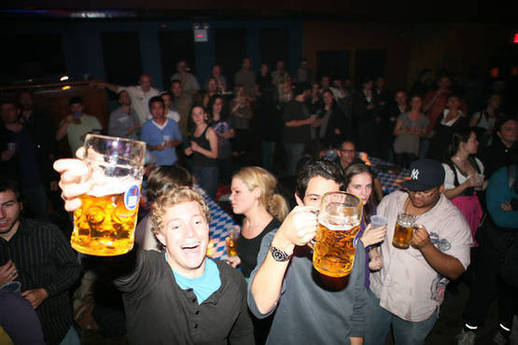 Is the tradition of grabbing a cold one after a hard day's work coming to an end? That's what a Reuters article is hinting at, claiming one result of the 2008-2009 recession that reduced manufacturing jobs has been slower traffic at bars — and sluggish beer sales nationwide for the past four years. A Washington-based trade group called the Beer Institute cites a five percent decrease in beer consumption in the U.S. since 2008. It's unclear if the Beer Institute has curtailed its happy houring, but we doubt that.
Also noted for contributing to this downward trend are concerns about healthy living, tougher drunk-driving laws and public venue smoking bans that are now in effect nationwide. These factors have spearheaded a shift from on-premise to off-premise consumption. There is also growing sentiment that it has become less acceptable to drink during lunch, or after work, with colleagues. In other words, ordering a beer and a shot after work at the local tavern is out, while nursing a sixer at home is in.
Meanwhile, the industry can find some solace in the high-end craft beer department, which has seen sales increase by 14 percent over the past year. (See: Food Republic's Craft Beer Rankings for proof). Priced more expensively than mass-produced brands, these brews are viewed as "more recession-proof." Go figure.
While it appears that our beloved imbibing tradition has seen better days, we are not yet ready to write it off. Come on, people. Let's not banish happy hour to the drinking history books.
Now, check out these bar guides from Food Republic: