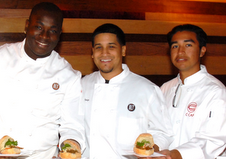 Careers Through Culinary Arts Program (C-CAP), an organization that provides culinary career opportunities and scholarships to at-risk high school students, is organizing two events for a good cause this November.
On Monday November 12, from 6:30-9:00 PM, C-CAP will be hosting A Taste Of Fall at Ginny's At Red Rooster in Harlem. Guests will participate in a walk-around tasting prepared by up-and-coming C-CAP graduate chefs who are working at top restaurants in New York.
Tickets are $150 per person, payable in advance. Click here for tickets.
For more information about A Taste of Fall, including sponsorship information, visit www.ccapinc.org.
Across the country, C-CAP will be hosting another event — Getting Our Just Desserts — on Saturday, November 17 at 2:00 to 5:00 p.m at the International Culinary School at The Art Institute of California-Los Angeles located in Santa Monica. Celebrity pastry chefs, confectioners, bakeries, coffee and tea purveyors and speciality vendors will be serving various desserts in celebration of those pursuing a career in the culinary world. The event will be headed by Sherry Yard, Executive Pastry Chef at Spago Beverly Hills.
VIP Tickets for early entry (1:00 to 5:00 p.m.) and access to all tastings, demonstrations and classes, and a gift bag are $100 per person payable in advance (or $120 at the door). General Admission tickets are $50 per person payable in advance ($75 per person payable at the door). Tickets are available here. Proceeds from both events will benefit C-CAP.
Food Republic readers can receive a $20 discount for A Taste Of Fall by using the code CCAPspecial, and 10% for both ticket prices for Getting Our Just Desserts by using the code GOJDdiscount upon checkout.
Ginny's At Red Rooster
310 Lenox Avenue
Manhattan, NY
International Culinary School at The Art Institute of California-Los Angeles
2900 31st Street
Santa Monica, CA 90405