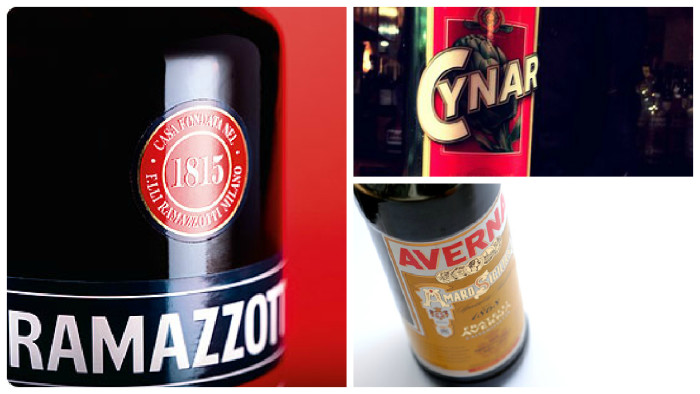 Simon Ford returns this week explain the bitter Italian spirit amaro. With Fernet Week in full swing, this column is sure to bring out opinions of both lovers — and haters — but mostly lovers in the comments section.
If you gaze across the back bar at your local hipster haunt, you will be most likely be confronted by a shelf of amaros. You may have looked at them and wondered about these foreign bottles that have replaced your usual favorites. You may also already be aware that amaros are one of the latest love affairs bartenders are having with ingredients — in an era post-bitters and anything made with agave.
Amaros are herbal drinks from Italy that are traditionally served as digestifs. They are made with an assortment of herbs, flowers, roots, spices and citruses that are macerated into alcohol. There is often a little sugar in the mix to help the flavors along. The spirit is an acquired taste at first. Once you have tried drinking amaros, however, you will be sucked in by the vast amount of complexities and flavors present in these classic Italian herbal liqueurs. [Edit: We've been hooked for a while, which is why we devoted this week to Fernet, one of the most popular amaros in the United States]
"Amaro" literally translates to "bitter," so be sure to consider that before ordering. Amaros are for you if you like bitter flavors, but approach with caution if you tend to have a hankering for sweet things. There are some amaros, however, that edge on the sweeter side because of their sugar content — so don't rule them out altogether. They also make excellent ingredients in cocktails, which might be the best way to try the liqueur for the first time. Either way, I suggest everyone who has not yet entered the world of amaro to do so. Simply put, the Italians certainly know what they are doing when it comes to food and drink. I, for one, am now hooked on having one last cheeky amaro after dinner whenever I can manage.
6 AMAROS TO SEEK OUT
1. Averna
The first amaro I truly enjoyed was Averna. It has been a family-run business since 1868 and comes from Sicily. Like many of the great spirits, it was created as a healing bitter elixir by an herbalist friar. Almonds, liquorices and citrus rinds with natural caramel are flavor components of this approachable amaro.
2. Cardamaro
I particularly enjoy drinking this wine-based amaro at the moment and, along with Averna, it's a good place to start your amaro journey as it has a good bitter/sweet balance. Common ingredients include cardoon and blessed thistle, and it has gone through some oak aging for added complexity.
3. Ramazzotti
The word "Ramazzotti" rolls off of the tongue and it is an amaro that has a ton of flavors assaulting you when sipped. This is not surprising, considering that there are 33 ingredients in the mix of this liqueur that was first created in Milan in 1815.
4. Nonino Quintessentia
This amaro has been aged for five years in oak, adding an extra dimension to one of the finer amaros on the market. It is grape-based with a whole host of herbs, spices and roots like galenga, rhubarb, sweet and bitter orange and tamarind adding to the flavor. It sips a little more subtly than many of its counterparts with the flavors coming across in a delicate manor.
5. Cynar
The big artichoke on the bottle's label should hint the key flavor of this well-known amaro, but even then, it is supported by 13 other herbs and spices. The taste is on the vegetal side and this liqueur is a good one to drink if you like savory flavors. It has been around since 1949, making it quite young in the world of amaro.
6. Fernet-Branca
I end with perhaps the most loved amaro shot by the bartender community. It is a drink that challenges the taste buds with a high level of strong bitter flavors dominating the palate that come from ingredients such as saffron, myrrh and cinchona bark. You will either love or hate this amaro; there are no mixed feelings. It would appear that the Argentineans love it, as they drink 1 million cases a year.
TRY AMARO IN A COCKTAIL
Adriatique
1 ounce Amaro Montenegro
1/2 ounce Aperol
1 ounce freshly squeezed orange juice
Shake ingredients and strain into a chilled cocktail coupe. Created by Jackson Cannon at Hawthorn in Boston.
Chocolate Chip Flip
1 1/2 ounces Branca Menta
1/2 ounce white crème de cacao
2 ounces chocolate stout
1/2 ounce honey syrup
1 whole egg
3 dashes chocolate bitters
Shake violently, serve in a fancy glass and spray with mint water. Created by Naren Young at The Daily in New York.
Spritzz
2 ounces prosecco
2 ounces San Pellegrino Aranciata
1 1/2 ounces Zwack
Build in an old fashioned glass filled with ice then stir to mix. Garnish with half an orange wheel.
This cocktail is from our friend Jim Meehan at PDT. He created it for Chef's Club in the St. Regis in Aspen, and it's become their most popular cocktail. Bittersweet Zwack, Hungary's national spirit, is the base for this subtle twist on the Aperol Spritz (Aperol, prosecco and soda): Italy's most popular cocktail.
More Drink Ford Tough columns on Food Republic: