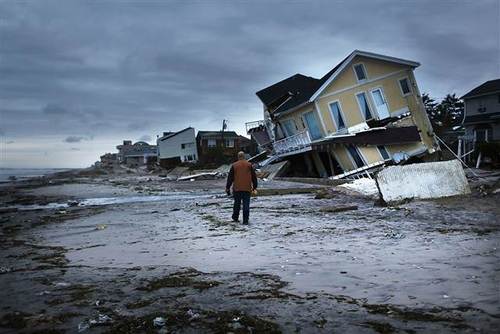 As we approach the one-week mark since the devastating hurricane hit the Northeast, we're still faced with the cruel reality of power outages, business closures and widespread displacement. Members of the restaurant community have teamed together to host a number of benefits. Here are a few that have come to our attention (and inboxes). Also see Grub Street New York's comprehensive list of benefits. Please leave any updates in the comments.
On Tuesday night, there is an election night party at 230 Fifth (230 Fifth Ave.). Starting at 6 p.m. there is free admission and free buffet and drink specials. 50% of proceeds go to the Red Cross of New York and New Jersey.

In Boston on Wednesday, Ming Tsai, Tony Maws and Jamie Bissonnette will throw a $500-per-person, 50-seat dinner at Mike's City Diner (1714 Washington St.) to benefit restaurant-industry victims of Hurricane Sandy. Reserve a seat and by e-mailing here.

Also on Wednesday, four chefs are teaming up at Aldea to serve a five-course $300 dinner benefitting NYC Food Flood, which brings food trucks to neighborhoods still left in the dark with no power. Those chefs include Andrew Carmellini, Marco Canora, Seamus Mullen and host George Mendes. Call 212-675-7223 for more information and reservations.

On Thursday, Dine Out Williamsburg for Sandy relief is Thursday. Proceeds benefit the Red Cross. List of participating restaurants and bars.
Also this Thursday, Astoria, Queens eatery The Queens Kickshaw will donate 100% of its proceeds to the American Red Cross.

From now until Friday, donate $10 to the Red Cross via text message and show the message to redeem a free drink or snack at any Chop't location.

This Sunday at 6:30 p.m., Park Avenue Autumn is offering a four-course menu with wine pairings for $150 that benefits chef Kevin Lasko's hometown of Point Pleasant, NJ.
This Sunday at 7 p.m., Park Slope restaurant Palo Santo is teaming with Heritage Foods USA, Mermaid's Garden and Peak Organic Beer to host a $50 three-course dinner (tax and drinks included) to benefit the Added Value Community Farm in Red Hook. RSVP by calling 718-636-6311.

From now until Sunday, Shake Shack is donating $2 of every "Rally Shake" sold to the Red Cross.

Drop off donations of clean blankets at any of The Meatball Shop's locations and get a free order of meatballs.
And if you live outside of the region, here are some places to give: