Why Fernet Is Fueling The Restaurant Industry, And Not As Bad Tasting As You Think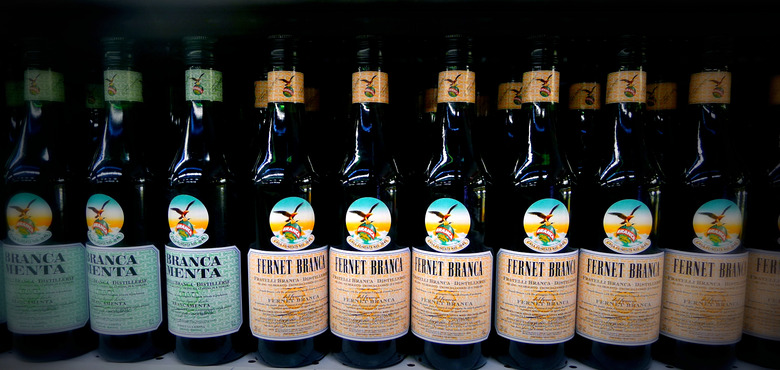 Chefs love Fernet. Bartenders love Fernet. People who write about chefs and bartenders love Fernet. Mario Batali loves Fernet. It ends about there. So why are we paying tribute all week to this mysterious Italian spirit, a liquid that packs a punch at first sniff — and a walloping left jab before the empty shot glass hits the stick? It's a good question.
But first, a little history.
Fernet is an amaro — Italian for "bitter"— and resides in the same family as Averna and Campari. The molasses-hued liquid's secret blend of approximately 40 herbs, spices and fungi like saffron, gum myrhh and galangal was first discovered sometime around 1845 by Milan inventor Bernardino Branca. (Fernet is the name of a fictitious doctor, and collaborator, spun by Branca to add authority to his new product; Fernet is also a spirit category, with Fernet-Branca the most-popular by a very wide margin.)
Fernet was originally intended to curb various 19th Century maladies, serving as a healthful tonic endorsed by Branca's phony M.D. As spirits writer Wayne Curtis points out in his article on the subject, a publication called Suburbia Today recommended Fernet for "overeating, flatulence, hangovers, gas pains, [and] lifting yourself off the floor when you've mixed oysters and bananas." Bananas, apparently, was a Don Draper–era code word for ketamine.
It was around this time that the popularity of Fernet exploded in Argentina, as post-WWII Italian immigration spiked and the well-tanned citizens began mixing Branca's elixir with Coca-Cola. To this day, Fernet's popularity in Argentina in only eclipsed by Italy while some have referred to the Fernet and Coke as the country's "national drink" — with over 25 million liters being produced at a dedicated distillery outside Buenos Aires.
[Related: Drink Better Guide: 8 Fernets From Around The World]
In the United States, Fernet is often consumed as a digestive. Mario Batali famously keeps bottles stashed in his private office above his New York restaurant The Spotted Pig. As British critic Jay Rayner writes to close his night-of-excess Batali profile:
"The Spotted Pig is rammed, its cluttered rooms filled with people. Batali leads us through, up the stairs and from one inner sanctum to the next until, at the top of the building, there is a locked door that requires a numeric combination that of course Batali has forgotten. But eventually we get in to what is usually an oasis of calm. Not tonight. It, too, is packed. People grab Batali, shake his hand, want their picture taken. He orders up a bottle of wine, and out comes a bottle of Fernet-Branca, the bitter, heavy, highly alcoholic liquor that some people swear is the cure for hangovers before they've happened. Quickly Batali fills glasses and starts handing them round
Fernet has also been widely integrated into cocktails, with bartenders substituting dashes to ounces of the stuff for Angostura or bourbon-barrel bitters. The Toronto Cocktail is a play on the Old Fashioned, subbing Fernet-Branca for bitters.
Many have called San Francisco the Fernet capital of America, a squishy assertion made mostly by those shaking cocktails in the City By The Bay. Some have said that as much as 70% of the country's sales are made there. A 2005 SF Weekly story points to an aggressive marketing push by a West Coast Italian spirits marketing maven named Antoinette Cattani. Jeff Hollinger, a SF cocktail fixture who founded the city's cocktail week and now runs Comstock Saloon, says Cattani "basically gave bottles of Fernet to all the right people." According to Hollinger, R Bar in the city's Tenderloin neighborhood pours more Fernet than anybody in the country, mostly as shots, and goes through about 100 bottles a week.
So back to the question: Why a week devoted to Fernet? Take one shot and you might know why. Drinking Fernet is like sucking on a balloon filled with nitrous oxide. The concept, initially, is both exciting and slightly unnerving. Staring at the glass filled to the brim while your buddy pays for the round usually calls for a vocal "what the fuck are we doing?" Then the liquid hits the lips, tongue, throat and everything turns to ice. It's like taking a drag of January air in Bismarck. Your voice rises two octaves as the empty shot glass hits the bar. You then taste the stuff: bitter, herbal, a back note of sweet, a front note of kick you in the teeth. You think you're tasting mint. Everybody thinks it's mint. But it's actually saffron, a ridiculously high concentration of it. In fact, some have speculated that Fernet-Branca uses as much as 75% of the world's saffron and controls the global market. Your head starts to spin a little bit. The ice starts to thaw and you now feel like you're breathing fire. You wonder if your breath will set your girl's hair on fire. You pause. Your buddy is buying a second round and the bartender jumps in. It all starts again.
The consumption of Fernet is a ritual in the service industry. Bartenders sip it before service and shoot it after. Erik Anderson of Nashville's Catbird Seat keeps a bottle chilled in his kitchen's freezer at all times. Jamie Bissonnette, of Copa in Boston, packed a flask for the James Beard Awards. Damon Boelte, who runs the bar program at Prime Meats in Brooklyn, has a rather large tattoo across his chest of the eagle holding a bottle of the stuff. Did you eat at a restaurant last night? Chances are Fernet fueled it.
We think this all pretty neat. Also, the stuff isn't nearly as terrible tasting as it lets on.
---