Only You Can Control Your Peanut Sauce Destiny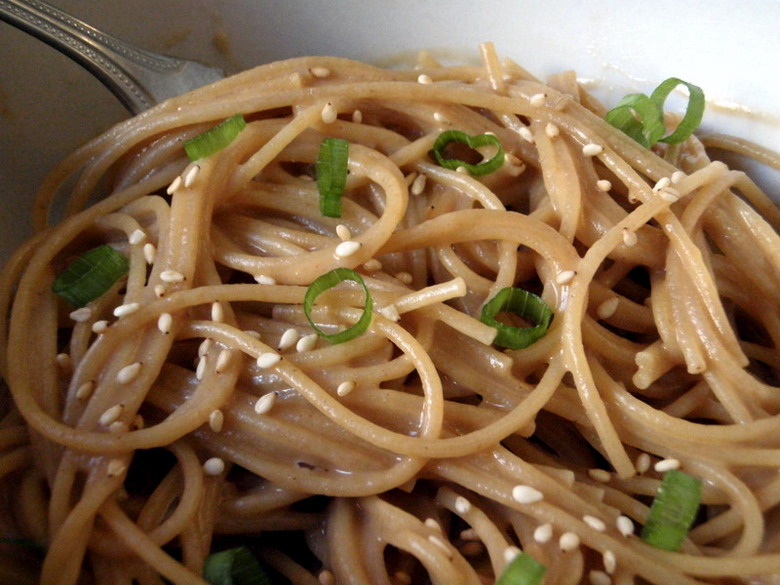 Boy, was the last week or so inspirational for me in the "pantry recipes" department. I had kind of forgotten about peanut sauce when I re-discovered my jar of peanut butter and found I had nothing to spread it on. Thankfully I had a ton of noodles, and plenty of the necessary, optional and "now you're just showing off" ingredients you need for creating the Asian peanut sauce of your dreams.
The Chinese version — which appears on noodles in my takeout bag every single time without fail — is a mix of peanut butter, sugar, soy sauce, ginger, garlic, a little strong black tea, sesame oil and fish sauce topped with scallions and cucumbers. You know my edict about ratios. Fake it 'til you make it.
The Thai version, which is quite possibly the greatest dipping sauce for food in spring, summer or any other season of roll (I kind of feel like all rolls right now are fall rolls), is slightly thinner and tangier. It has coconut milk, sugar, lime juice, soy sauce and a little curry paste. Also great on noodles, hot or cold.
The Jess Kapadia version combines both of these cultures' basic recipes with a few extra ingredients. Start with half a cup of creamy peanut butter, then add soy sauce, sugar, crushed garlic, lime juice, just a little ground cumin and a TON of sriracha. A ton. I tried so hard for the perfect protein to top this bowl of noodles not to be tofu — and for the vegetable to not be cucumber. But there are some things I have no control over. Cubes of extra-firm tofu and julienned cucumbers taste so good with a little of this sauce, and the crunch with the noodles is awesome. Crispy bacon crumbles wouldn't be a crime, either.
There is no temperature that doesn't compliment these dishes. Straight out of the fridge, amazing. Heated up, really good. After it's been hanging around in your messenger bag for a few hours — totally fine. Just don't be the jerk that freezes it, tell me it sucks and point out that there's one temperature that doesn't compliment these dishes.
More Asian noodles for lunch on Food Republic: