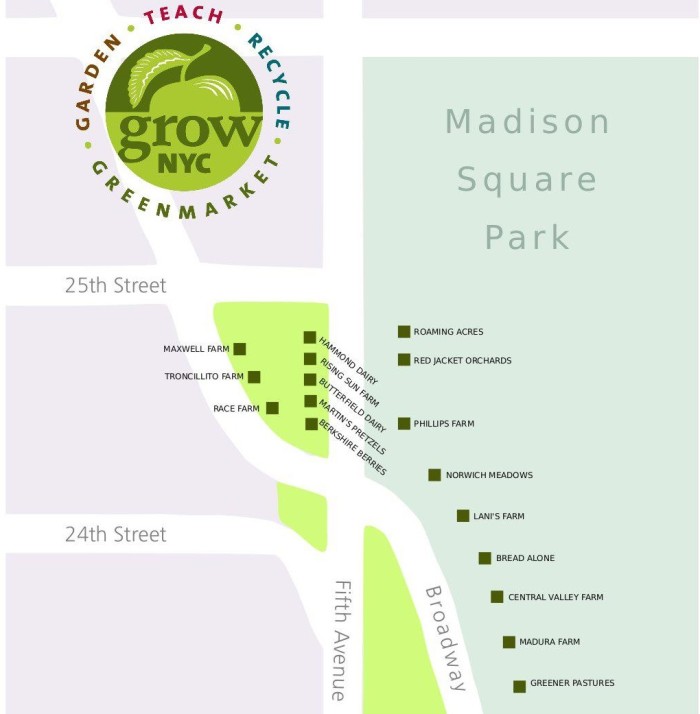 With Union Square being used as a temporary staging area for repair crews in the aftermath of Hurricane Sandy, the world-famous Union Square Greenmarket has been relocated for the time being. The market, open on Mondays, Wednesdays, Fridays and Saturdays from 8 a.m. to 6 p.m., is currently set up next to Madison Square Park at 25th Street and Broadway.
Founded with only a few farmers in 1976, the Greenmarket has evolved into a NYC institution, offering an unparalleled selection of fresh fruits, vegetables, meats, cheeses, breads, jams, wines and much more. Cooking demonstrations are also a big draw to the market for Manhattanites and tourists alike; it is estimated that around 60,000 visitors shop there on any given day.
The temporary setup is orderly and looks quite natural. The 20 or so tents are lined up neatly side-by-side on the street, with Madison Square Park's elegant trees hanging over several of them. According to a couple of vendors that I spoke with, the market will operate in this new location for the remainder of the week, and most likely into next week. We'll update you if that changes.