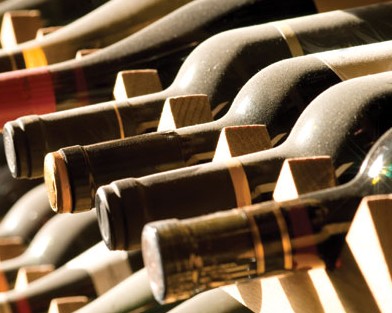 Collecting wine is a mystery to many of us. It involves a cellar, for one, and who the heck has a cellar? Let's be serious. Second, and perhaps most perplexing, it involves the patience required to refrain from drinking a bottle of wine until it's just right. In short, it takes a certain type of person to become a serious wine collector. If you think you could be such a person, you might not be sure exactly how to get started. Enter: Soutirage. Billing itself as the world's most exclusive wine company, it's essentially a consulting firm that specializes in creating budding wine ballers.
"We work with wine collectors," says Greg Castells, wine director and partner. He was previously the head sommelier at Thomas Keller's French Laundry. "Our goal is to offer a real luxury experience."
Instead of retail wine shop, Soutirage has a 700,000-square-foot warehouse in downtown Napa. Its clients don't go there to shop, necessarily. Instead, when you sign up to work with Soutirage, you get assigned your own personal wine advisor who comes to you. Like a sommelier crossed with a financial planner, your wine advisor will work out a long-term collecting plan based on your budget. So, whether you want to drop $35 per bottle or $350, your advisor will keep an eye out for wines you like. Over time, you end up with an enviable serious wine collection.
In addition to advice on what to buy, what to drink and when is the peak time to drink it, advisors will dole out food and travel-related guidance, too. Other areas of expertise include seeking out rare wines and old vintages, securing those hard-to-get current releases that serious collectors line up to buy before they're even in the bottle, as well as assisting in cellar design. Soutirage also picks wines for events – everything from your 20-person dinner party to the G8 Summit.
"It's true that we work with a lot of high-end events and customers," says Castells. "But there is no threshold for what you need to spend with us. It's not about the money."
Being based in California, Soutirage has a number of young tech company magnates as clients. It also services its share of Wall Street guys and gals. These are twenty and thirty-somethings who can suddenly afford new cars, new homes and to be able to drink in a way that matches their bank accounts. But the company also works with people of less extravagant means. In other words, you don't have to earn over $500,000 to hire them.
"One of my favorite clients doesn't have the income to drink the best wines in the world," remarks Castells. "So, he hired me to find him the best values that I could find. He loves mature vintages. I'm always on the lookout for mature Burgundy, Loire Valley, even California wines that are good value for him. And it's actually a lot of fun for me."
There are two types of wine collectors: those who collect as an investment to eventually sell and those who collect for their future drinking pleasure. When it comes to investment wines, as the old adage goes, you have to spend money to make money. (A case of current-release Château Haut-Brion, for example, might set you back $10,000, but, stored correctly, it can double in value in five to 10 years. A 14-bottle lot of the famous Bordeaux wine, including one from 1945, sold for more than $150,000 last year.)
But for you fledgling pleasure collectors out there, hiring your own personal sommelier could really step up your game and maximize your wine spending. Or you could do a bit of both: invest in wine, make a few lucrative deals, then one day, drink away your profits.
---
Read more about wine on Food Republic: