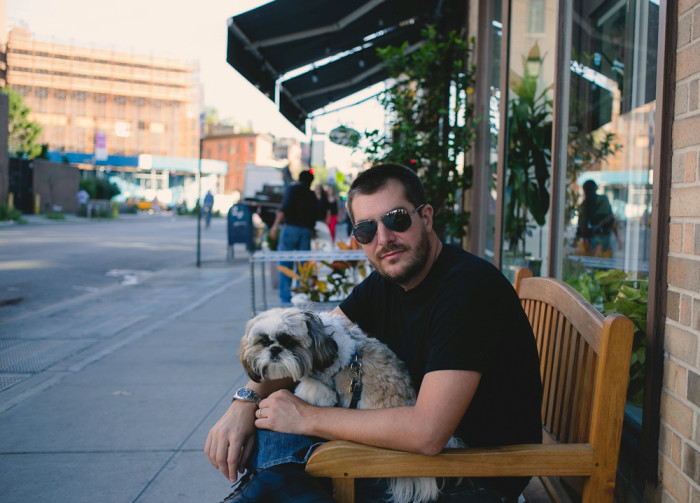 It shouldn't have been surprising that Harold Dieterle's approach to Thanksgiving is so practical. As a budding restaurateur, he keeps finding holes in the seemingly full NYC dining landscape, then filling them with perfect little restaurants that hit all the right notes — the flavors, the music, the décor, the drinks. At Kin Shop, Dieterle brought daringly spicy Thai dishes to a part of lower Manhattan that lacked anything like it. At Perilla in the West Village, Dieterle channels his Italian-American upbringing into good food that nods to Sicily and Southern Italy. Next up, he told us as he sat outside with his dog at Little Owl The Venue during the Food Republic Test Kitchen and Interview Lounge, is Marrow, "a meat-centric restaurant in the West Village, focusing on my Italian-German heritage," he says. While that sounds delicious, we're here today to talk turkey. Thanksgiving turkey.
Do you cook Thanksgiving yourself?
Yeah, always.
At the restaurant?
At the restaurant or at home, both.
What's your go-to tip for Thanksgiving?
The tip, even though it doesn't sound very romantic, is don't cook all of the bird at the same time. You break it down into pieces because the breast cooks way before the leg and thigh, so it just makes more sense to break them all down and set them up however you want. I like the bird brined. I break the breast down, I brine it. And the bone and thigh, I usually just stuff it with some herbs and roast separately.
What about a side dish? Say you're going to a potluck and want something different, what would you suggest?
I don't know if this is different, but I like brussels sprouts and brussels sprout leaves, and candied yams. Those are my two go-tos.
How do you make your candied yams?
I use purple sweet potatoes, marshmallows, cinnamon and orange zest, and broil the marshmallows on top. I also use some pecans.
How do you feel about turkey as a protein in general?
I like turkey a lot. It's healthy, it's good for you. I like turkey burgers. As I get older, I kind of started to worry about my health a little bit. I try not to eat too much beef. I try to only eat red meat when I'm going out for dinner or on special occasions. I've been eating a lot more chicken, turkey, vegetables and fish. So I love a good turkey burger; I like good turkey sandwiches.
What about staying organized in the kitchen?
You have to have a boss, someone who is leading. A potluck is all cool and fine if everybody is bringing a dish and heating it up and serving it. But if that's not the case and everyone is cooking together there has to be a boss in the kitchen, and the boss needs to let everyone know that everything has a home and where it goes.
What about a leftovers? What are your tricks?
I mean, turkey sandwiches of course. Just take Wonder bread, turkey, cold stuffing, cranberry sauce and that's it. Old school. It's more exciting to me than actual Thanksgiving.
What do you like to drink on Thanksgiving?
Red wine. I'm a big Burgundy snob. I drink a lot of that. And then just gin and soda. Gin with anything really.
More FR Thanksgiving Interviews: