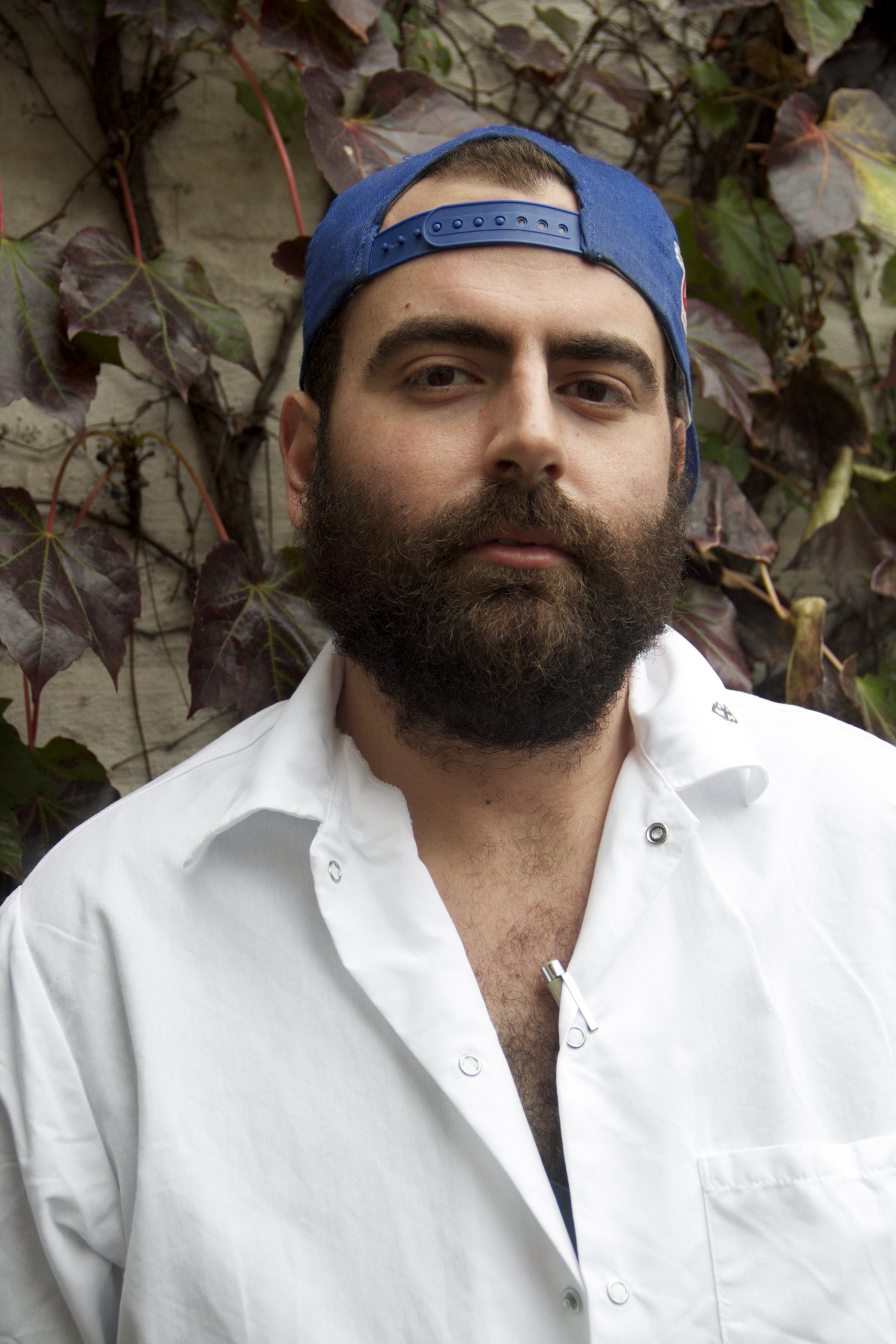 We always have style on the brain at FR headquarters, so from time to time we reach out to our best-dressed chef friends to hear about their favorite designers and why it's never OK to wear chili pepper pants in the kitchen. Next up, Angelo Romano, head chef of The Pines: a Brooklyn restaurant that's creating quite a stir with eclectic New American plates, killer soundtrack and easygoing vibe.
Who are your style icons?
My uncle Dennis. He always looks smart with a pageboy cap, monochromatic palette, and well-fitted pieces. Basquiat. Thom Browne. Yōji Yamamoto.
Favorite labels and designers?
Maison Martin Margiela, Barbour, Gant Rugger. Denim-wise, I like Simon Miller and older Rogan. Burberry, Lyle and Scott, and Ike Behar for button downs.
Shoes?
Common Projects. Dooney & Bourke makes great boat shoes that no one seems to know about. John Lobb dress shoes. Vans. Browning and Red Wing boots for winter.
Accessories of choice?
Watches: Hermès, Rolex and a Seiko Kinetic my parents got me.
What's your grooming regimen like?
I wash my face with Kyoku, and like Molton Brown products, too. I also use Dr. Bronner's and Goldie's Coriander Soap (it also appears in The Pines' restroom). Marvis toothpaste. Burberry Brit for fragrance.
Favorite places to shop?
Odin, Barneys, Bird.
Last splurge?
A Maison Martin Margiela jacket.
Anything you'd never wear?
Flip-flops, they're just dirty. Pajama pants. Crew neck tees, I only wear v-necks. Crocs. Cargo anything.
What do you wear during service?
Boat shoes and a backwards cap. Right now I'm wearing a vintage Rangers cap from the 1996 Stanley Cup playoffs. Zanella chinos from Italy.
Soundtrack?
Lil Wayne, Clipse, OutKast, Rick Ro$$, Dirty Mob, classic Jay-Z and the Nirvana Unplugged CD. It's great for a mellow Sunday night.
How did you get into cooking?
I grew up in a typical Italian family, so I was always in the kitchen. I graduated with a degree in advertising, but after living in San Francisco for a couple years, I enrolled in CIA in 2004. I wanted to work, but not have a standard office job.
What at your favorite restaurants?
Chef's Table at Brooklyn Fare, Kajitsu, Roberta's, Brooklyn Star and Roebling Tea Room.
How about bars?
Bembe on Monday nights, because it's chill. The Richardson has a good late-night menu, too. Triona's is young, Irish, fun. Larry Lawrence.
Drink of choice?
Negronis, and anything with salt.
Favorite things to eat?
Taco Bell because it's consistent. Their chicken burrito is my jam. And long grain rice; it's nutty and simple.
The Pines, 284 3rd Ave., Brooklyn, NY, 718-596-6560, thepinesbrooklyn.com
More Style Talk on Food Republic: