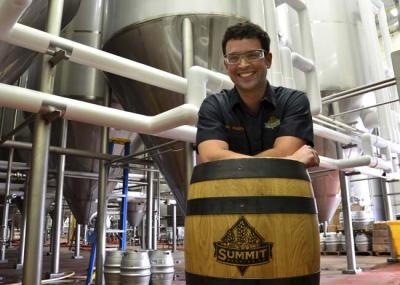 When it comes to Kentucky's proud indigenous products, one thinks of ham, bacon and bourbon, a holy trinity that has given generations of Americans immeasurable pleasure. To that list please add a most unusual ale, the Kentucky Common.
You'll be forgiven if you've never heard of the style. The beer was popular around Louisville more than a century earlier, when the rank-and-file laborers favored it. Kentucky Common was often made with a blend of barley and corn. Of course, the cob-based vegetable is an essential ingredient in bourbon, which is also made according to a process known as sour mash.
Basically, grains and water are boiled to create nutrient-rich mash that's blended with a bit of acidic spent mash that's chockfull of live yeast. (Envision making sourdough bread with a starter.) The acids keep harmful bacteria and unwanted yeast at bay, allowing the mash to continue on its path to an oak barrel.
"Brewers in and around Louisville were likely friends with their bourbon-making counterparts," hypothesizes Eric Harper, a brewer at Summit Brewing Co. in Saint Paul, Minnesota. "You see these distillers doing sour mashes when making bourbon and someone probably thought, Huh, I could do that with beer."
Whether that's truth or conjecture is tough to tell, but one certainty is that brewers in Louisville began making a dark, lightly sour beer that was low in alcohol ("common" often signified a lower alcohol content). The easy-to-produce beer remained a regional specialty until Prohibition dealt it a deadly blow. When the boozy shroud was lifted, Kentucky, like most of America, became a land of lagers.
But as American brewers increasingly turn to indigenous styles such as the California Common (the best known example is Anchor Steam) and the cream ale, interest has begun growing in this uncommon Kentucky beer. Indiana's New Albanian Brewing Company makes the Phoenix Kentucky Komon, while Chicago's Local Option offers the plainly named Kentucky Common. And in Minnesota, Summit has turned to the Kentucky Common for the latest release in its Unchained Series, Old 152, which is named after the official steam engine of the state of Kentucky.
To re-create the forgotten beer, Summit's Harper turned to the American Handy Book of the Brewing, Malting and Auxiliary Trades, which was published around the turn of the 20th century. Though the book lacked a definitive recipe for Kentucky Common, the basic guideline of ingredients included corn, malted barley and, to create a dark hue, caramel coloring or roasted malt.
Harper cobbled together a recipe using maize, rye, wheat, barley and Cluster hops, which was one of the only native varieties available in the U.S. during the late 1800s. To mimic a sour mash, Harper used acidulated malt to lower the pH. "The beer is not sour," Harper is careful to note.
Instead, the chestnut-hued beauty is subtly sweet, packing pleasant flavors of caramel and a floral, gently spicy aroma. It drinks as crisp and clean as seltzer, with a refreshing acidity that ups the beer's drinkability. Here's hoping Old 152 helps make the Kentucky Common, well, more common.
---
Read more about Kentucky on Food Republic: