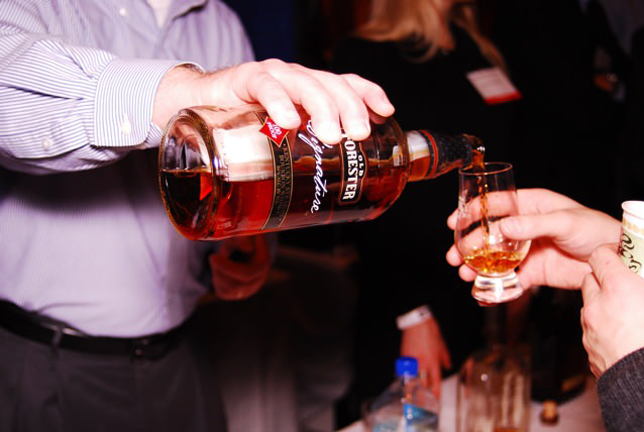 At 5:30 on the dot on Friday night, an audible stampede of mostly men between the ages of 30 and 50 pushed into the Broadway Ballroom on the sixth floor of the Marriott Marquis Hotel near Times Square in Manhattan with the zeal of a gaggle of tweenage girls armed with backstage passes for a Carly Rae Jepsen concert.
The crowd seemed to be split into two factions, or rather attendees at the sold-out two-day event had one of two strategies: make a beeline for the Bowmore and other acclaimed Scotches or head straight for the spread, which included braised short rib, creamy mashed potatoes — and an array of cheeses, potstickers and various deep-fried things. Just the thing to line one's belly for an evening of sipping whiskies of all sorts.
Note that it's WhiskyFest, without the 'e', not only because it's hosted by Whisky Advocate magazine, but because there is a strong focus on Scotch, although whiskies from Ireland, Canada and plenty from America were featured – more than 300 bottlings all told. During the VIP hour, there were extra special whiskies poured, but anyone attending during the general admission hours had plenty to choose from. There was BenRiach's new and limited release oloroso sherry barrel-aged 30-year-old single malt, with its notes of dark chocolate and orange; Bowmore's Dorus Mor, a 10-year-old small-batch single malt with bourbon-like character that will be available in the U.S. in next two months; and Auchentoshan's new zesty and bright Valinch, a non-chill-filtered, cask strength bottling of the distillery's classic single malt.
Of course, it wasn't all about the Scotch for the couple thousand folks who attended the weekend's events. A new Japanese whisky called Nikka was poured: the 12-year blended whisky, with its earthy and citrus notes, and 15-year Yoichi, a creamy, spicy single malt. Who knew that the Swedes made whisky? Mackmyra's First Edition is a blended whisky from Sweden's first whisky distillery and the only of its line available in the U.S. It's fruity and sweet, aged in Swedish oak and finished in bourbon casks.
And what would a WhiskyFest be without a white? Catoctin Creek, from Virginia, produces a certified organic and kosher über-peppery unaged whisky called Mosby's Spirit. Speaking of kosher, have you tried Jewish whisky? The Jewish Whisky Company was co-founded by the creator of JewMalt, a whisky review blog, and a Scot with a Jewish wife. Together they bottle single-cask Scotches like BenRiach, Arran and Kilchoman.
There were even more treats during Saturday's seminars, which included primers on collecting, Irish whiskey and bourbon innovations. Truman Cox, the master distiller at A. Smith Bowman, presented Abraham Bowman, limited-edition port-finished bourbon; Barry Crockett, the master distiller at Middleton, presented his eponymous Legacy Irish Whiskey. Fans of Redbreast were pleased.
With everything from Bushmills to Laphroaig to Redemption Rye on offer, there was a whisky – and a whiskey – for every type of brown-liquor lover.
---