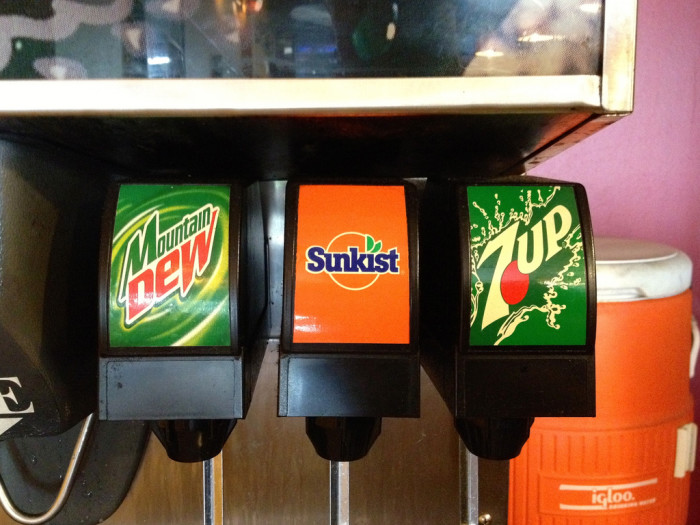 With less than two weeks until the election, members of Congress receive rankings based on their food policies, high-profile chefs band together to support Prop 37, and people around the country celebrate the second annual Food Day. Also this week, Roman officials crack down on snacking tourists, milk producers remind consumers that milk is actually a dairy product, and New York might not be the only city to have a soda ban.
We'll kick off this week in food politics with election news. Only two weeks before Election Day, members of the Food Policy Action Group (affiliated with the Environmental Working Group) released their new food policy report card for members of Congress. The lawmakers were rated on a scale between zero and 100 based on their food policy votes. Democrats reigned supreme, gaining all but one of the perfect scores (Independent Sen. Joe Lieberman was the exception), whereas the only members to receive zeros were Republicans. The scores in between were more evenly distributed. Some have noted that Food Policy Action's board members — like Top Chef judge Tom Colicchio — lean left, despite the group's assurance that the report was completely bipartisan.
Tom Colicchio is not the only celebrity chef getting political this week — notable chefs nationwide have come together to support Prop 37, which would require GMO labeling on many products. Over 500 chefs have joined the effort, including David Bouley and Dan Barber, as well as organizer Alice Waters of Chez Panisse.
In other labeling news, milk producers are revamping the "REAL seal" to distinguish dairy products from soy and nut milk impostors, and Marion Nestle compares the British Food Standards Agency's front of the package labels to the myriad varieties including those proposed by Mark Bittman and the labels used at Whole Foods.
Thought you'd heard the end of the Stanford Study on organic food? This week the American Academy of Pediatrics released a report encouraging parents to buy organic produce for their kids to reduce their exposure to pesticides. Unlike the Stanford Scientists, the pediatricians are not confident that federal pesticide limits on fruits and vegetables are as low as they should be.
Which brings us to other food topics that need clarification. Two groups have recently tackled "food myths" in efforts to increase consumer education. Food author Anna Lappe and Corporate Accountability International are launching a series of FoodMythBusters videos that challenge the voice of Big Ag, while the Partnership for Food Safety Education continues its "Home Food Safety MythBusters" campaign to educate home cooks on proper food handling techniques.
When taking a break from debunking myths, food advocates came together on October 24 to celebrate the second annual Food Day sponsored by the Center for Science in the Public Interest, and the nation remembered anti-poverty champion Sen. George McGovern, who died at the age of 90.
Abroad, Romans begin enforcing a law that prevents sightseers from eating at the city's monuments (say goodbye to gelato at Trevi Fountain), while here in the U.S., DC might enforce its own soda ban, following in the footsteps of New York's Mayor Bloomberg.
Lastly, Monster Energy Drinks comes under scrutiny after five allegations that the energy drink was linked to five deaths in the past year.