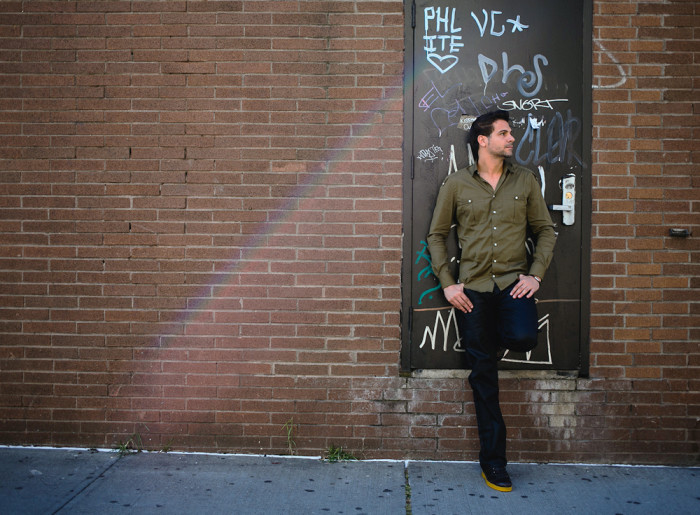 What do you get when you cross a multicultural chef known for his bad-boy behavior on television and his 60-ish cousins on Thanksgiving? A big football game and a whole lotta turkey. If there's a single holiday that could unite us all behind likeminded ideas, it must be this one. Angelo Sosa is a former Top Chef contestant and chef-owner of New York's Social Eatz and Añejo Tequileria, which we chatted with him about in May. We caught up with him at Food Republic's Test Kitchen last month and found out about his earliest Thanksgiving memories, turkey tips and upcoming plans for his eateries.
What are your earliest memories of Thanksgiving meals?
The funny thing is that I am half-Dominican, half-Italian. My father did the majority of the cooking at home. I think Thanksgiving was definitely an homage to the pilgrims and all that — that was like our American holiday. It was pretty phenomenal — all my cousins from all over the country, there were like 60 of us – would come over. The best thing about the day was that each family would bring over a pie or a dish. We had an amazing family football game.
How did that game usually go?
Oh, it was so rough.
Were there any Dominican or Italian influences on Thanksgiving?
No. That was the one holiday that was very neutral and very diplomatic.
Who was in charge of most of the cooking for the day?
It was a big ordeal. Families would come in the day before, and each one would specialize in a dish or two. My aunt Rose would do her liver pâté and my mom would do the turkeys: we'd have at least two or three turkeys for all of us.
Any Thanksgiving leftover favorites come to mind?
Leftovers would be even better the next day: they were the best! We would do turkey soup or something like that. We'd make it from the gizzards, the hearts, all of that. I grew up in a small country town called Durham in Connecticut and we'd go to the orchard and go apple picking, pumpkin picking, for pies and all that stuff.
What are your plans for this Thanksgiving?
Wow, big question. I can't even think about tomorrow. I do know that I am going to get super busy now, so I think that I will try to spend some time with my son and family.
I have to ask, do you actually like turkey?
I actually love turkey. I am obsessed with stuffing.
What kind of stuffing do you like to make?
I typically add like a Latino fusion to my stuffing. I always brine my turkey – I'm a big fan of that. I'll add chorizo to my stuffing and take a Latino, Southeast Asian flair and then add some cilantro, sage and celery to spice it up a little bit.
What are some important tips to keep in mind when buying a turkey?
Obviously, buying fresh is best. I'm a white meat kind of guy, so I love succulent breasts – not crazy, factory type. I go super lean and very fresh.
What about one turkey cooking tip for our readers who may not be that adept in the kitchen?
I think it's key to season the cavity and not only the exterior. If you're not going to brine it, the seasoning of the cavity is critical. All of that yumminess seeps into it.
What are some of your favorite seasonal fall ingredients?
We're very market-relevant at the restaurants. It's interesting because a lot of the things on the market this week are not on the market the next week. I think that Concord grapes are popular, but also Niagara grapes – the white ones that are super sweet and super amazing – are diverse and perfectly paired with seafood.
Are you incorporating them into your restaurant menus?
100%.
Can you tease us with a dish using Niagara grapes?
We [did] a benefit for autism [in early October] and incorporated a dish with Niagara grapes, serving them with lamb belly and goat cheese puree.
What's going on at Añejo Tequileria?
It's really amazing. We're getting ready to celebrate Day of the Dead on November 1. We're trying to work on a buried suckling pig. We also have a barrel of housemade tequila that we've been aging for over six months to serve in a cocktail. On top of that, we'll serve the whole suckling pig, which hopefully will be buried if I can do it right [laughs].
Read more chef's Thanksgiving interviews on Food Republic: