Legendary Sandwich: The Mitraillette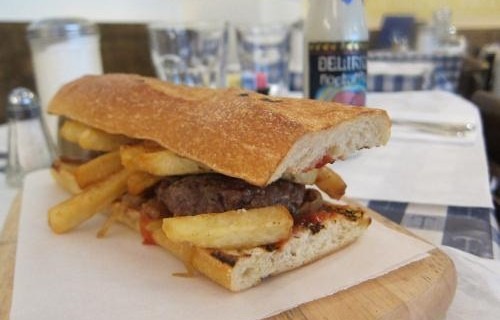 I read myself to sleep last night with one of my favorite bedtime stories: Jon Chonko's Scanwiches book. It's a real thriller — intimidating Italian characters who may or may not be associated with the mob, a classic meat-meets-bread story, a little fluff, a sexy Cuban and a war (but I won't give away the twist). A war? Yes, Belgium wins. Awh, I gave away the twist. It's all because of the Mitraillette.
Belgians take their fried potatoes — frites — very seriously. My favorite place to get them is Pommes Frites in the East Village because they take them so seriously. It's a no-nonsense spot, a narrow restaurant with a row of fryers in constant operation crisping up thick-cut fries to perfection. The only drawback is the line, especially at 2 a.m. on a Thursday (a situation I plan to find myself in tonight). Having to choose from a selection of 30 sauces, each better than the next, is not a drawback. It is simply a part of life. So it makes perfect sense that they would honor those mayo-smothered fries by stuffing them, along with fried meat, into a baguette sandwich named after an automatic pistol.
But wait, wait. Doesn't Europe make fun of us for shenanigans like stuffing a sandwich with fried meat, fries and mayo? They do, yes. The name for this sandwich in France, where they're a little more forthcoming about those feelings, is "l'américain."
More legendary sandwiches on Food Republic: