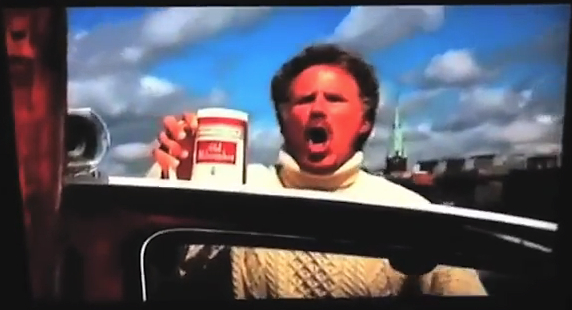 Each week in Ad Snacking, fromer advertising executive turned chef Eli Sussman takes a close look at a recent food advertisement. He'll keep the copy short to guarantee the R.O.I. for procrastinating at your desk stays high.
We live in a world where the celebrity endorsement is king. One tweet from Gaga or Biebs can yield huge results for a brand looking to make some noise in a very crowded market. In this week's Ad Snacking, Will Ferrell's Swedish Old Milwaukee commercial is a perfect partnership of absurd "viral baiting" humor hatched under the guise of a celebrity endorsement. This Halloween, all the PSY costumes are going to cancel each other out, John-Nash style. So take the best costume prize by suiting up as the handsome, mustachioed "Swedish-speaking" Old Milwaukee pitchman.
"I HAVE AN IMPORTANT BREAKING NEWS ANNOUNCEMENT! OLD MILWAUKEE IS OKAY!"
Product: B
I've never drunk Old Milwaukee, and I'd never heard of it before I saw the Will Ferrell Super Bowl Commercial last year. People don't compare flavor notes of Bud Light to PBR and Keystone. Cheap Beer is cheap beer, and I imagine Old Milwaukee is no different. At the end of this ad Ferrell says in Swedish that Old Milwaukee "is okay." We'll take his word for it.
"I WAKE UP IN THE MORNING AND I PISS EXCELLENCE"
Message: A
Here's how we prove a commercial is successful: 1. You share it on social media or saw it on a blog or 2. You are in a store confronted with a row of PBR, Budweiser, Keystone and Old Milwaukee. You consider the Old Milwaukee if only because you've seen the Will Ferrell ad. There's a good chance you'll buy it, just to try it. Either way, the brand wins. They're in your head! And you can't get it out. Not until you buy their beer and see what all the the hot blonde fuss is about.
"FILL IT UP AGAIN! GOD THAT'S GOOD! ONCE IT HITS YOUR LIPS!"
Creativity: A
For many guys, Will Ferrell may be the most quotable human being alive. Here he is with a luscious Ron Burgendy mustache, speaking in Swedish, riding on a boat with a babe drinking a ice-cold beer. Look's good right? There's only one way to describe this ad: perfekt kommersiella!
---
More AdSnacking on Food Republic: