Ming Tsai's Turkey Recipe Involves Tea Smoke. How About Yours?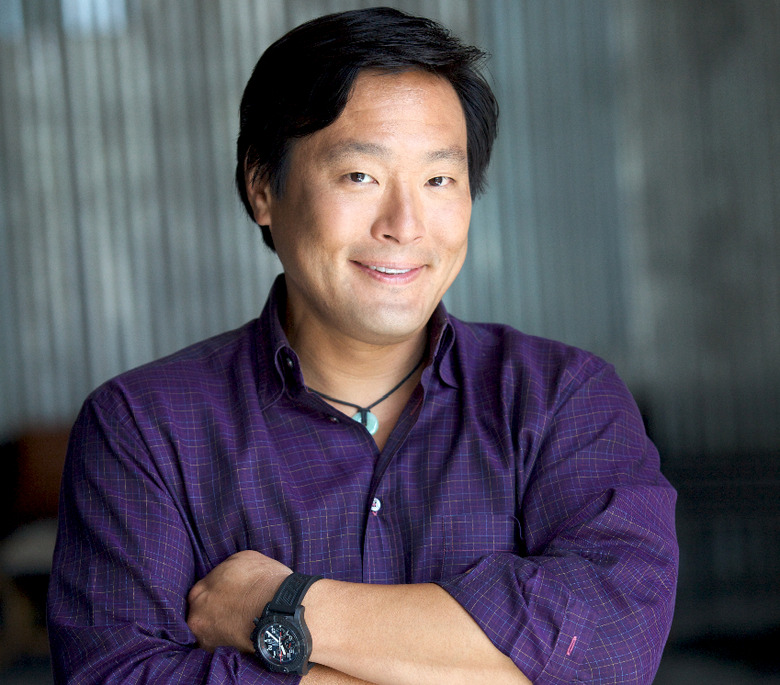 Ming Tsai
We may receive a commission on purchases made from links.
If you're any kind of food enthusiast, Ming Tsai's smiling face should be a familiar one. An Emmy Award-winning TV chef, Tsai began his career with East Meets West on the fledgling Food Network in 1998. Now he travels the world in search of the next greatest ingredient in his Fine Living Network show, Ming's Quest and continues to school the hungry masses on PBS's Simply Ming. So yeah, he's an authority.
I tagged along for the short, but baller, Escalade ride from NBC studios, where he'd just finished cooking from his newly released multimedia cookbook, Simply Ming In Your Kitchen, on The Today Show, to a radio station in the Financial District. There's nothing like being stuck in Chinatown traffic, asking Ming Tsai how he cooks his Thanksgiving turkey.
What was the last cool ingredient you brought back from your travels? 
I smuggled in pimente de terra from the Azores. It's a chile a little less than a jalapeño in spiciness, roasted and ground up with a lot of salt. So you'd use it sparingly, unlike sambal, which is really just hot and not salty, and you eat it with steak like the French would use Dijon.
What's your favorite fall ingredient?
Always mushrooms. Mushrooms are great in burgers, salads, braises. There are so many great mushrooms, foraged and farmed. Shiitake is my most-used mushroom, then you have lobster mushrooms and chanterelles and whatnot, and of course into winter you have black truffles.
What are some of your favorite recipes from your new book? 
I love the one I just did on The Today Show. It's my vegetarian version of Singapore noodles. Funny enough, everywhere in the world has "Singapore noodles" but Singapore. In a Chinese restaurant in Singapore they'll serve Singaporean noodles, but it's not a Singaporean dish. It's actually more Indian because of the Madras curry powder.
The other thing I love is the pork lettuce cup. They're these pork patties with lemongrass, garlic and ginger and kids love eating it because you get to pick it up. I also love the cocktail chapter. It's the first time I've done cocktails. There's a chili-cilantro vodka that makes a Thai coconut martini that is freaking to die for.
What is your advice to home cooks on improvising and salvaging a dish that may not be going as planned? Have you done that recently? 
So long as it tastes good, it doesn't really matter what it looks like at the end of the day because you're not trying to sell it. If a mousse, for example, is well-seasoned and tastes good, it can be in any form and it's still going to be a good dish. Also, if you're the one making it, nobody else knows what it's supposed to look like.
Because of altitude, I couldn't get water [for dumplings] to boil hard enough. Because of the shrimp and egg in the shumai mixture, it just turned into a glutinous mess — inedible. You would have died from food poisoning, it was nasty. I dropped the F-bomb a lot. So we smashed them and seared them and they were better — crunchy!
Tell me about the interactive part of your new book. 
I've always wanted people to learn how to cook, not just read and emulate. They say a picture is worth a thousand words; well a video is worth a million words. For example, how to roll sushi. I don't care how articulate you are or how good of a writer you are, it's really hard to put down on paper how to roll sushi — almost impossible. But once you see a video, you can really think, "Hey, I can do that."
Ideally we wanted to create a new revenue stream for the cookbook industry. You get two free videos on my website per chapter and if you want additional lessons it's 99 cents, just like iTunes.
Let's talk turkey. What's the game plan in your house this year? 
If you don't nail your turkey, you blew it. For five of the last eight years I've fried my turkey. Frying is genius for turkey, but the issue I've struggled with is that my favorite part of Thanksgiving is the turkey soup I make from the bones. I get that going before we eat the pumpkin pie. But when you fry the turkey the bones are done, they're fried, so you can't make your soup.
The last couple of years I was bumming because you can't just take chicken stock and make it. It's not the same. So this year I'm going to do something different. Outside on the grill using indirect heating, I'm going to tea-smoke it. On the hot side of the grill I'm going to put a rice, sugar and tea mixture. The sugar smoulders, which smokes the tea. It still takes 2-3 hours, but you get the most delicious tea-smoked flavor.
How do you feel about pumpkin desserts? Yay or nay?
Yay! I'll tell you a great story. I'm in Paris, I'm a pastry chef working with Pierre Gagnaire, who's a genius. I come in, normal day, 5:30 in the morning, and the chef is just swearing like crazy. He's got a gigantic copper pot going, cooking fresh pumpkin because he was commissioned to make 20 pumpkin pies for Thanksgiving at like, $80 a pie. If you've ever tried to cook fresh pumpkin, you can't do it. There's so much liquid that doesn't cook away, and he was calling it crazy and yelling at it.
So I said "Chef, I can get you pumpkin pureé from a can." He said, "Ca n'existe pas." I had access to the shop at the US Embassy two blocks away. I explained the dilemma and I came back with two cases of Libby's pumpkin pureé. I was the lowest of the 20 pastry cooks, and I was so proud of myself. I said "Here, Chef." He opens one up, tastes it and says "oh, pas mal." And he asked for the recipe. I said "It's on the back of the can." He used the Libby pumpkin recipe on the can with sweetened condensed milk and eggs and got his $80 per pie. But his crust was amazing.
If I wanted to do one Asian dish in my Thanksgiving spread this year, would you recommend an appetizer, main, side or dessert? 
I think app — I like something like a vegetarian spring roll. You don't have time to be cooking à la minute for guests, but the spring rolls can be pre-rolled the day before. You don't even have to fill the fryer, you just need an inch of oil in a cast-iron skillet to shallow-fry both sides. Plus you can cut them sushi-style into five pieces and stand them up so they're bite-sized.
More chef talk on Food Republic: