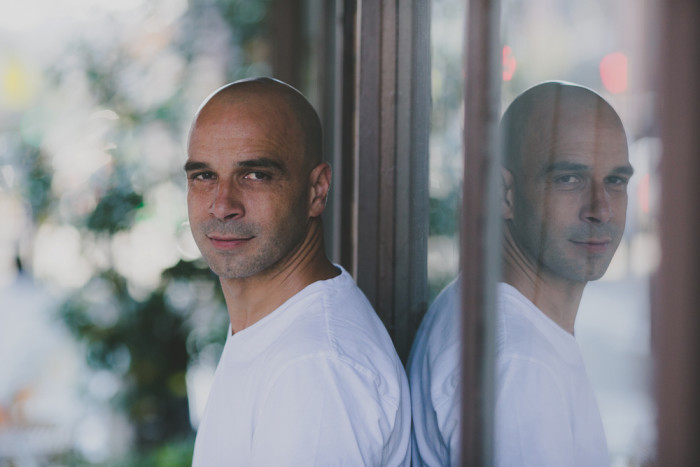 In the days leading up to Thanksgiving, which the editors at Food Republic consider to be their Super Bowl, we're featuring interviews with chefs and other cooking pros to find out ways of making the big meal a great success.
Mourad Lahlou is the chef-owner of a modern Moroccan outpost in San Francisco's Richmond district. Aziza, which opened back in 2001, is still receiving praise from the press, including SF's big fromage. Michael Bauer. "[Lahlou's] stunningly presented artichoke heart is arranged on an oversized plate with stacked cubes of Tibetan pear that's been cooked sous vide style, along with a triangle of Parmigiano-Reggiano, parsley, capers and dots of pureed preserved lemons," wrote the critic in 2009. Them's some artichokes. But when the chef stopped by the Food Republic Test Kitchen earlier this month, we wanted to pick his brain about Thanksgiving. As an American and 25-year resident of the United States, Lahlou has celebrated the holiday many years over, including a low-ish stakes cooking competition with the like of Cat Cora and Thomas Keller competing. We'll let him explain.
How do you celebrate Thanksgiving?
I get together with a lot of friends and we do the turkey every year. My producer Susie Heller has this tradition of having people that she loves over every year to cook. It's a bunch of chefs plus their family members. It's anywhere from between 50 to 80 people at her house.
Who turns up?
Thomas Keller, Cat Cora. We all cook turkeys in different ways. I'll do a Moroccan slant on a turkey, Thomas loves to do mashed potatoes, Cat Cora might do turkey legs. At the end of each Thanksgiving, we actually have ballots where people vote for their favorite.
Oh, really? So there is a competition?
Yeah, yeah. At the end of the night, somebody is given a trophy for winning and have their name on it for the entire year.
Do they keep it in their restaurants?
No, they keep it at home or wherever they want. The next year, though, there is another competition and the new winner gets their name engraved on it.
Have you ever won?
I have only entered once, and I won.
Beginner's luck?
Well, it was the only year that I made turkey and you can only enter the competition if you make turkey. You can't just make cranberry sauce.
How many turkeys are there usually in the competition?
About six. They try to mix it up so that different people are competing each year and everyone gets a chance. It's not only chefs – home cooks participate as well.
Oh, man. Can you imagine being a home cook and going up against you and Thomas Keller?
Well, it's fun. Sometimes they win and it's really cool!
Take me back to your winning turkey recipe…
That year I did two things. I did a Moroccan spiced turkey, where I took a spice blend from Morocco and marinated the turkey overnight and then just roasted it. It was simple, but the flavors from the preserved lemons and the spice blend were so phenomenal. It gave it a little different taste.

---
Use a wooden spoon and try to put as much fucking butter as you can possibly, physically, do. There's no ratio – just keep adding butter and stir until you get fucking blisters.
---
Let's be honest. Turkey is a difficult protein, right?
It's a fucking horrible protein. It's like the worst protein. I don't even understand why people…
Tradition?
Well, I get that it's tradition. But it's dry and people spend $150 on a fucking turkey. "Oh, this is heritage turkey!" It's still fucking turkey at the end of the day. But you know what? That's what makes Thanksgiving, Thanksgiving. I've gotten to understand that and kind of appreciate that. One year, I was so sick and tired of turkey I took a suckling pig, deboned it, rolled it and confit the whole thing and roasted it in the oven. It was the most delicious Thanksgiving ever.
This was on Thanksgiving Day?
Yes. When I was supposed to bring a turkey, I brought a suckling pig. At the end of the day, it was a more delicious dish than the turkey. I do feel that turkey is really hard, though, and that's why people don't eat it on a regular basis.
Give me some tips for cooking on Thanksgiving…
I think that the best thing you can do is to prepare everything ahead of time. If you're not having more fun than your guests, it's not worth it. If you have your dinner and you're cooking for a lot of people, make a lot of it ahead of time. The day of, all you need to do is re-heat and get people involved! People don't need to be sitting there on their asses watching football while you're slaving away. What fun is that? Get them to get involved and have them bring stuff to the party.
Let's say I'm stuck working with canned sweet potatoes. What would you do with them?
How are you going to use canned sweet potatoes?
That's a good question! Let's be hypothetical…
If you were to use them [long pause] do you need to open the can? If you really need to use them and it's like a number 10 can that's heavy, you can use it to crush stuff.
That's a funny response. Let's say mashed potatoes. What's a good way to do that?
Never use a mixer. Never use a hand blender.
Why never use a hand blender?
Because it just makes it gummy. The heat from the blade makes the starch come out and it becomes sticky. People use hand blenders because it is easier for them. Use a wooden spoon and try to put as much fucking butter as you can possibly, physically, do. There's no ratio – just keep adding butter and stir until you get fucking blisters. I swear, when I make mashed potatoes for Thanksgiving, I always know that I'm going to get blisters because I'm stirring with a wooden spoon and adding butter.
So, I'm writing this down. Until you see callouses and blood…
Absolutely. There's no way that you can add all the butter at once because it gets greasy. Do it one piece at a time and keep stirring. With the wooden spoon, it's really cool because you don't incorporate any more heat from the blade and there's no spinning. I'm trying to figure out a way to put more butter in mashed potatoes than humanely possible. Mashed potatoes are all about butter. The potatoes are just a vehicle by which the butter is consumed!
Let's say you have a pound of potatoes. How much butter are we talking about?
Ideally, you can really incorporate a pound of butter. But that's really hard to do. I am trying to figure out a method to incorporate equal parts butter in mashed potatoes, but I can't.
What is this method?
I'm using a little bit of chemicals – a little bit of of xanthan gum. But then, when you use those, you need to rehydrate them in the mashed potatoes, which you can only do with a hand blender. I'm trying to figure out ways to add them to the butter before I add the butter.
So you will create some sort of magical Thanksgiving butter?
Oh, it's so fluffy and so nice. You just have to do it by hand. Here is the deal with mashed potatoes: if you put a bowl of mashed potatoes in front of people and it doesn't have enough fat, people just keep eating that shit and eating starch. If you put a lot of butter in there, they will have two tablespoons and be done.
But let's be straight here. You're not endorsing eating like, a pound of butter.
I'll give you an example. For 12 people, I'll use maybe two pounds of potatoes and that's it. There may even be leftovers. They will have a little bit and it's so rich and fulfilling. It's delicious and you're just happy after two or three bites. If you make it plain without a lot of butter and margarine, you just keep eating and eating, and you will end up feeling stuffed. They will keep eating it if it doesn't have enough fat and feel sick afterwards.
---
We've got you thinking about your Thanksgiving menu, right? Visit our recipes section to start planning.