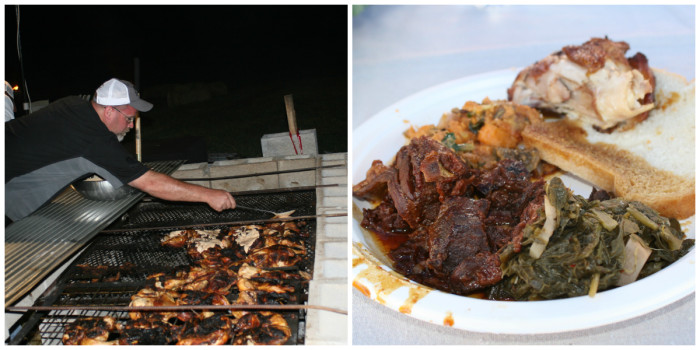 Barbecue aficionados and Southern food enthusiasts descended upon Mississippi this past weekend for the Southern Foodways Alliance's 15th annual Symposium, a four day event of learning, food and fellowship that left attendees reaching for their gout medication. A small group kicked off the proceedings on Thursday in Greenwood, MS at Viking Corp's luxurious Alluvian resort for the Delta Divertissement, a focused track of study concentrating on the barbecue legacy of the storied delta region of the state.
After a community barbecue luncheon of goat provided by Delta Bistro's Taylor Bowen Ricketts and smoked chicken prepared by local legend Spooney Kenter, the group was regaled by entertaining stories of local history from ESPN.com writer and Delta native Wright Thompson. In the evening, a busload of eager 'cue students and scholars rode to Dockery Farms, a former cotton plantation known as one of the birthplaces of the blues. On the way, the bus made a quick pit stop to visit one of three reputed burial sites of the king of the blues, Robert Johnson, at the Little Zion Missionary Baptist Church outside of Greenwood. Down at the farm, the group enjoyed an evening of "Tamales and Tall Boys" as they learned about the history and techniques of hot tamale-making from Gentle Lee Rainey and his mother Ruth Foster while being entertained by a set of scorching delta blues from former Squirrel Nut Zippers frontman Jimbo Mathus and the Tri-State Coalition.
Pitmaster and Fatback Collective member Rodney Scott of Hemingway, SC spent the night before smoking one of his famous whole hogs, despite the fact that he was forced to work the pit in ankle-deep mud after a wave of tornadoes roared across the Delta, a land so flat that it is joked that if you get lost while driving through, all you have to do is get out of your car and stand on a tuna can to see the next town. The precious pig was served with a buffet of harvest dishes representative of the region, including a mess of sweet potato greens, a dish which deserves greater attention in the pantheon of Southern sides.
The evening concluded with a visit to the iconic rural juke joint, Po' Monkey's, a lounge located in the middle of a barren cotton field so remote, fat and huge that you can watch your dog run away from home for two days.
Before the Delta Divertissement crew headed north to Oxford to join the main Symposium, they sat down to a breakfast at the Viking Training Center to watch a screening of SFA documentarian Joe York's first feature film, Pride and Joy. The film is a compilation of the best of York's successful short films that he has shot in 10 years of work for the organization, along with some new footage filmed especially for the new piece. Look for it coming to a film festival near you or on PBS in 2013.
Up in Oxford, the larger crowd of the Symposium gathered in the Lyric Theatre for a program of education about the state of the Cornbread Nation and barbecue in particular. Greg Asbed, Nick Pihakis and rancher Will Harris led a lively discussion of "The Politics of Proteins and Tomatoes" that almost ended up in a physical altercation. Fortunately, Southern hospitality prevented fisticuffs, plus the crowd was too excited about their impending lunch from Andy Ticer and Michael Hudman of Hog and Hominy and Cozy Corner's Desiree Robinson to actually come to blows.
After lunch, the afternoon sessions were dedicated to the history of the pig and barbecue joints from academics Mark Essig and Robert Moss, as well as love letters to favorite barbecue restaurants from authors Monique Truong and John Dufresne. The Friday night tradition at Symposium is a ribald bus ride to nearby Taylor Grocery, a trip where flasks of Pappy Van Winkle have been known to magically appear from pocketbooks and jacket pockets to fuel the riders during the 15-minute ride.
At the Grocery, Symposium attendees were warmed by cold-smoked oysters prepared by Tenney Flynn of GW Fins in New Orleans and a remarkable chaat made from fried julienne strips of okra and peanuts created by Vishwesh Bhaat of John Currence's local favorite, Snackbar. The proceedings reconvened the next morning on the University of Mississippi's campus, where more odes to barbecue were presented.
Chef/bad boy Eddie Huang spoke of his life's journey from eating shitty barbecue in Florida to learning how to smoke his own meat on a tiny grill on his postage stamp-sized balcony, and "Ask a Mexican" columnist Gustavo Arellano entertained the audience with an analysis of the influence of Southern culture and Mexican traditions on one another in a speech he entitled "Carne Knowledge." In between these two rowdy presentations, the more scholarly pair of John Egerton and Lolis Elie asked a series of unanswered (and possibly unanswerable) questions about the "State of the Barbecue Union."
Ashley Christensen of Poole's Diner in Raleigh, NC was charged with the task of feeding lunch to this hungry throng, and she rose mightily to the occasion. Understanding the need for an actual vegetable on the plate in the midst of this meat-fest, Christensen presented 400 people with an unbelievable 12-course lunch which was completely meat-free.
The amazing thing is that many diners didn't even notice that the spread of pickled vegetables, earthy pimento cheese and course after course of delicious main dishes was vegetarian until SFA director John T. Edge brought the fact to their attention when he introduced Christensen — to the thunderous applause of the satiated diners. Particularly notable was a dish of coal-roasted sweet potatoes topped with a red-eye sorghum butter made with a concentrated elixir of coffee which had been cold-brewed, allowed to steep for five days and then used to make another batch of coffee through a second brewing with fresh beans. Ziiiiiinnnngggg!
Alton Brown shared what would have been the script for his final episode of his series Good Eats (had the Food Network not shied away from the concept of whole-animal cooking) in his presentation "The Science of Whole Hog Cookery." Wright Thompson returned to the stage with ex-Times Picayune columnist Brett Martin for a Lincoln-Douglas Barbecue Debate, complete with stovepipe hats and deeply insightful commentary.
At this point, there was nothing left to do but enjoy the final two meals of the proceedings. The crowd bused their way to a beautiful farm on the outskirts of Oxford, where noted pitmasters Ed Mitchell, Pat Martin, Tim Byres, Sam Jones and Drew Robinson had prepared a spread of whole hog, beef ribs, smoked chicken, Brunswick stew and "40 acres worth of vegetables" for the delight of the attendees. Entertainment was provided by an authentic fife and drum band led by Sharde Thomas, the granddaughter of Othar Turner, the most famous fifer since Valley Forge.
Of course, the SFA could not send all these good folks home without some entertainment and sustenance, so Sunday morning kicked off with an amazingly creative piece of performance art presented by South Carolinians Lyon Hill and Kimi Maeda. The professional puppeteers created an original piece entitled "Grime and Glory," which presented the life of a pitmaster through the use of life-size dopplegangers and multi-media effects including a soundtrack of clips from SFA oral histories of barbecue veterans around the south.
The last supper of the Symposium was actually a breakfast prepared by Ryan Prewitt of Herbsaint and Oxford restaurateur/provocateur John Currence at Bouré, his restaurant located right on the town square. After passing through a buffet that included boudin-stuffed beignets, Tabasco ham, cheese and egg biscuits, pork cracklins and impossibly buttery and sugary sweet rolls, Symposium participants were finally sent out on the journey home, but not before being provided with a final sack of road snack food lovingly prepared in Currence's kitchen. Two fresh-baked cookies and house-made slim Jims were the perfect traveling food to round off a weekend of Southern smoke and eats.
Read more about southern cuisine on Food Republic: