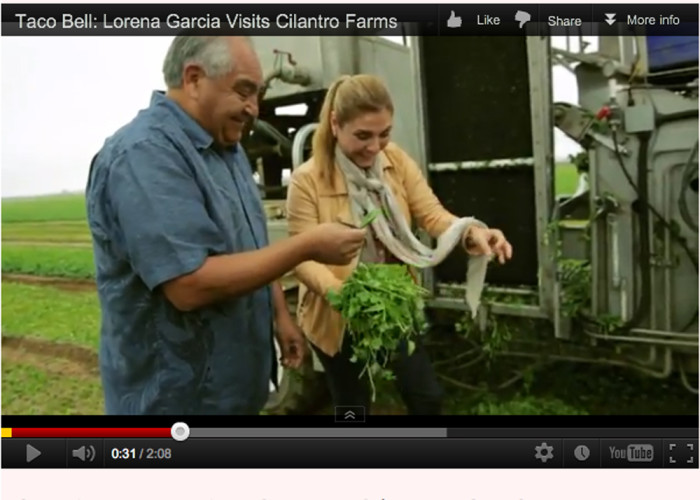 Taco Bell has partnered with "celebrity chef" Lorena Garcia (a real Latin chef) to unveil the Cantina Bowl. This new option, which appears in other ads but not this one, seems to be a taco salad without any fried tortilla chips and no visible dressing. So basically it's a bowl of taco condiments. De-licious. This ad shows real Latin chef Garcia getting mucho excited in the cilantro fields. After about 8 seconds you'll get the idea. Taco Bell is using fresh cilantro that comes from a REAL field! I was unaware there was any another option for acquiring cilantro.
NOW MADE WITH REAL INGREDIENTS (UNLIKE OUR OTHER MENU ITEMS MADE WITH CRAP!)
Product: C-
Well I'm sold! Next time I'm searching for an authentic bowl of flavorless ingredients, my first stop will surely be Taco Bell. The problem with unveiling a new fresh product line is that it makes anyone with a functional brain wonder, "so what the hell is in your other products?" But that's sort of the beauty of the Taco Bell consumer. They don't want to know what's in anything because most of Taco Bell's clientele either doesn't care about their health, or is in an altered state.
Since Taco Bell realizes that it's losing "healthy Mexican food" market share to Chipotle, TB unleashes Lorena Garcia, deviating from its normal market position as the stoner's late night paradise. The same company whose last ad campaigns centered around being open late and a taco shell made out of Doritos is now trying to sell you a farm-fresh salad. The kitchen worker version of me is very impressed, though, that they are really selling you a bowl of toppings and condiments they have in-house anyways. Great for the bottom line.
GET REAL: SHE'S PROBABLY NOT THE FIRST GARCIA TO VISIT A CILANTRO FIELD
Message: C-
At the 40-second mark, Chef Garcia says this is her proudest moment in her relationship with Taco Bell — really showing the world the truth. She's talking about quality, I think. But what about the truth about who's picking all of these super-fresh ingredients? By my count there is a 1-second shot of an actual farm worker. If Taco Bell wants authenticity, why don't they make a 2-minute video about how they treat the field workers who pick this cilantro with dignity and respect and give them fair pay? Statistically, the field worker population in this country is made up of a high percentage of Hispanic workers. So if they are looking for real authenticity, you started in the right place: the field. But from there, Taco Bell lost a big opportunity to show off a new direction for a company rebranding itself as socially conscientious.
IS THIS REALLY AN AD FOR THE CILANTRO GROWERS ASSOCIATION OF AMERICA?
Creativity: F
Lorena Garcia is way too excited to visit a cilantro field. Notice how there aren't any cilantro mazes in fall, cilantro-picking orchards or cilantro patches with hay rides? Cilantro tastes soapy to some and great to others, but cilantro is not a star. To spend 2 minutes highlighting how authentic you are as a Mexican fast food chain because you use cilantro is preposterous. What's next? Tell me you use real onions and tomatoes in the salsa? This seemingly light-hearted video about cilantro and Taco Bell's new master Latin chef-driven menu left a bad taste in my mouth. Pass me the soap.
More AdSnacking on Food Republic: